Brother of San Bernardino Shooter, Two Others Arrested on Marriage Fraud Charges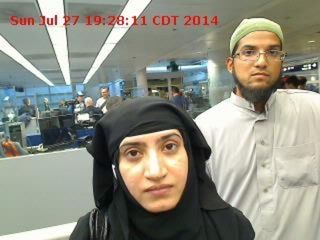 Three people with connections to the San Bernardino shooters were arrested on Thursday on charges of federal conspiracy, marriage fraud and making false statements.
All three are connected to Syed Rizwan Farook, who along with his wife, Tashfeen Malik, shot and killed more than a dozen people at the Inland Regional Center in San Bernardino, California. The terror attack they waged last December saw 14 people die in what was the worst mass shooting since the Sandy Hook school massacre in Newtown, Connecticut in 2012.
The defendants have been identified as Mariya Chernykh, 26; Tatiana Farook, 31, Chernykh's sister; and Syed Raheel Farook, 31, the brother of the San Bernardino gunman and Tatiana Farook's husband. The five-count indictment is focused on the 2014 marriage between Chernykh, of Ontario, Canada, and Enrique Marquez Jr., who is on trial for conspiracy to provide material support to terrorists with Syed Rizwan Farook in 2011 and 2012.
All were expected to appear in federal court Thursday.
Two people were arrested at the home of Syed Raheel Farook after the FBI searched the property in Corona, California on Thursday morning, according to Sergeant Paul Mercado, a spokesman for the Corona Police Department. An additional search warrant was served at Chernykh's Ontario home.
During the investigation into the December terror attack, it emerged that Chernykh married Marquez in order to gain legal status in the U.S. Marquez received money from Chernykh for taking part in the marriage. If found guilty, Chernykh faces up to 25 years in prison. If convicted, her sister and her husband, who took part in the conspiracy by witnessing the wedding and posing for family photos, each face years in prison
"Last year's tragedy in San Bernardino showed yet again how our nation's legal immigration system can be subverted and exploited," Joseph Macias, the head of Homeland Security Investigations in Los Angeles, said in a statement.
Authorities finally gained access to the encrypted iPhone belonging to Syed Rizwan Farook after a months-long battle with Apple, the company that made the device.