San Diego Couple Say They Were Maced During Reported Mask Dispute: 'We Want Justice'
A California couple are pressing charges after a woman maced them Thursday, reportedly harassing the couple for not wearing facial coverings while they were eating lunch in a public park.
A video, which captured the incident, shows a woman wearing a black face mask approaching a man at a San Diego dog park and repeatedly pepper spraying him as he stood with his hands up.
"So this happened today at dusty rhodes dog park today in ocean beach," Ash Sherilynn O'Brien wrote in a Facebook post, attaching the video of the incident, which was filmed by a bystander.
O'Brien wrote that she and her husband were "sitting down eating lunch and minding our own business" with their 3-month old pug at the Dusty Rhodes Dog Park in San Diego's Ocean Beach. The couple was not wearing masks while they ate, because "you can't wear a mask and eat at the same time," O'Brien said.
California Governor Gavin Newsom issued an executive order June 18 requiring all Californians to wear face coverings while in public in an effort to help mitigate the spread of coronavirus, but the order provided certain exceptions.
People are exempt from wearing masks "while they are eating or drinking, provided that they are able to maintain a distance of at least six feet away from persons who are not members of the same household," according to the order.
The video and O'Brien's Facebook post did not specify whether the couple had maintained social distancing rules.
ABC 10 News reported that the dog park also has a "no food" rule, but the couple was unaware. If the couple had known, they would never have brought their food into the park, O'Brien told the channel.
A "random old lady" then approached the couple, calling them "idiots" and "flipping [O'Brien] off." When O'Brien asked the woman to leave and "stop harassing us," the woman "came right up to our table wear we were eating, pointed the mace at me first and got a little on me."
O'Brien's husband stepped in front of her, she wrote, taking the brunt of the pepper spray.
The woman, who remained silent throughout the video, eventually left the park and drove away as bystanders ridiculed her for using mace.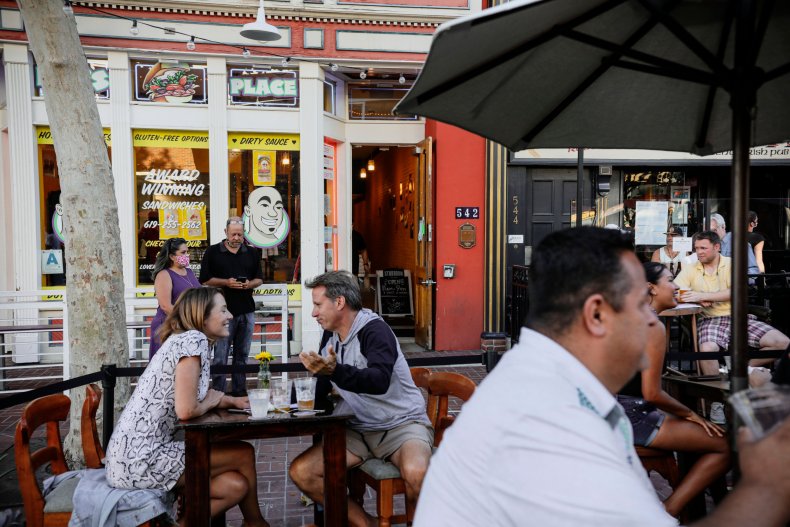 In her Facebook post, O'Brien thanked the bystander for capturing the video because the couple is "going to the police now to press charges."
"We want justice," O'Brien wrote, appealing to her followers to "watch out for this lady" and "spread awareness."
Newsweek contacted the San Diego Police Department's Western Division, which oversees the Ocean Beach neighborhood, for comment, but did not hear back in time for publication.
ABC 10 reported that police said they took a misdemeanor battery report in relation to the incident, but that the alleged perpetrator has not yet been charged with any crime.
O'Brien and her husband had to drive to the hospital to get treatment after being pepper sprayed, she told ABC 10. Photos displayed on the channel show the side of the man's face bright red and clearly irritated.
Newsweek contacted O'Brien for further comment.