San Diego Marathon: Everything We Know About 'Active Shooter' Situation at Finish Line
An "active shooter" was arrested after brandishing a weapon near the finish line of San Diego's Rock 'n' Roll Marathon on Sunday. Police said the shooter was taken into custody, and the race later resumed.
Who is the suspect?
Police have identified the person arrested as 58-year-old Mona Elease Williams, a hit-and-run suspect who was pursued by police and drove onto the roof of a parking structure near the marathon finish line.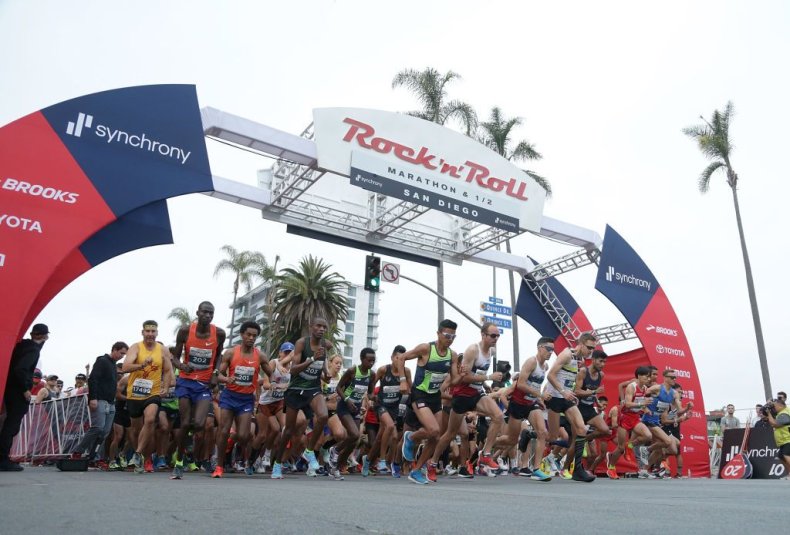 Officers fired at the woman but missed as she brandished the gun on the building at the edge of a plaza shared by City Hall, police spokesperson David Nisleit told reporters, as cited by CBS News.
Police received calls of an "active shooter," and the Sacramento Bee reported that the suspect had fired rounds and held a gun to her head.
Williams allegedly threw the weapon from the building to the street below before being taken into custody by officers. She has been charged with resisting arrest.
Police are investigating whether the weapon used by the suspect was a pellet gun rather than a weapon capable of firing live rounds.
Was anyone injured?
A police officer reportedly shot himself in the leg accidentally while pursuing the suspect, but is expected to make a full recovery.
No other injuries were reported.
How did the incident effect the race?
Marathon organizers said the race was able to resume after being halted for 10 minutes once police had taken the suspect into custody.
"The situation involving an active shooter who was engaged with law enforcement was not related to today's race," they said in a statement.
"By 11:45 am, the course was shut down and approximately 4,900 athletes were rerouted into a designated safe zone.
"While the race was officially stopped, law enforcement gave the clearance at 11:56 for runners to resume their progress toward the finish line and the post-race finish area, where they were able to meet up with family and friends."
Thousands of runners take part in the annual 41 kilometer marathon, which weaves through the center of the city.