San Diego Will Be Power-Washed With Bleach to Stop Deadly Hepatitis A Outbreak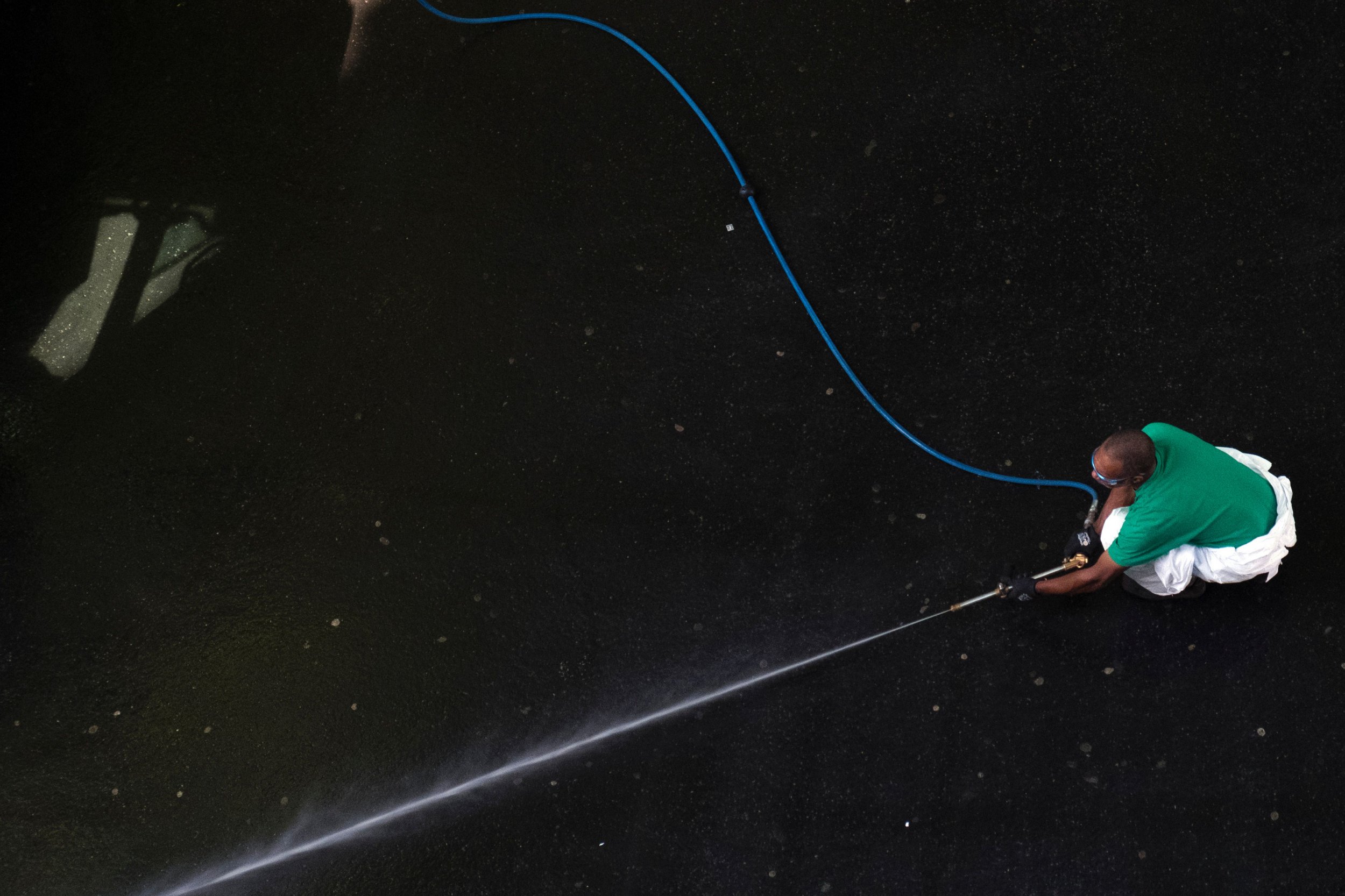 At least 15 people have died in San Diego from an ongoing hepatitis A outbreak. In an effort to stop the spread of the viral liver disease, city officials have begun power-washing streets across the downtown area, according to NBC San Diego.
As of Monday, workers dressed in protective white gear and red hard hats were seen outside spraying the sidewalks with a bleach-based liquid in hopes of killing the virus that lives in human feces.
"We're probably going to be doing them every other Monday, see how that works out at least for the time being," Jose Ysea, a city spokesman, told NBC San Diego.
The high-pressure power-washing system using bleach will hopefully remove "all feces, blood, bodily fluids or contaminated surfaces," according to a sanitation plan included in a letter delivered to San Diego city officials, the Associated Press reports. For now, just streets in San Diego are being washed, but in the near future hand-washing and street-sanitizing efforts will be implemented in other cities in the region, Dr. Wilma Wooten, the region's public health officer, told the AP.
Wooten, who signed the declaration into law on September 8, told NPR that the precautionary efforts are modeled after programs seen in Los Angeles and other cities.
"We know that L.A. has had no local cases of hepatitis A related to the strain that we're seeing here in San Diego," she said. "It makes sense that, if they're doing it there and they haven't had any cases, it could be beneficial here as well."
The outbreak, which has left hundreds of people affected since last November, has primarily affected the city's homeless population and illicit drug users, but some cases have been neither, according to a statement from San Diego's Health and Human Services Agency.
"The outbreak is being spread person-to-person and through contact with a fecally contaminated environment. No common sources of food, beverage or drugs have been identified that have contributed to this outbreak, though investigation is ongoing," the statement says.
In addition to sanitation efforts, county officials have implemented new vaccination guidelines. They recommend that those who are at high risk, including homeless San Diegans and those who work with the homeless, get vaccinated. Doctors are also encouraging anyone who works or lives in the area to get vaccinated, NBC San Diego reports.
Free hepatitis A vaccinations are available at the San Diego Central Library on September 19 from 2 to 5 p.m.