San Diego Restaurants Likens Search for Workers to a 'War': 'You Can't Find People'
Amid the worker shortage across the country, San Diego restaurants are likening the search for employees to a "war."
"It's like a war, just because it feels like this is endless," Dario Gallo, owner of Italian restaurants Civico by the Park and Civico 1845, told The San Diego Union Tribune.
"After 14 months of COVID hell, you finally get the orange light to open up at 50 percent capacity and you can't find people to come back to work," David Cohn, co-founder of the Cohn Restaurant Group, added.
Cohn told the Tribune that his group has reached out to the various culinary programs and agencies, including the San Diego Workforce Partnership, in hopes of filling 200 positions at the restaurant group's 20 venues across San Diego County. Cohn's Corvette Diner, which just reopened a week ago, has even recruited several local theater performers to help the shortage.
"At Corvette Diner, which we've struggled to reopen, we reached out to theater groups because it's about entertainment at that restaurant. We said if you bring us people with the right attitude we can teach them to be servers or bussers or soda jerk," Cohn said.
He added, "The unemployment rate is still so much higher than it was pre-COVID, you thought there would be all these people who would be anxious to come back to work."
Despite the relaxing of lockdown restrictions, job growth is returning at a much slower pace than economists had hoped.
On Friday morning, the Labor Department released its monthly nonfarm payrolls report, which stated that U.S. employers added only 266,000 new jobs in April, a huge miss from the 1 million jobs forecasted for last month. The report also said unemployment rose to 6.1 percent, which is nearly double pre-pandemic levels.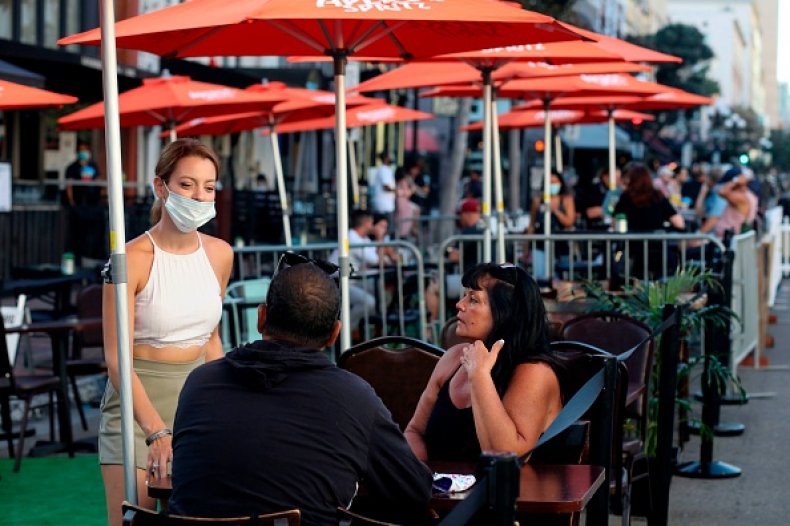 Gallo said the pool of workers has shrunk so considerably, that some restaurants owners have begun poaching his employees.
"A restaurant sent workers to approach my employees and they would say, 'How much are you making? OK, $17 an hour? I'll give you $19 or $20 an hour if you come today,' and they don't even give two weeks' notice," Gallo said.
He said he is now offering to paying $3 more an hour than his previous average in order to retain staff.
Employers in San Diego say the reason they're faced with such a high unemployment rate, which is 0.8 percent higher than the national average, is the $300 weekly unemployment benefits laid-off workers are receiving from the federal government. In some cases, hourly workers earn more on benefits than returning to their former jobs. The benefits will end in September.
Restaurant employees also face higher risks of infections, working in tight kitchen spaces and waiting on unmasked customers. A recent study from UC San Francisco found that line cooks have the highest risk of dying among working-age Californians during the coronavirus pandemic.
"Cooks, who are overwhelmingly Latino, made up the highest excess mortality rate of any profession last year—and people wonder why workers would think twice before returning to these jobs?" Assemblywoman Lorena Gonzalez told the Tribune. "To build a stronger economy as we recover from the pandemic, it's time we have a serious discussion about valuing service work and paying workers a living wage,"
Although hiring remains slow, the leisure and hospitality industry accounted for the bulk of April's new hiring gains, adding 331,000 workers.
The industry remains nearly 2.9 million jobs shy of where it was before the pandemic.
Newsweek reached out to Gallo for further comment but did not hear back before publication.