Chabad of Poway, San Diego Synagogue Shooting: 1 Dead, Others Injured in What The Mayor Calls a Hate Crime
Updated at 6:45 p.m. ET: A 19-year-old man is in custody from Saturday's shooting at Chabad of Poway synagogue, north of San Diego, California. One person is reported dead, three others are injured and the Poway mayor has called it a hate crime.
San Diego's KGTV reported a man has been detained for questioning in connection with the shooting that left one woman dead and several others injured. Patients have been admitted to the Palomar Medical Center after the incident at 16934 Chabad Way around 11:30 a.m. PT, the San Diego County Sheriff's Office announced on Twitter.
Poway Mayor Steve Vaus is calling the shooting a hate crime based on what the gunman allegedly said while entering the synagogue, according to CNN. The mayor said one person was dead and the suspect in the shooting is a 19-year-old male.
The mayor said the accused gunman was "someone with hate in their heart ... towards our Jewish community and that just will not stand." Vaus said the congregation acted swiftly to engage the shooter, and that the situation could have turned out much worse.
"I also understand from folks on the scene that this shooter was engaged by people in the congregation and those brave people certainly prevented this from being a much worse tragedy," Vaus said.
San Diego Police Chief David Nisleit said a California Highway Patrol officer heard a description of the alleged shooter on his scanner and pulled him over once he was spotted. Chief Nisleit said the 19-year-old suspect from San Diego exited his car with his hands up and he arrested without incident, according to CBS.
A rabbi leading service, Rabbi Yisroel Goldstein, was among those said to be injured in the shooting, The Daily Beast first reported.
Sheriff Bill Gore said details are still developing and asked for patience as the investigation may take several hours. At least three people were confirmed having suffered injuries.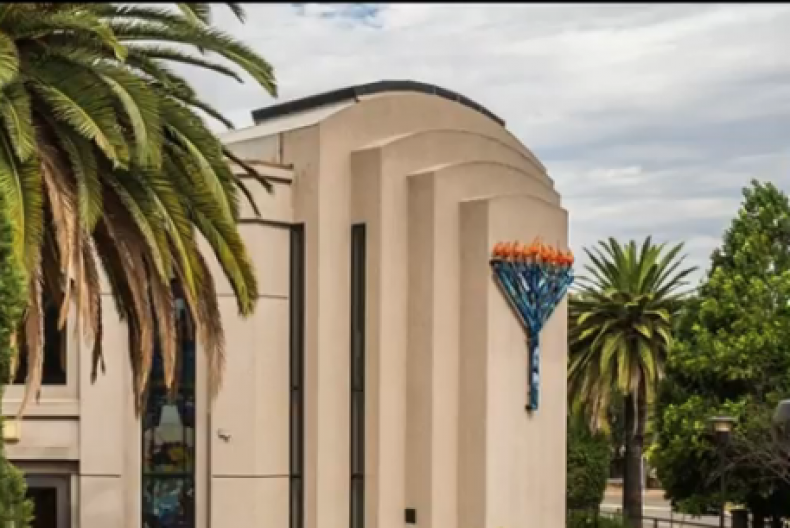 The San Diego Sheriff's Office first reported deputies were investigating reports of a man with a firearm near the Chabad of Poway synagogue some time around 11 a.m. Saturday. One of the shooting victims was a rabbi who was currently holding service and suffered a hand injury.
The synagogue was hosting its high holiday Passover celebration, which began at 11 a.m., the event was set to conclude at 7 p.m. with a Passover meal. According to the Congregation of Chabad of Poway website, a Priestly blessing and Yizkor Memorial Service were also planned throughout Saturday.
Neighbors told ABC 10 they heard six to seven gunshots and a few people screaming before hearing more gunshots around 11:30 a.m. PT Saturday.
Deputies have advised any and all residents to continue to avoid the area as the sheriff's office continues to investigate. But authorities told ABC 10 there is no continuing danger at the scene.
Newsweek is updating as reports come through from the San Diego area synagogue.