San Francisco 49ers Going to Super Bowl LIV After NFC Championship WIn Over Green Bay Packers
The San Francisco 49ers played the role of cardiac kids during the latter part of the 2019 regular season. On Sunday in the NFC Championship, they looked like a bonafide favorite to win this year's Super Bowl.
The 49ers knocked off the Green Bay Packers, 37-20, Sunday. The game virtually ended when 49ers defensive back Richard Sherman intercepted a pass from Packers quarterback Aaron Rodgers.
San Francisco now advances to Super Bowl LIV in Miami on February 2 to face the Kansas City Chiefs, who beat the Tennessee Titans in the AFC Championship on Sunday.
The 49ers rolled out to a 27-0 lead over the Packers by halftime and kept the game in control.
San Francisco is 5-1 all-time in Super Bowl appearances, going 5-0 between the 1981-1994 seasons before an 18-year hiatus. The 49ers lost Super Bowl XLVII in 2013 to the Baltimore Ravens.
After starting the season 8-0, the 49ers lost at home to the divisional rival Seattle Seahawks. After a pair of home wins against the Arizona Cardinals and the Packers, the 49ers lost a nail biter to the Baltimore Ravens, 20-17. The Ravens won the AFC's top seed.
The following week, the 49ers needed a late comeback at New Orleans to beat the Saints, 48-46. However, the 49ers lost at home the next week to the Atlanta Falcons.
The 49ers beat the LA Rams, in Week 16, to set up a finale at Seattle to determine who would win the NFC West and get the home-field advantage. San Francisco needed a stop by its defense on the final play of that game—and a replay view to make sure Seattle didn't score to get the win—to get the NFC's top seed.
Meanwhile, the Green Bay Packers relied on veteran quarterback Aaron Rodgers to lead the Pack back to a Super Bowl. The 49ers defense, ranked No. 1 in the NFL most of the season, looked rather tough most of the night, though.
Now, 49ers fans look to win their first Super Bowl since the 1994 season—25 years ago. In that season, quarterback Steve Young led the 49ers to a 49-26 win over the San Diego Chargers.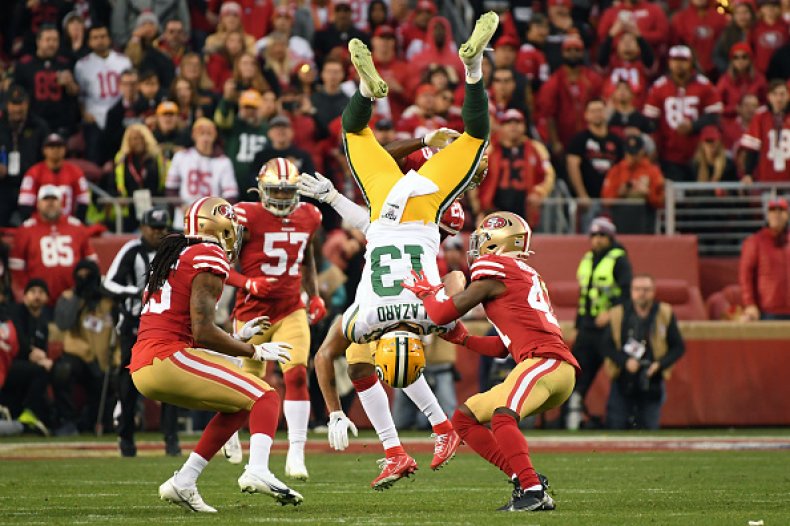 San Francisco 49ers Going to Super Bowl LIV After NFC Championship WIn Over Green Bay Packers | Sports