San Francisco Airport Becomes First in U.S. to Mandate Vaccinations for All Workers
San Fransisco International Airport became the first airport in the United States to require all workers be vaccinated against COVID-19, the mayor's office announced Tuesday.
The mandate goes into effect immediately and requires all on-site workers to be vaccinated or test negative for the virus weekly if exempted, San Fransisco mayor London Breed's office said in a statement. The rule applies to all airline, service, concession and construction employees.
"We know that vaccines are the most effective way to prevent COVID-19 transmission and reduce hospitalizations and deaths," Breed said in the statement. "This new requirement supports our aggressive measures to protect the health and safety of our region and our continued economic recovery. I want to thank SFO for their continued leadership protecting our city and its visitors."
Exemptions can be granted based on medical disability or sincerely held religious belief, the statement said.
"As SFO prepares for the upcoming holiday travel season, and the return of pre-pandemic passenger levels, we have an obligation to provide a safe airport facility for the traveling public and our on-site employees. According to the Centers for Disease Control, vaccination is the most effective way to prevent transmission of COVID-19," Airport Director Ivar C. Satero said in the statement.
In August 2020, the airport became the first to establish an on-site rapid testing and now administers tests to about 500 travelers each day, the statement said.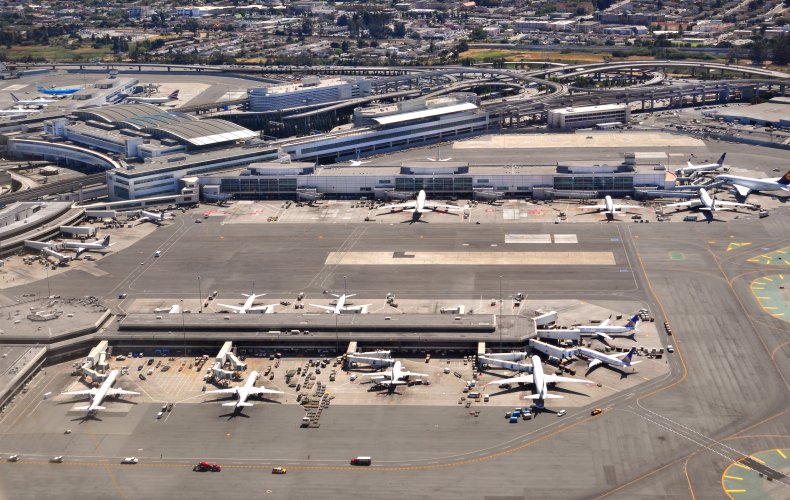 Although the announcement makes SFO the first airport to require all workers to be vaccinated, some transit workers across the country have been required. New York previously announced that all transit workers would be required to either show proof of the vaccine or test negative weekly.
Hawaii also requires workers at state facilities—including airports—to be vaccinated, according to the Associated Press.
Some airlines have also announced vaccination mandates for employees.
United Airlines announced in August that all employees would be required to be vaccinated by no later than October 25. The mandate applies to all of its 67,000 employees including flight attendants and gate agents. The company said 80 percent of flight attendants and 90 percent of pilots had been vaccinated.
Delta Airline employees who do not get vaccinated are fined $200 per month in November to "address the financial risk the decision to not vaccinate is creating for our company," the airline announced in August. The fine was calculated based on the average hospital stay for COVID-19 patients, which has cost the company $40,000 per employee.
Dr. Anthony Fauci, the director of the National Institute of Allergy and Infectious Diseases, said earlier in September that he supports vaccine requirements for air travel—including passengers.
"I would support that if you want to get on a plane and travel with other people that you should be vaccinated," Fauci said during an interview with theSkimm podcast.