San Francisco Is First U.S. City To Ban Facial Recognition Technology
San Francisco lawmakers voted Tuesday to make its city the first in the country to outlaw facial recognition technology. The surveillance oversight legislation passed by an 8 to 1 margin does not include technology for personal, business or federal use, but only city property.
Any city departments wishing to continue using current surveillance technology — or obtaining any new technology — must get board approval, according to NBC Bay Area.
Of the nine city supervisors, only Catherine Stefanie voted against the ban because she felt it might hinder public safety, especially when the city hosts events that bring large crowds.
Those on the board who support the ban feel that the technology is intrusive, flawed and a threat to civil rights. They felt the technology would keep people from visiting public places like parks, schools, city buildings, shopping centers or other visitor attractions..
Supervisor Aaron Peskin, who proposed the ban last week, said he doesn't want the city's citizens feel like they're living in a "police state."
"Good policing does not mean living in a police state," Peskin said. "Living in a safe and secure community does not mean living in a surveillance state."
Stop Crime SF is a public safety group that opposes the ban, especially with the high property crime rate in the city. One member of that group, Meredith Serra, said that with facial recognition and surveillance technology everywhere from phones to airports, the idea of banning it for privacy in public is absurd.
"To me, the ordinance seems to be a costly additional layer of bureaucracy that really does nothing to improve the safety of our citizens," Serra said.
Those who oppose the ban say it could affect technology used by police, but the San Francisco police quit testing such equipment in 2017, according to the report.
Lawmakers from neighboring Bay-area city Oakland have kicked around the idea of implementing the same type of legislation.
The graphic below, provided by Statista, illustrates Americans' attitudes towards facial recognition.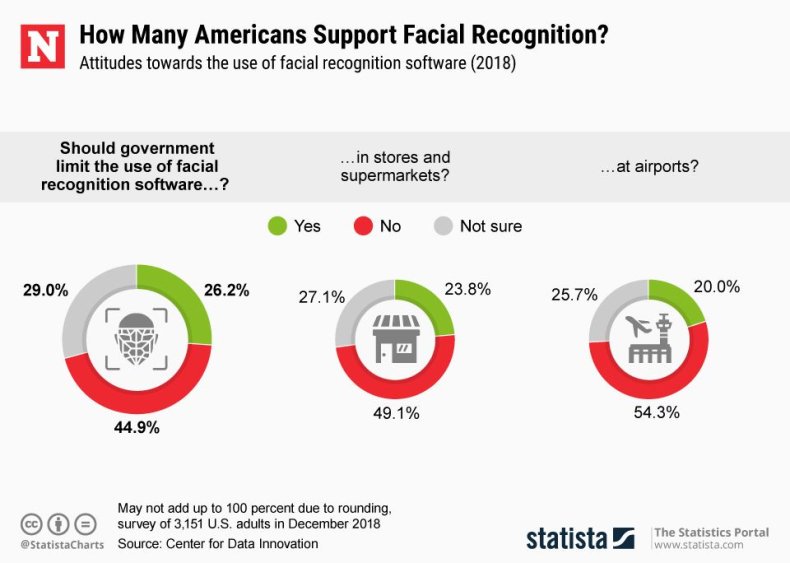 A 2016 report from CBS says that more and more law enforcement agencies around the country have begun using facial recognition technology to help speed up investigations, and they've pointed out instances where it could have helped when it wasn't available.
After the Boston Marathon bombing in 2013, detectives sorted through more than 120,000 photos and 13,000 videos before pinpointing Dzhokar Tsarnaev.
"We could have gotten the match in seconds," said Benji Hutchinson, who worked for a facial recognition software company at the time of the report.
Baltimore police used the software during the 2015 riots to identify looting suspects.
This article was updated with an infographic.