San Francisco, Bay Area Air Quality Update, Forecast: Air Still 'unhealthy' Due to Wildfires, Government Warns
Residents of northern California are still suffering from bad air quality thanks to the wildfires blazing nearby.
People in San Francisco and the Bay Area have been warned to minimize the amount of time spent outside and even don protective face masks, as levels of harmful PM2.5 particles soar.
On Saturday, the Environmental Protection Agency's air quality monitoring—Air Now—reported PM2.5 levels of 165 in its Air Quality Index (AQI) in San Francisco, classified as "unhealthy." The air in San Jose currently has the same classification.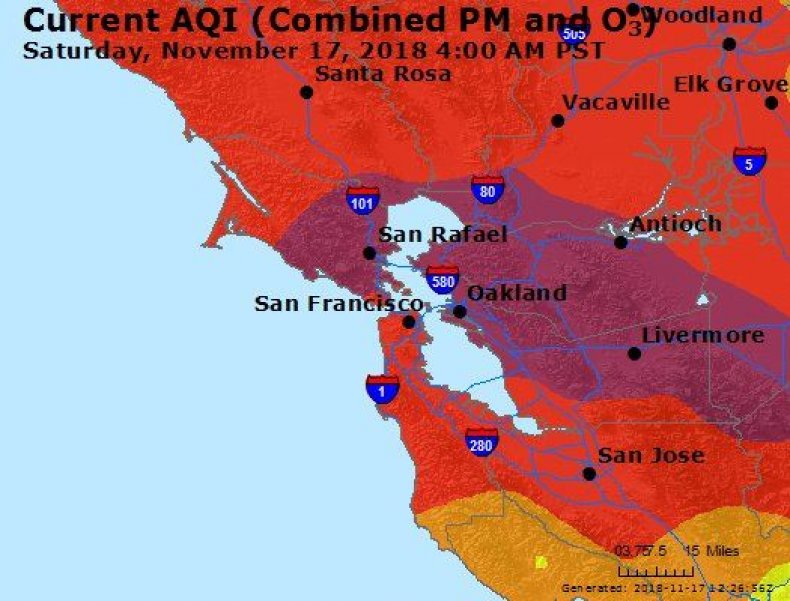 In these conditions, "People with heart or lung disease, older adults, and children should avoid prolonged or heavy exertion," read a warning on the Air Now website. "Everyone else should reduce prolonged or heavy exertion," it added.
But the air quality is even worse in other nearby cities. The worst-affected areas include San Rafael, Oakland, Livermore and Antioch, all of which have PM2.5 levels over 200. In these conditions, "everyone may experience more serious health effects," Air Now explained.
Good air quality is when the amount of PM2.5 in the air is between 0 and 50, while moderate reaches from 51 to 100. The PM2.5 readings in San Francisco and the Bay Area are far above these levels.
Air Now said PM2.5 readings would drop to 149 during the course of Saturday. Though better, this is still classed as unhealthy for certain groups.
"Although general public is not likely to be affected at this AQI range, people with lung disease, older adults and children are at a greater risk from exposure to ozone," the body explained. It added that "persons with heart and lung disease, older adults and children are at greater risk from the presence of particles in the air."
These conditions are expected to persist through Sunday.
Friday's reading of 271 was the worst ever recorded in San Francisco. According to the San Francisco Chronicle, downtown was shrouded in a dirty haze as residents struggled with itchy eyes and sore throats.
Multiple fires are burning throughout California, but it is the pollutants from the Camp Fire in Butte County to the north that are descending on the Bay Area. More than 1,000 people are missing, thousands of homes have been destroyed and 71 people have been confirmed dead as the massive blaze continues to burn.
Officials say they have contained around 50 percent of the fire, but do not expect to bring the rest of the inferno under control until the end of the month. This means there could be many more days of bad air ahead for Bay Area Californians.