San Francisco Bride, Groom and 8 Others Reportedly Test Positive After Wedding that Defied COVID Rules
At least 10 people reportedly tested positive for the novel coronavirus after attending a wedding in San Francisco, California, which violated citywide health protocols.
The wedding took place at San Francisco's SS Peter and Paul Church in early July, according to a San Francisco Chronicle report published Monday.
The newspaper did not name those involved in the nuptial proceeding, but cited comments from guests who said the bride, groom, and at least 8 others learned they contracted COVID-19 days later. Additional guests potentially exposed to the respiratory illness boarded flights to San Diego, Tennessee and Arizona after the wedding, the Chronicle reported.
Roughly 100 people reportedly attended the wedding. After city officials reportedly arrived midway through the ceremony and stopped proceedings, the rest of the ceremony was moved to an outdoor basketball court nearby.
One day earlier, city attorney Dennis Herrera issued a cease and desist letter to the Archdiocese of San Francisco, which oversees Catholic churches across 89 parishes in the surrounding area. Gael Sullivan, SS Peter and Paul's pastor, told the Chronicle that the church wanted to give the couple "a service of some kind," since the cease and desist order was issued so soon before their wedding date.
"I had said to them they had to comply with the minimum number for the service and when they showed up with more people, they agreed with sending them away," Sullivan told the newspaper. Mike Brown, a spokesperson for the city's Archdiocese, said he was "certain" the wedding took place without its approval.
Herrera's letter directed all churches that continued to hold indoor, in-person services to suspend the activity immediately. It listed a number of religious establishments, including SS Peter and Paul Church, that held mass and other services in-person despite health orders. Some churches that held outdoor services did not comply with social distancing and face mask requirements, the letter added. The city attorney's office collected information from "investigators" that surveyed Catholic churches in San Francisco between June 21 and June 28.
The California Department of Public Health (CDPH) released updated guidance for reopening places of worship on June 12 as the state began to report a resurgence of COVID-19 cases. The guidance limited attendance for indoor services to 25 percent of a religious establishment's capacity, mandated six feet of distance between attendees, and prohibited any gatherings involving more than 100 people.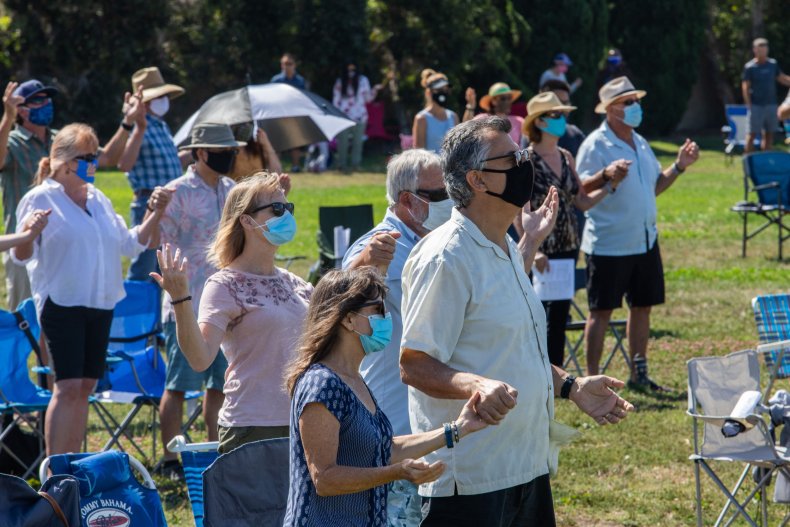 Dr. Tomás Aragón, San Francisco's Health Officer, implemented stricter protocols for places of worship in the city. As Herrera noted in his letter to the Archdiocese, Aragón's order for San Francisco prohibited places of worship from holding indoor services altogether. The order included exceptions for funeral proceedings with fewer than 12 people present, as well as live streamed services with fewer than 12 people gathered to facilitate the recording.
Churches across the U.S. have reported COVID-19 outbreaks among congregants over the last several months. A New York Times database showed at least 650 virus infections were identified in connection to about 40 churches nationwide in early July.
Newsweek reached out to Herrera's office and the SS Peter and Paul Church for additional comments, but did not receive replies in time for publication. The San Francisco Departments of Public Health and Emergency Management had no comment.