San Francisco Cathedral Pulls Water System That Sprayed the Homeless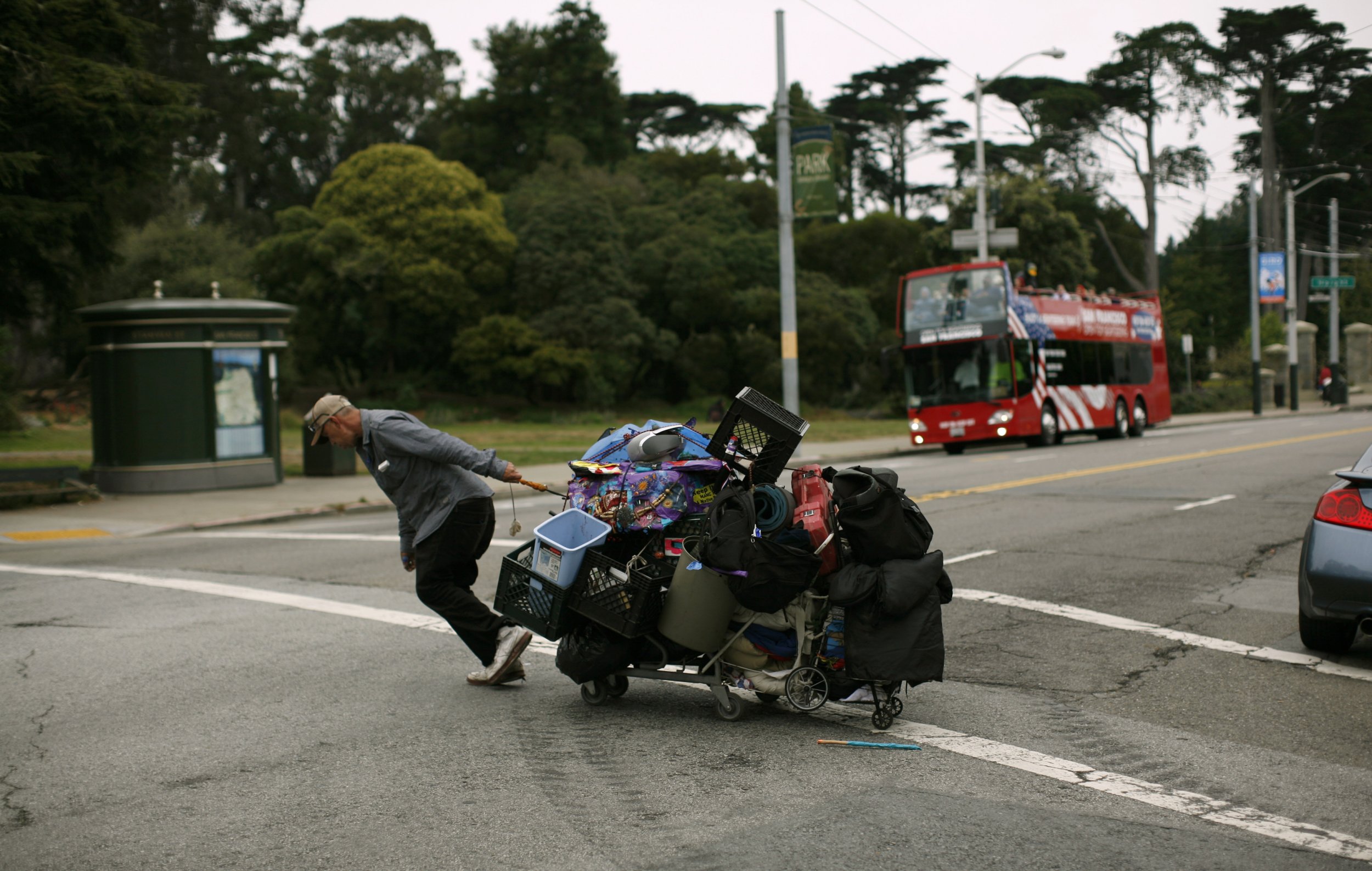 A prominent San Francisco cathedral is removing a water system that served as a deterrent to homeless people as they slept after a local television station reported about the system Wednesday.
St. Mary's Cathedral, the main church of the Archdiocese of San Francisco, installed a mechanism two years ago that drips water from a hole about 30 feet above an alcove where homeless people typically shelter and sleep, KCBS in San Francisco on Wednesday. The stream lasts for about 75 seconds and runs every 30 to 60 minutes, according to KCBS.
A homeless man identified only as Robert told KCBS, "They actually have signs in there that say, 'No Trespassing.'" Those who gather in the alcove are not warned before the water starts dripping.
The Archdiocese of San Francisco released a statement on Wednesday morning after KCBS's broadcast apologizing for using the water system, which it said was intended to mimic similar systems used by other buildings in the area to keep the area clean of "needles, feces and other dangerous items [that] were regularly being left in these hidden doorways.… The idea was not to remove those persons, but to encourage them to relocate to other areas of the cathedral, which are protected and safer. The purpose was to make the Cathedral grounds as well as the homeless people who happen to be on those grounds safer," the archdiocese said in a statement.
The statement acknowledged that the "method used was ill-conceived," and "had the opposite effect from what it was intended to do."
KCBS also discovered the system had been illegally installed and that the San Francisco Department of Building Inspection has filed a notice of violation against the archdiocese and the cathedral. In their statement, the archdiocese acknowledged that the system may have violated water-use laws and they planned to do to remove it by the end of day Wednesday.
Jennifer Friedenbach, executive director of the Coalition on Homeless, told KCBS the water system was "very shocking, and very inhumane."
"There's not really another way to describe it. Certainly not formed on the basis of Catholic teachings," said Friedenbach.
There are roughly 6,436 homeless people living in San Francisco, including 914 children, according to a 2013 survey conducted by the city. The Archdiocese said in its statement it supports thousands of homeless people each year through its programs.
Pope Francis, elected as head of the Catholic Church two years ago, has made improving the lives of the homeless a priority. In February, the Vatican offered showers and haircuts for the homeless in St. Peter's Square; both will be available on a regular basis. To mark Pope Francis's 78th birthday in December, a group of volunteers handed out sleeping bags to the homeless in Rome.
As well as being a deterrent, the water system could also be viewed as waste: California is expecting a record drought and NASA warned last week the state only has one year of water left. New water regulations were introduced in California on Tuesday; measures include the prohibition of watering of lawns within two days of rain while restaurant customers must also ask for a glass of water instead of it being automatically provided.