San Francisco Could Tax Wealthy Companies to Address Rising Homeless Population
San Francisco will decide on November 6 whether large companies should be taxed more to assist the city's burgeoning homeless population, the Associated Press reported.
Residents will vote on Proposition C, which proposes taxing hundreds of the city's wealthiest companies to raise approximately $300 million each year to support San Francisco's homeless and mentally ill residents. The city already annually spends about $300 million on services related to homelessness, according to the San Francisco Chronicle.
San Francisco's homeless population reached 7,499 in 2017, rising 2 percent from 2013, according to city data. Over 4,350 people were living on streets as of January 2017. More than 500 of these unsheltered individuals were minors, and the vast majority of them were "unaccompanied children" or "transitional-age youth."
Some elected officials, including San Francisco Mayor London Breed, have opposed Proposition C. While acknowledging the rising homelessness population, they said that the measure was not the correct solution.
"I have to make decisions with my head, not just my heart," said Breed, who The San Francisco Chronicle said is planning to add 1,000 more beds for homeless residents by the end of 2020. "I do not believe doubling what we spend on homelessness without new accountability, when we don't even spend what we have now efficiently, is good government."
Breed is concerned that the measure could deter businesses, according to The Wall Street Journal.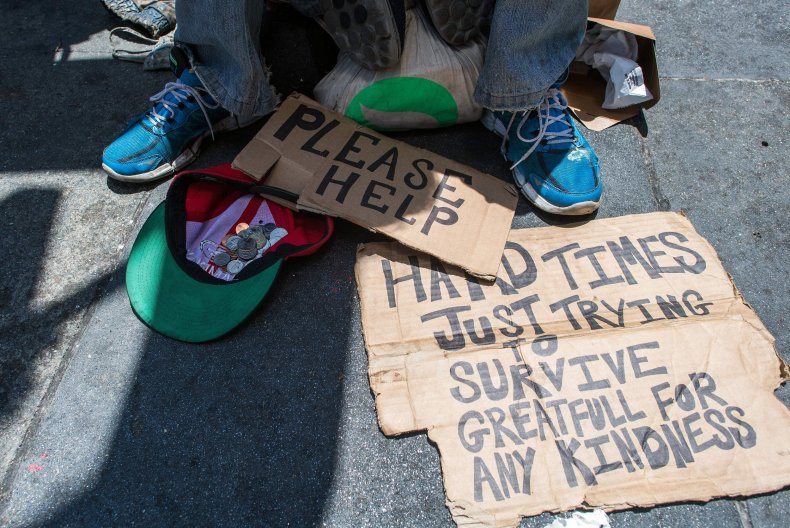 The debate over the proposition led to a social media argument between Twitter CEO Jack Dorsey and Marc Benioff, a philanthropist and the founder of Salesforce, San Francisco's largest private employer.
Dorsey said he wanted to address the city's homelessness problem, but that he supported Breed's assessment of Proposition C. Benioff responded by asking about how Twitter has supported programs that mitigate homelessness and brought up a tax break that Twitter has benefited from since 2011.
Benioff has broadly criticized tech leaders who resist participating in social welfare programs, calling the amount they would forfeit for such initiatives "immaterial."
"People want action to support the homeless," he said. "This is an easy way. Unfortunately, a lot of these tech CEOs, they don't give money to the homeless, they don't give money to public schools, they don't give money to public hospitals…They work and live inside their bubbles."
Earlier this year, Seattle implemented a tax on large employers to address the city's homelessness, The Washington Post reported. The measure faced heavy opposition from Amazon and other businesses. In June, less than a month after the tax increase was passed, the Seattle City Council repealed the measure.