San Francisco Faces Backlash Over Reparations Support: 'Political Ploy'
Outrage erupted online after the San Francisco Board of Supervisors expressed support for a controversial reparations proposal that would give every eligible Black resident $5 million.
San Francisco's city-appointed African American Reparations Advisory Committee presented the plan to the board for the first time on Tuesday and received "enthusiastic support" from board members, according to the Associated Press (AP).
The plan, which was released in draft form in December, mandates a $5 million lump sum payment to each eligible adult Black resident. It would also wipe out debt and guarantee annual pay in line with the area median income—$97,000 in 2022—to those eligible for the next 250 years.
The proposal was blasted as an impractical "political ploy" by many online commentators soon after news of the board's support emerged on Tuesday, with those on the political right expressing particular outrage.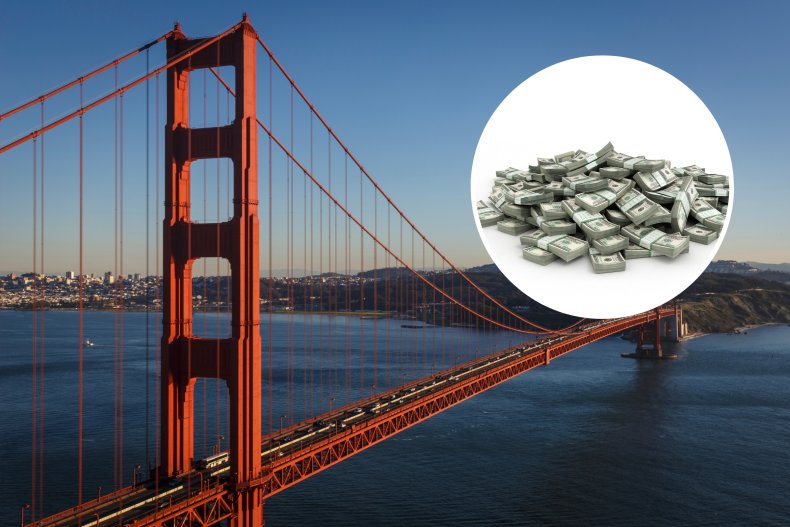 "San Fransisco is considering $5 Million dollar payouts to blacks for reparations?" tweeted Christine Quinn, former Republican congressional candidate. "For what? California didn't have any slave owners or slaves in the entire state! I busted my ass to build a business I want $10 Million dollars for working! Another political ploy! I say NO WAY!"
"Let me get this straight," former California GOP gubernatorial candidate Larry Elder tweeted. "A black college educated San Franciscan, with money in the Silicon Valley Bank, gets full reimbursement though his deposit exceeds FDIC's $250K limit, receives $5mil in reparations AND gets student debt loan forgiveness. Is this a great country or what?"
"San Francisco reparations idea: $5 million per Black person," tweeted conservative commentator John Cardillo. "California wasn't a slave state. This is how f****** stupid California is."
Richie Greenberg, former GOP San Francisco mayoral candidate who says the plan would create a "Neo-Apartheid State" on a website devoted to rejecting it, said on Twitter that he had sent notice that the plan "violates numerous CA State and Federal laws" to each board member.
"San Francisco's Board of Supervisors have thrust us into a Lose-Lose situation," Greenberg tweeted later. "Anyone pushing back against Reparations will look bad, and the city's Black population will be let down since they can't legally move forward. The BoS is waisting [sic] a ton of time and taxpayers money."
Meanwhile, board member Hillary Ronen said that she could not "wait" to "implement" the recommendations while sharing images from the hearing on Tuesday.
"Beautiful images from historic hearing on reparations for San Francisco's African-American community," tweeted Ronen. "Can't wait to get to work to implement the 111 report recommendations."
Others expressed skepticism that the plan would ever come to fruition, while predicting that it would continue to be used as a talking point among conservatives.
"The $5 million per person payment is one of a number of ideas included in the San Francisco proposal, and is definitely not going to happen," tweeted Mike Rothschild, a journalist who focuses on conspiracy theories. "But it will be a right wing talking point for days."
While slavery was always illegal in California, reparations proponents say that measures are needed to address the long-term impact of slavery and institutional racism across the country. Black Americans continue to be disproportionately affected by poverty, homelessness and imprisonment.
The San Francisco plan did not come with a cost analysis and could be very expensive if implemented. The conservative-leaning Hoover Institution estimated that the proposal would cost every non–Black household in San Francisco $600,000.
Black residents made up more than 13 percent of San Francisco's population in 1970. However, they now account for only around 6 percent—fewer than 50,000 people in total, according to the AP.
It is unclear how many residents would be eligible for the $5 million payout. Criteria in the draft proposal include having been born in or migrated to the city between 1940 and 1996 and living there for at least 13 years, being the descendant of a slave and being "incarcerated by the failed War on Drugs."
The NAACP of San Francisco issued a statement urging the board of supervisors to reject the $5 million payments in favor of reparations that are focused on investing in the Black community as a whole.
The Reverend Amos Brown, president of the San Francisco branch, told the board to instead focus on investments in education, jobs, housing, health care and a cultural center for the city's Black community.
"We strongly believe that creating and funding programs that can improve the lives of those who have been impacted by racism and discrimination is the best path forward toward equality and justice," Brown said.
Newsweek has reached out via email to the San Francisco Board of Supervisors, the city's African American Reparations Advisory Committee and the NAACP of San Francisco for comment.