San Francisco Imposes Strict New Lockdowns, But Neighboring County Not Yet Issuing Stay-at-Home Order
San Francisco and surrounding Bay Area counties announced on Friday that they would jump ahead of state recommendations to implement strict new stay-at-home orders. But neighboring county San Mateo said it will not be joining the efforts.
A total of five Bay Area counties – which includes Alameda, Contra Costa, Marin, Santa Clara, San Francisco, and the city of Berkeley – issued a joint statement to impose new COVID-19 restrictions ahead of California's proposed statewide order.
On Thursday, California Governor Gavin Newsom said the state would enter a three-week stay-at-home order if the ICU capacity in any region falls below 15 percent. Though the Bay Area has not yet reached that threshold, each of the regional leaders said the pandemic was too dire now to wait.
"If you're not working to stay ahead of this virus you're falling far, far behind and very quickly," said San Francisco Mayor London Breed, according to Reuters.
The new order will take effect throughout the counties beginning early next week, and will shut down indoor businesses including bars, hair salons, barbershops, and movie theaters, as well as outdoor dining and recreational facilities, SFGate reported. Under the new restrictions, restaurants will be permitted to operate for delivery and take-out only.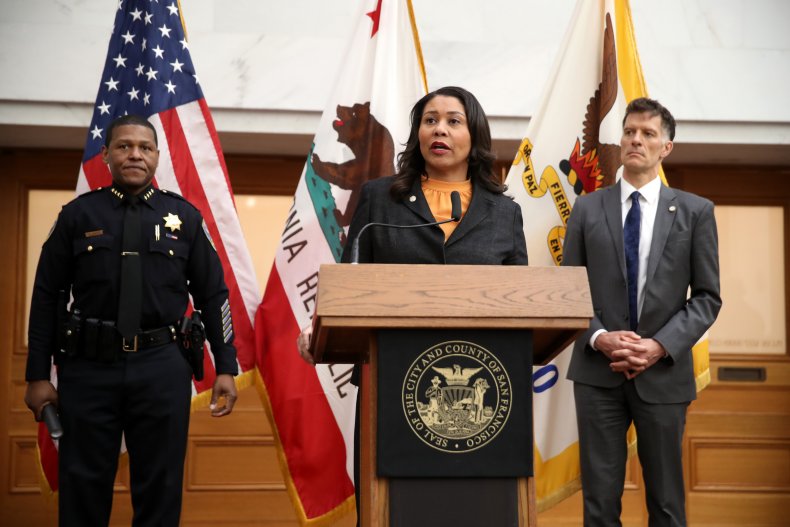 But San Mateo announced that they "will not at this time be issuing a new local stay-at-home order and will continue to work with business and community leaders on adherence to existing guidelines," according to a press release given to Newsweek.
"The County of San Mateo remains focused on following the state's existing metrics and process, while reinforcing the public's responsibility to comply with existing safety measures – especially avoiding gatherings – to slow the spread of COVID-19 during the holiday season," the statement said.
This is not the first time San Mateo has broken away from the rest of the region. In May, the county was the first to move into Stage 2 of reopening, ahead of its neighbors.
San Mateo County Health Officer Dr. Scott Morrow has consistently stated that he believes business closures are the incorrect way to combat the pandemic.
"I am not supportive of these actions and, for San Mateo County, I believe they are misdirected and will cause more harm than good," he said in August after the county moved to close some businesses, the SFGate reported.
In the county's Friday press release, officials urged residents to continue wearing face coverings, practice social distancing and limit social gatherings, especially when indoors.
"We acknowledge the reality of the pandemic fatigue that residents are experiencing and the need to find sources of support through this challenging period. Our collective focus must be on finding ways to support each other through this crisis safely while limiting gathering and adhering to face covering," said Louise Rogers, Chief of County Health.
California is one of the worst-hit states in the U.S., with over 1.3 million reported cases, and 19,791 deaths, according to date from The New York Times.
So far, San Mateo has reported 15,217 cases and 176 deaths, Johns Hopkins University data shows.
"The measures we are taking emphasize individual and collective responsibility," said Morrow in a press release.
"With the vaccine coming soon, now more than ever, this is a critical time to stay focused on the key behaviors that protect our communities."