San Francisco Mayor Breaks Her City's Mask Mandate at Night Club, Video Shows
San Francisco's Mayor London Breed, a Democrat, appeared to be in violation of her city's mask mandate during an outing in the city's Tenderloin neighborhood this week.
The Black Cat Night Club posted a photo of Breed and some friends maskless at the venue on Wednesday evening before later removing the image, NBC Bay Area reported on Thursday. San Francisco Chronicle senior reporter Mariecar Mendoza later posted a video of the mask-less mayor standing and dancing behind a crowd of club goers as someone sang on stage.
Although Breed touted the mask mandate by local health officials in early August, she suggested to Mendoza in an interview that she did not feel she needed to follow the requirement. The mandate was announced for everyone to wear masks indoors—regardless of vaccination status—unless they are actively eating or drinking.
The mayor told the reporter that "at the end of the day, everyone who comes in here has to show proof of vaccination. That gives me a lot of reassurance." She said that she tests for COVID-19 regularly as well.
"I've been very careful, not just because I want to set an example but because I don't want to get COVID. I also want to make sure that I'm not someone transmitting COVID to other people," she said. "This entire pandemic has been focused on keeping people safe."
Breed spent the night dancing and interacting with friends at the club without wearing a mask, according to the video and Mendoza's reporting. Although the mayor is vaccinated and proof of vaccination was required at the club, the mayor's actions appeared to go against the current public health order requiring masks indoors.
"Everyone, including people who are fully vaccinated, must wear a well-fitted mask in indoor public settings at all times except," the current order in effect from San Francisco's public health department said, "people may remove their well-fitted mask while actively eating or drinking."
Newsweek reached out to Breed's press representatives for further comment but did not immediately receive a response. Some quickly criticized Breed for going without a mask.
"She's been very clear that everybody needs to do their part, we're not out of the woods. San Francisco's rules have been very restrictive, and I don't see her playing her part in that photo," Danielle Rabkin, owner of Crossfit Golden Gate Gym, told NBC Bay Area.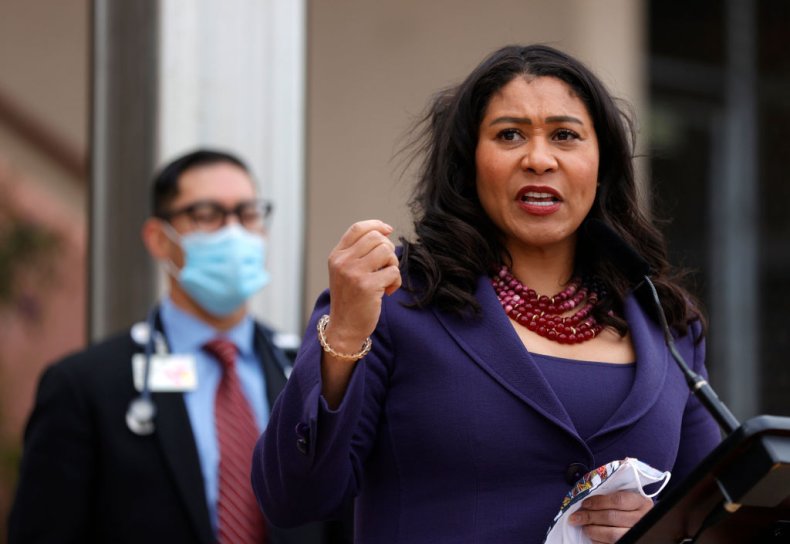 Other top California Democrats have previously faced backlash for violating the state's COVID-19 guidance. Governor Gavin Newsom attended a November party at Napa County's high-end French Laundry restaurant with a group larger than what was recommended by health officials. Photos of Newsom posing without a mask went viral, drawing substantial criticism.
"While our family followed the restaurant's health protocols and took safety precautions, we should have modeled better behavior and not joined the dinner," Newsom said in an apology after the news of the dinner circulated widely.
Speaker of the House Nancy Pelosi, a California Democrat, was also filmed last year in a San Francisco hair salon without wearing her mask. Indoor hair services were prohibited under COVID-19 restrictions at the time.
"I take responsibility for trusting the word of a neighborhood salon that I've been to over the years many times," Pelosi said, defending her actions. "When they said we're able to accommodate one person at a time and that we could set up at that time, I trusted that. As it turns out, it was a setup."