San Francisco Mayor Faces Backlash After Attending 8-Person Birthday Party Days Before Announcing Indoor Dining Ban
Another California politician is facing backlash after San Francisco Mayor London Breed attended an eight-person birthday party just a day after Gov. Gavin Newsom's ill-advised gathering last month, the San Francisco Chronicle reported Tuesday.
Breed attended a gathering for socialite Gorretti Lo Lui's 60th birthday on November 7 at the French Laundry, the same Napa Valley restaurant where Newsom was spotted attending a 12-person birthday party after the California Department of Public Health prohibited gatherings of more than three households and following his attribution to private gatherings as a reason for a spike in cases.
"COVID-19 continues to pose a severe risk to communities and requires all people in California to follow necessary precautions and to adapt the way they live and function in light of this ongoing risk," reads the California state guideline on gatherings. "The safest way to gather is to spend time with people in the same household, gather virtually, or gather outdoors."
Although it is unclear how many households were present at Breed's gathering at the heart of California's wine country, the dinner did take place in a "partially enclosed space," according to the Chronicle. A spokesperson for Breed told the newspaper that the gathering was a "small family birthday dinner."
On November 10—three days after attending the party—Breed announced in a statement that San Francisco will be temporarily banning indoor dining once again—effective November 13—following a 250 percent increase in COVID-19 cases since October 2.
"The rolling back of certain businesses and activities is necessary to mitigate the aggressive growth of the virus that would cost lives and threaten the capacity of our health care system," Breed said in the statement.
As of November 30, both San Francisco County and Napa Valley County have moved to the restrictive purple tier.
At the time, Napa County allowed indoor dining with no specific limits to the number of households allowed per gathering. However, before the indoor dining ban, San Francisco guidelines only allowed six people to be seated together both indoors and outdoors unless they came from the same household.
"I cannot emphasize enough how important it is that everyone act responsibly to reduce the spread of the virus," Breed said on November 10. "Every San Franciscan needs to do their part so that we can start moving in the right direction again."
"We will continue to act in the best interest of public health, and we'll continue to help our impacted businesses as much as we are able," she added.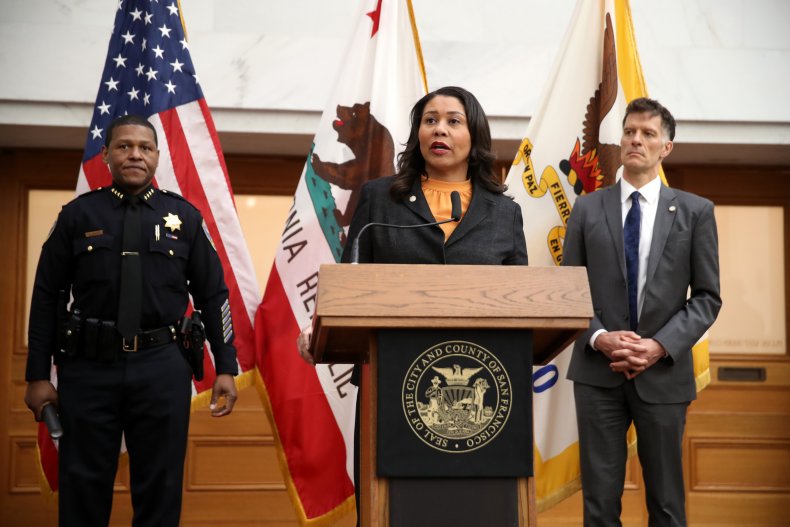 San Francisco—like many other parts of the country—has seen several economic downfalls since the beginning of the pandemic, with countless shuttered businesses and lengthy lines at food banks as they plead for volunteers, the Chronicle reports. The crisis doesn't show any signs of stopping, however, as California reported more than 12,000 new cases on Tuesday and a rising number of hospitalizations from COVID-19 throughout the state, according to data from the COVID Tracking Project.
"There may be further rollbacks that we'll put into place ourselves in order to curb this virus," Breed said in a Tuesday press conference. "Which is why we have to continue to do our part to distance ourselves from one another and to limit our activities because we've done it before." She added that San Francisco may see "some real challenging months ahead" as COVID-19 cases continue to surge.
Breed is among several California elected officials who have been called out for not following their own advice on COVID-19 restrictions. Los Angeles County Supervisor Sheila Kuehl was spotted dining outdoors at a restaurant just hours after casting one of three votes to prohibit outdoor dining, stating in a virtual press conference last week that restaurant staffers safely serving unmasked diners was "a bit of magical thinking."
San Jose Mayor Sam Liccardo also drew criticism after traveling to attend a holiday dinner in Saratoga, California, with his elderly parents and other relatives from different households, despite urging his own residents to avoid big gatherings for Thanksgiving.
In a tweet last week, Liccardo wrote: "Cases are spiking, in part because we're letting our guard (and masks) down with family & friends. Let's cancel the big gatherings this year and focus on keeping each other safe."
In a statement on Tuesday, Liccardo apologized for attending the family gathering, indicating that he understands his "obligation as a public official to provide exemplary compliance with the public health orders, and certainly not to ignore them."
Newsom has also since apologized for his dinner party, stating during a news conference on November 16 that "we all fall short sometimes."
"I made a bad mistake," the Democratic governor said. "Instead of sitting down, I should have stood up and walked back out to my car."
Breed's office did not immediately respond to Newsweek's request for comment.