San Francisco Mayor Asks Jerry Brown for Brother's Early Release From Prison, Ethics Questions Raised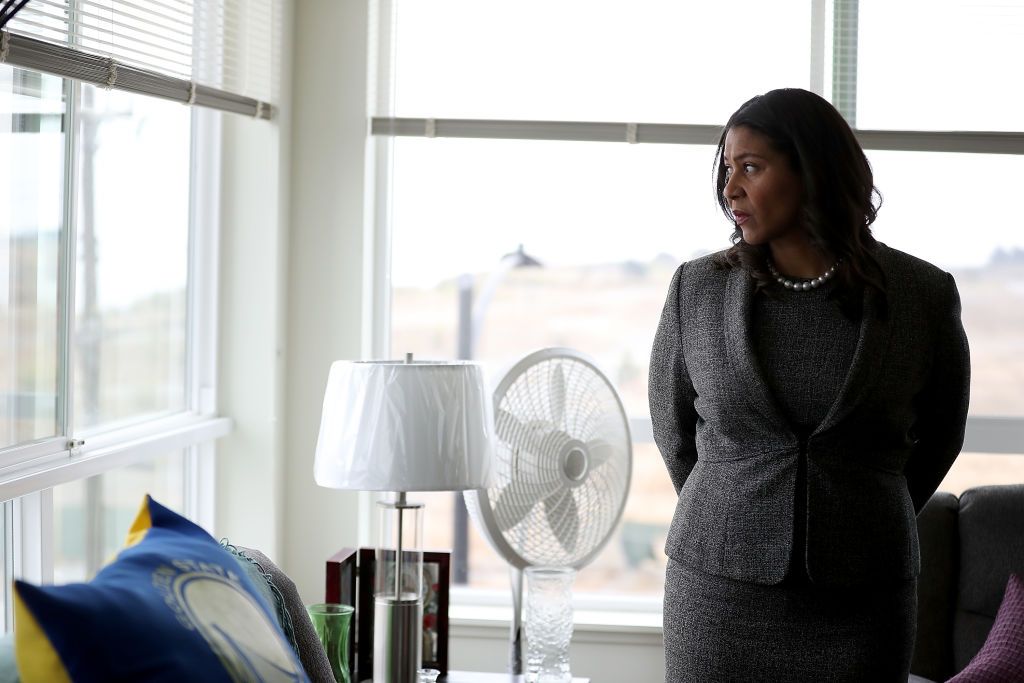 San Francisco Mayor London Breed is being accused of ethical violations following a request to outgoing California governor Jerry Brown.
NBC Bay Area first reported the news, airing a segment detailing Breed's request for her brother, Napoleon Brown, to be given a reduced prison sentence. Brown is currently serving 42 years for manslaughter for the death of Lenties White, armed robbery and other crimes, in addition to two years tacked onto the initial sentence after being found with heroin on his person while incarcerated. The additional time was added in 2017.
In the letter, sent to Jerry Brown in late October, Breed states that she is not requesting that her brother's sentence be pardoned, but reduced.
"I am not asking for my brother to be pardoned or for his conviction to be wiped away, but simply for the Governor to consider initiating the commutation of his sentence. This would only be the first step in a long process that involves a thorough investigation by the Parole Board and a decision by the California Supreme Court," Breed said in a statement to NBC Bay Area on Tuesday.
In her letter to the governor, Breed added that she did not believe that the initial sentence given to Brown was fair.
"Although I don't believe the 44-year sentence was fair, I make no excuses for him. His decisions, his actions, led him to the place he finds himself now. Still, I ask that you consider mercy, and rehabilitation," Breed wrote.
Chuck Smith, a former prosecutor who now works as a defense attorney told NBC Bay Area that the timing of the request is suspect.
"The timing of it is troublesome. She could have written this letter six months ago, when she wasn't mayor—and she didn't. The governor obviously is leaving office soon," Smith said.
Gov. Jerry Brown will leave office on January 7, 2019.
Sandra McNeil, the mother of 25-year-old White, is also upset at the possibility of Napoleon Brown being released or given a lesser sentence.
"I don't think it would be justice. She's the mayor, so she's got a little power, so she thinks she can get her brother out," McNeil said. "I thought it was done and over. Justice was served and that was the end of it—I never knew there was going to be another beginning of it."
In 2000, Brown pushed White out of a car and into heavy traffic near the Golden Gate Bridge. White was struck by a drunken driver and later died from her injuries. The incident followed a robbery conducted by Brown and a second man, Sala Thorn, of a Johnny Rocket's restaurant.
Brown, along with members of his and Breed's family, also wrote letters to the governor. In his letter, Brown said that he was sorry for the crimes he committed when he was younger.
"I am very sorry for all the people I hurt with my crimes 18 years ago.… I still take full and complete responsibility for all my actions," Brown wrote.
Breed stated in her letter that Brown struggled with drug addiction from an early age and that she believes that addiction contributed to his crimes.
"Napoleon struggled early on with a sense of hopelessness. And like many others, he developed a bad drug problem at an early age. His drug addiction led to a young life of crime," Breed wrote.
However, critics of Breed's actions, including Smith, point out that Breed neglected to include important facts about her brother's case in her letter—including that she offered an alibi for Brown, testifying at his trial that he had been sleeping on her couch at the time the robbery occurred and when White was left on the bridge. Breed also makes no mention in the letter of Brown's heroin possession in 2017.
"If there are negative facts, it is the obligation of the office holder to bring forth those negative facts and address them. Rather than just try to sweep them under the rug.… It smacks of ethics which are not exactly up to par in my opinion," Smith said.
Breed's statement on Tuesday included the assertion that she and her family can provide Brown with a support system should he be released.
"My family and our community is ready and willing to help support my brother, and we will take this responsibility seriously if his sentence is commuted. I believe he will better serve society, the community, his family, and his children outside of prison. Ultimately this determination is up to the Governor and the courts, but I join my family in making this request," Breed said.
"I do believe that people need to face consequences when they have broken the law, but I also believe that we should allow for the rehabilitation and re-entry of people into society after they have served an amount of time that reflects the crimes committed."
Brown is eligible for parole in 2023.