San Francisco In-N-Out Forced to Close After Not Enforcing Vaccination Checks
A San Francisco In-N-Out Burger was temporarily shut down after employees allegedly did not check for customers' vaccine documents, in violation of the city's vaccine requirement.
In San Francisco, people have been required since August 20 to show proof that they have been vaccinated against COVID-19 in order to enter some indoor places like restaurants, gyms and bars.
The fast-food restaurant located in Fisherman's Wharf was forced to shut down on October 14 but has since reopened with indoor dining remaining unavailable, the company said in a statement to Newsweek.
In the statement, In-N-Out Chief Legal & Business Officer Arnie Wensinger defended not having employees check their customers' vaccine status.
"We refuse to become the vaccination police for any government," he said. "We fiercely disagree with any government dictate that forces a private company to discriminate against customers who choose to patronize their business. This is a clear government overreach."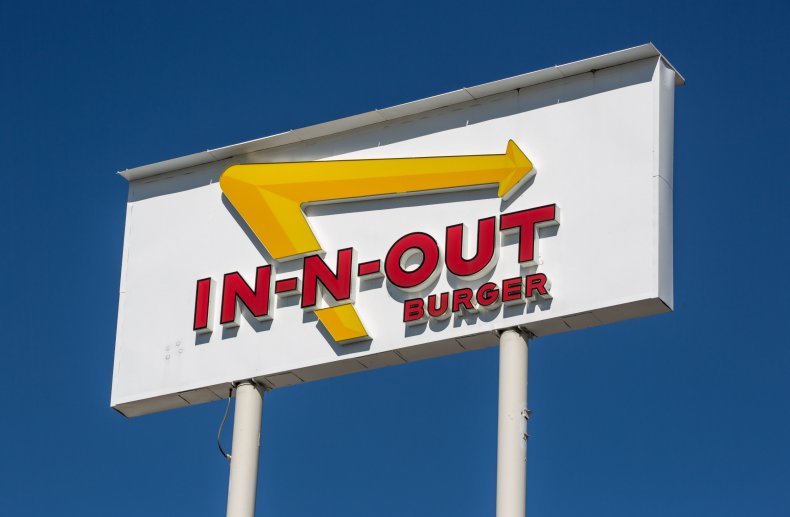 Wensinger said the company believes it is "unreasonable, invasive, and unsafe to force our restaurant Associates to segregate Customers into those who may be served and those who may not, whether based on the documentation they carry, or any other reason."
The San Francisco Department of Public Health told Newsweek that they informed the business about the requirement "multiple times" after receiving a complaint from the city's 311 service line.
Health officials first visited the location on September 24 and provided information so the restaurant could comply with the order. When they returned on October 6, they found that In-N-Out had continued to violate the order. They issued the first notice of violation.
"Since then, public health inspectors had attempted multiple times to bring the business into compliance with the health order. In-N-Out Burger had not complied by the time the final Notice of Violation and a Notice of Closure was issued," the department said in a statement.
Some cities in the U.S., including New York City, have instituted vaccine policies requiring people to be vaccinated to enter indoor spaces including restaurants in an attempt to encourage residents to get the vaccine.
However, the mandates have received pushback from some businesses.
Rather than require their customers to provide proof they are vaccinated, some fast-food restaurants have instead opted to close their indoor seating section, according to an October 1 report from Reuters.
In New York City, White Castle shut down indoor seating in more than 20 locations. Some McDonald's locations have also decided to close their indoor seating.
The Independent Restaurant Owners Association Rescue (IROAR) filed a lawsuit against New York City Mayor Bill de Blasio over the mandate, claiming it's "arbitrary, irrational, unscientific and unlawful" and would "severely impact" businesses.
In San Francisco, a survey from the Golden Gate Restaurant Association found that 60 percent of restaurants in the city experienced a drop in business since the mandate was implemented, The San Francisco Chronicle reported. Fifty-two percent reported that at least one employee experienced conflict with a customer while checking their vaccine status.
Some customers have also taken issue with vaccine mandates. In September, a group of tourists from Texas allegedly attacked a hostess in New York City who questioned the validity of their vaccination proof.