San Francisco, New Orleans Latest Cities to Require Vaccination Proof for Indoor Venues
Both New Orleans and San Francisco announced Thursday that proof of vaccination will be required for people to enter indoor venues such as restaurants, bars and performance venues.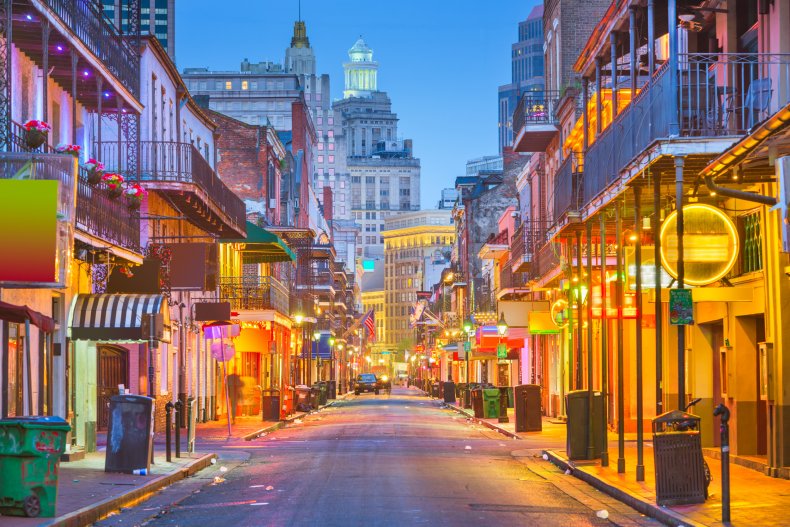 COVID-19 infections have been surging throughout Louisiana and California in recent weeks due to the Delta variant. Louisiana also has one of the lowest vaccination rates in the U.S., with only around 38 percent fully inoculated. Meanwhile, around 53.8 percent of Californians are fully vaccinated.
San Francisco's order requires proof of vaccination at indoor bars, restaurants, clubs, theaters and entertainment venues. Indoor gyms and other fitness establishments are also included in the city's new mandate. Attendees who are age 12 or older also must provide proof of vaccination for indoor events with 1,000 people.
The vaccination mandate for San Francisco goes into effect August 20.
News of the city's new health order was shared on Twitter by the account for the San Francisco Department of Emergency Management. The tweet included a link with the detailed the new policy.
The Bay Area city's health order also extends vaccination requirements to some health care providers, including workers at adult day centers; residential care facilities, dental offices; home health aides; and pharmacists.
The city's order gave guidance to business owners and provided a list of approved private apps to verify vaccination status.
New Orleans Mayor LaToya Cantrell shared the new rules for her city during an afternoon press conference Thursday. She said residents and visitors to the city will need to show proof of a COVID-19 vaccination or a recent negative coronavirus test before entering restaurants, bars and other venues, such as the Caesars Superdome.
"The situation is dire and we are simply out of time," Cantrell said at the beginning of the conference.
The new mandate for New Orleans is set to go into effect August 16, but Cantrell said the city won't enforce the new measure until the following week.
Earlier on Thursday, AEG, one of the biggest concert promoters in the world, announced it would enforce a vaccine mandate at all its upcoming shows. The company promotes the New Orleans Jazz & Heritage Festival, which was recently canceled for the second year in a row over fears of public safety.
San Francisco and New Orleans will join New York City as major U.S. cities that will enforce vaccine mandates. New York City Mayor Bill de Blasio announced on August 3 the city's vaccine mandate will take effect during the week of August 16 and would apply to indoor dining, entertainment and fitness facilities.
San Francisco will require proof of full vaccination, while New Orleans—like New York City—will require only proof of the first dose of a vaccine.