San Francisco police released dramatic bodycam footage showing the moment one of its officers shot a fleeing suspect in the back.
The video was made public during a town hall meeting on June 14. It was part of a bid by the department to be transparent after residents raised concerns over an incident in the North Beach neighborhood.
The clip shows two uniformed officers approaching four males seen drinking alcohol in public as they stood on the corner of Grant Avenue and Vallejo Street. Following a brief exchange, one of the men, later identified as 28-year-old Oliver Barcenas, runs away and is quickly pursued by one of the officers.
According to a police statement, during the chase Barcenas removed his jacket and pulled a firearm from his waist. The chasing officer, whose identity has not been made public, then fired at Barcenas.
Soon afterward, with Barcenas injured on the ground, a crowd starts to gather around the officers. One asks the officer who fired, "What the f*** you doing?"
"You shot him for no f****** reason!" a second man adds during the heated confrontation, as the officers desperately try to move the crowd back.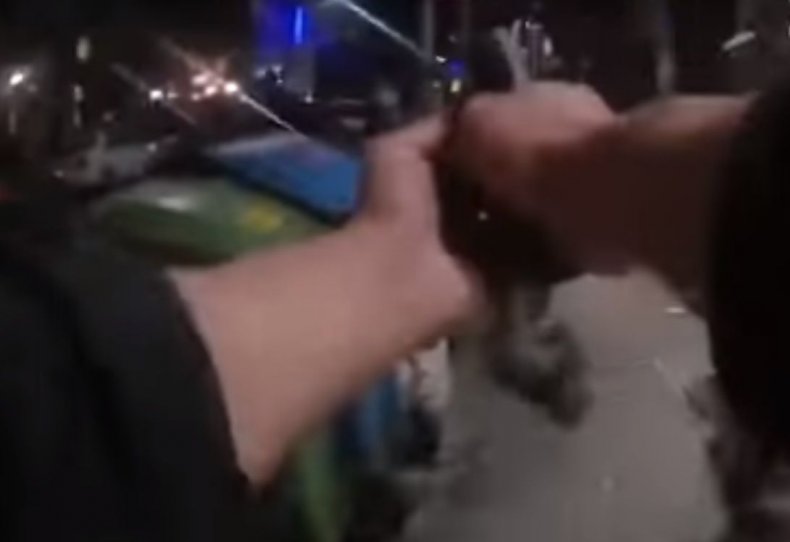 Later in the clip, the officer wearing the bodycam can be heard telling another officer that Barcenas had a gun on him but says he doesn't know where it is.
"We need to find that gun…we need to back people further up, there's a gun somewhere here," the officer said.
Police said a Glock .45 caliber, equipped with a laser sight and containing 26 rounds, was later recovered from the scene and alleged to have belonged to Barcenas.
Barcenas was transported to Zuckerberg San Francisco General Hospital for treatment. He was later arrested and charged with delaying an officer, carrying a concealed firearm, exhibiting a firearm and being a convicted felon in possession of a firearm.
Some locals questioned the officer's conduct after the footage was played during a town hall meeting, reported the San Francisco Gate.
"I'm very concerned about the shooting," North Beach resident Theresa Flandrich, 62, said. "I would have hoped there would have been some awareness that there are other people here. It's just shocking to me to see this."
"I think you can tell from the video he was scared, and I don't feel safe being around the streets with officers shooting people," said 24-year-old Natalie April. "I think it's beyond disappointing. I'm floored."
It was later revealed that the incident in North Beach was the second time Barcenas had been shot by police.
According to the San Francisco Chronicle, Barcenas is a well-known Norteño gang member who was out on police bail in 2012 for his role in a shooting that injured a 15-year-old boy.
That time, he was involved in a police chase, during which he pulled out a firearm and shot at the chasing officer. The officer fired back, hitting him two times.
The shooting sparked two nights on unrest and disorder in the Mission District of the city.
"Certainly it's a little concerning that we have this armed convicted felon on the streets with this loaded assault pistol, and these folks seem to think that what we did wasn't appropriate," San Francisco Police Sergeant Michael Andraychak told KPIX 5 at the time.