San Francisco Residents Share Videos, Photos Of 'Apocalyptic' Skies As Wildfires Burn Nearby
San Francisco received a grim reminder of the nearby wildfires blazing through California on Wednesday as the skies donned an "apocalyptic" shade of orange.
The skies sported a yellow hue throughout the city on Tuesday, but Wednesday morning gave San Francisco residents a bleak surprise. People shared photos and video of the unbelievable sight on Twitter, showing the dark, smokey skies blanketing the city as a result of thick wildfire smoke currently burning up and down the West Coast.
Although it is difficult to track exactly where the smoke is coming from, it is likely a result of the 16 fire complexes burning in Northern California.
A combination of strong winds and intense heat waves fueled record-setting fires in the western United States, which only worsened over Labor Day weekend. Wildfires have already burned a record 2.3 million acres in the state of California, making this wildfire season the most severe in modern history. Several other areas, including Washington, Oregon and Colorado, also continue to experience uncontrollable blazes.
High winds transported ash from wildfires in Northern California and the Sierra Nevada region into the San Francisco area. According to the Bay Area Air District, these smoke particles only let yellow-orange-red light reach the surface, causing skies to look orange. However, the smoke was high in the atmosphere, causing the air quality to remain mostly moderate across the Bay Area.
Firefighters are struggling to contain several fires throughout California. The Creek Fire, which burned through central California in the Sierra National Forest, has remained largely uncontained. Over 25,000 people have been evacuated and more than 163,000 acres have burned.
Approximately 14,000 firefighters are battling 28 major wildfires across the state on Wednesday. Other major wildfires include the El Dorado Fire in San Bernardino County, which has burned over 11,000 acres and is 19 percent contained, and the Willow Fire in Yuba County currently burning at over 1,000 acres.
The U.S. Forest Service announced via Twitter on Wednesday that it has temporarily closed all National Forests in California "due to unprecedented and historic fire conditions throughout the state."
"These temporary closures are necessary to protect the public and our firefighters, and we will keep them in place until conditions improve," said Regional Forester Randy Moore in a statement. "I ask all Californians and visitors to take these closures and evacuations seriously for their own safety and to allow our firefighters to focus on the mission of safely suppressing these fires."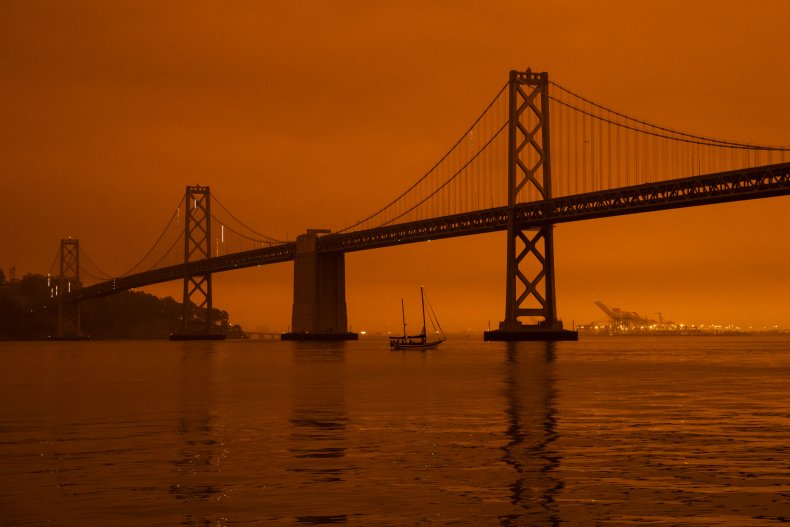 San Francisco Mayor London Breed reacted to the orange skies in a video posted to Twitter on Wednesday afternoon.
In her tweet, Breed wrote: "The sky today in SF is unlike anything we've seen. We'll keep you updated throughout the day on the quality of the air and the impact of smoke from the wildfires. Stay informed by visiting http://sf72.org and sign up for AlertSF by texting your zip code to 888-777."
The mayor also took the time to speak out about climate change and the coronavirus pandemic.
"This is yet another challenge for us in a really tough year," said Breed. "We continue to see fires all over as a direct result of climate change. We are still dealing with a worldwide pandemic. So, please, continue listening to the experts to understand what's happening and what you can do."