Thief Breaks Into Mailbox in Surveillance Video, Fears Mail Ballots Were Stolen
Surveillance footage captured the moment a thief broke into a United States Postal Service mailbox, prompting fears that numerous mail-in ballots were stolen.
The theft took place outside the Reliance Market at the intersection of 20th Street and Castro Street in the Dolores Heights neighborhood early Friday morning, ABC7 reported.
The surveillance footage shows a person in a hooded shirt apparently fishing for items in the mailbox. They are then seen getting into a vehicle, while holding what appears to be mail taken from the mailbox.
Sami Wahab, the owner of the Reliance Market, told the station that he witnessed the thief drop at least one mail-in ballot before fleeing.
Wahab said he found one discarded mail-in ballot which he handed over to his postal carrier. But he fears other ballots may have been stolen by the thief.
He said he got "really upset" when he saw what was happening. "We really need to have a fair election," Wahab added.
Anyone with information about the theft should contact the U.S. Postal Inspection Service at 1-877-876-2455.
The U.S. Postal Inspection Service has been contacted for comment.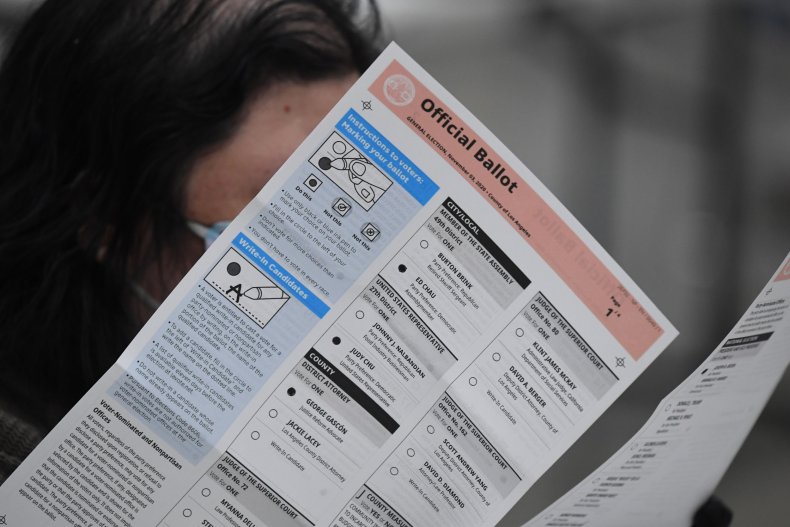 According to a recent report by NBC News, data from the U.S. Postal Inspection Service showed that mail theft reports have soared by 600 percent over the past three years, from around 25,000 in 2017 to approximately 177,000 through August 24,2020.
However, a spokesperson for the agency noted that the figures include "a significant number of reported customer complaints unrelated to mail theft, such as mailbox vandalism, mail delivery issues, and matters unrelated to the mail or Postal Service."
Meanwhile, mail-in voting has come under increased scrutiny this year as record numbers cast ballots by mail amid the ongoing coronavirus pandemic. President Donald Trump has repeatedly cast doubt on the integrity of the process, claiming it is rife with fraud.
In May, California Gov. Gavin Newsom issued an executive order that all registered voters in the state would receive a mail-in ballot ahead of the 2020 election so they could safely vote during the pandemic.
Before his executive order, Californians had to request an absentee ballot if they wanted to vote by mail. Any California voters concerned about the status of their mail-in ballot can check its progress on the California Secretary of State's website.