Several San Francisco-area stores boarded up their doors and windows amid a wave of smash-and-grab looting in the city and across California.
According to the San Francisco Chronicle, roughly six retail stores in San Francisco's Union Square were boarded up this week, including a Louis Vuitton.
Twitter user Michelle Tandler shared several photos of the boarded-up retail stores in the city, writing: "This is what downtown San Francisco looks like right now."
In a subsequent thread of tweets, Tandler shared photos of stores such as Zara, Burberry, Lacoste, and Louis Vuitton covered in wooden boards to protect them from potential theft.
San Francisco Police Department (SFPD) Lieutenant Tracy McCray recently spoke with Fox News host Tucker Carlson about the city's uptick in robberies.
"San Francisco, as you can see from all the video, the boarded-up shops, empty spaces for retail, is a city that is spiraling or already in the bottom of the toilet," McCray said.
The decision to board up storefronts comes as San Francisco and several other California cities have faced a wave of brazen robberies in dozens of retail stores.
Last month, the Louis Vuitton store in San Francisco was hit by thieves who smashed windows and doors to steal dozens of items. On November 23, San Francisco District Attorney Chesa Boudin filed charges against nine individuals who are suspected of robbing that business as well as other retail stores.
"These brazen acts will not be tolerated in San Francisco," Boudin said in an announcement of the charges. "Last weekend, there were similar incidents in Walnut Creek, Hayward, Oakland, and San Jose. Other Bay Area prosecutors and I have been collaborating to share information and develop strategies to combat these coordinated incidents. We have filed felony charges in every single arrest related to these incidents, and we are working with SFPD to identify others involved so we can hold them accountable. Our office is also committed to dismantling the fencing networks that make this type of crime profitable."
In a statement sent to Newsweek, a spokesperson for the San Francisco Police Department said: "We understand that businesses, which include retail establishments, have taken measures to protect their property and staff from organized retail theft incidents."
The statement continued: "The San Francisco Police Department is aware of recent high profile auto burglary incidents including those depicted in the news and social media. We are actively investigating these incidents and following up on significant leads. We are confident we will be making arrests related to these incidents."
Several Los Angeles area stores also experienced smash-and-grab thefts. On November 25, the Los Angeles Police Department (LAPD) reported two separate robberies. According to authorities, a group of people took several items from stores at the Beverly Center while another incident occurred at the Topanga Mall in which robbers stole from a Nordstrom store.
"Inter-agency collaboration toward a common goal: to ensure the safety of our community. CHP [California Highway Patrol] and LAPD came together at the Topanga mall for high-visibility patrol to deter flash mob/smash-and-grab robberies," the Los Angeles Police Department said in a tweet on November 26.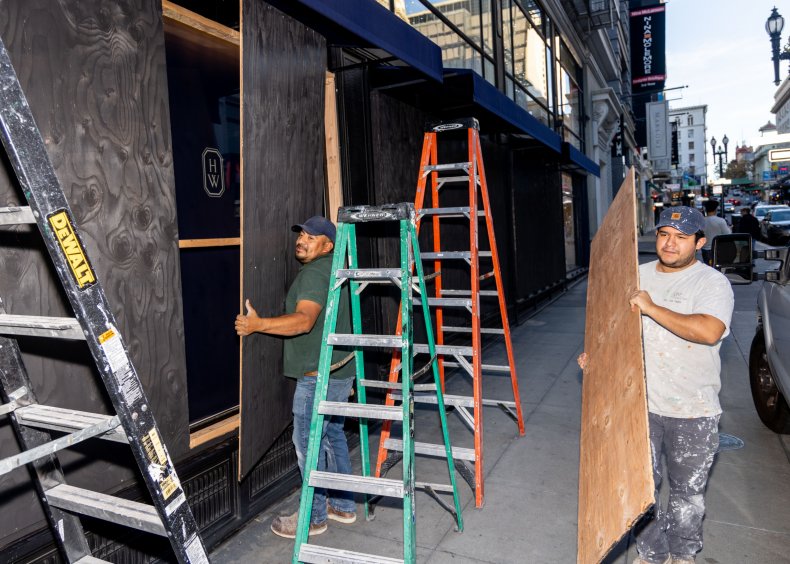 Update 12/01/2021, 3:05 p.m. ET: to include comments from the San Francisco Police Department.