San Francisco Votes to Formally Recognize City's Gay Fetish Leather District
Officials in San Francisco have voted to formally recognize the city's fetish leather district as a place of historical importance for the LGBT community.
The city's Board of Supervisors voted on May 1 to pass a resolution establishing the area around the iconic The Eagle leather bar in South Market as the LGBTQ and Leather Cultural District.
Sponsored by supervisors Jane Kim and Jeff Sheehy, the bill is intended to commemorate sites with historical value and protect existing spaces used by LGBT people.
"This item came out of the desire to make sure this is more than just a historical district with name plaques and art and culture that would commemorate history," Kim told CBS SFBay Area.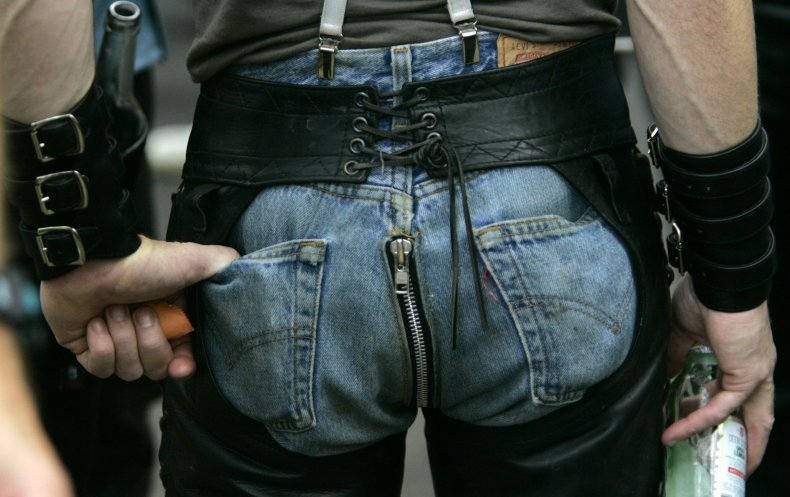 "We want to give them the tools to ensure that this could continue to be a living, breathing district where we could we support our small businesses that represent the leather community," she said.
San Francisco has been associated with LGBT culture for decades. In 1977 the Board of Supervisors itself made history after Harvey Milk, California's first openly gay politician, was voted on to its committee.
The South Market neighborhood is famed for its fetish leather venues and ties to the scene which overlaps with kink and BDSM culture. It is home to the Folsom Street Fair, an annual BDSM and festival held in September dubbed the world's biggest leather event by its organizers.
The leather community is particularly inclusive of "bears," the term used to describe men who are hairy and have large bodies, as well as older gay men who can feel alienated by mainstream gay culture.
The resolution comes amid concerns that the city is struggling to preserve its history of counter-culture, including its LGBT institutions, thank to the influx of tech firms.
In 2016, the San Francisco Planning Commission voted in favor of allocating $1.5m to creating an area known as Eagle Plaza that will "commemorate the area's LGBTQ and leather heritage and provide a much needed public space for the neighborhood."