San Jose Police Accused of Racist Posts About BLM, Muslims in Closed FB Group
The San Jose Police Department (SJPD) will launch an investigation into active-duty officers involved in racist exchanges on Facebook, after a Medium post published Friday released comments that current and former city law enforcement wrote in a private group.
The post, titled "Racism and Hate behind the Blue Wall: Exposing Secret Law Enforcement Facebook Groups," was written by an individual who identified themselves as the partner of an active San Francisco-area police officer. It disclosed the contents of a closed Facebook group called 10-70DSJ, where active and retired SJPD officers shared remarks about the Black Lives Matter movement and a Muslim woman's treatment while in custody of Ventura County police.
The Medium post included screenshots of comments that appeared in the Facebook group. In one, a current SJPD motor officer wrote: "black lives don't really matter." In another, two retired SJPD officers seemed to express support for correctional authorities who forcibly removed a woman's hijab while she was jailed in Ventura County.
"If your incarcerated you don't get to wear your religious outfits," wrote a retired officer, despite laws that protect religious expression of individuals who are incarcerated.
Accusations against officers involved in the Facebook group come amid a nationwide push for police reforms at all levels of government. After Minneapolis resident George Floyd died in custody of now-former law enforcement officers on May 25, mass rallies have taken place across the United States to elucidate police abuse and systemic racism while demanding large-scale change.
Both San Jose Police Chief Eddie Garcia and Mayor Sam Liccardo have condemned current and former authorities for comments posted to 10-70DSJ.
Garcia denounced the comments in a statement obtained by Newsweek on Saturday, saying all active SJPD officers involved "will be promptly investigated and held accountable" for their actions.
"I have previously responded with discipline up to termination after an investigation into off duty online activity that runs counter to our standards of conduct," Garcia said in the statement. "While I have no control over what former employees post online, I can voice my outrage after hearing about these comments made online. Any current employee involved with bigoted activity online will promptly be investigated and held accountable to the fullest extent in my power. We have no place for this."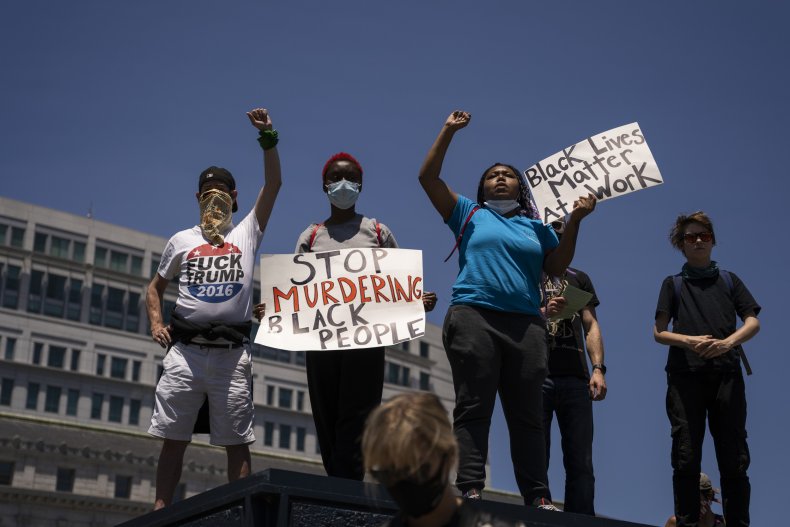 On Friday, Liccardo called for the firing of active SJPD officers who posted racist comments in the Facebook group, pending the outcome of an investigation.
"I demand and expect a full investigation, and further expect that racist, anti-Muslim or menacing comments expressed by any current SJPD Officer will be met with termination," Liccardo said in a statement, which acknowledged that officers across the United States who are fired for misconduct often regain their employment through arbitration. Last week, Liccardo introduced a set of citywide police reforms that included amendments to the arbitration process.
"As I articulated in my police reform proposal this week, I will push for changes to a disciplinary process that allows unaccountable arbitrators to reverse termination decisions of the Chief, and I will further push for independent investigation of all racially discriminatory conduct," the mayor's statement continued. "This is precisely why these reforms are so important."