San Jose Shooting Suspect Sam Cassidy Had 12 Guns, 22,000 Bullets at House, Police Say
The San Jose rail yard gunman who allegedly killed nine people had a stockpile of weapons and ammunition in his home which he set on fire, police said in a press release on Friday.
Officials have said that the gunman "coordinated" a fire at his home to start at approximately the same time the shooting began Wednesday.
The suspect, Sam Cassidy, 57 arrived at the Valley Transportation Authority (VTA) on Wednesday carrying two semi-automatic handguns and 11 high-capacity magazines. He fired 39 shots at the facility, killing eight people at the scene, and wounding another who later died of their injuries. He then died of a self-inflicted gunshot wound.
After authorities had controlled the fire, they were able to serve a search warrant on his home and found the stockpile of weapons.
"An initial search of the suspect's residence discovered multiple cans of gasoline, suspected Molotov Cocktails, twelve firearms, and approximately twenty-two thousand rounds of ammunition," the Santa Clara County Sheriff's Department said in a release.
Earlier in the day on Friday, San Jose police told KRON-TV that they were shutting down the area surrounding Cassidy's home on the 1100 block of Angmar Court in San Jose, California in order to detonate possible explosives inside the house.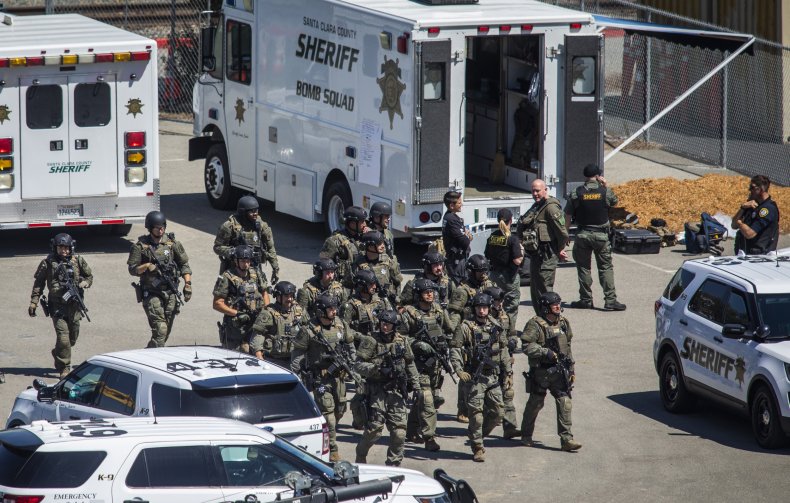 The press release confirmed the presence of explosive material, as well as the guns and ammunition. The Santa Clara County Sheriff's Department posted several photos of the guns, and ammunition on their Twitter page on Friday. FBI, the Bureau of Alcohol, Tobacco, Firearms and Explosives and the San Jose Fire Department were also on the scene.
Evidence found inside the home appeared to contribute to the existing theory that the shooting and the apparently coordinated fire at the suspect's home were a planned event.
"Based on current evidence obtained by the Sheriff's Office Detectives at the VTA yard and the suspect's residence, it is clear that this was a planned event and the suspect was prepared to use his firearms to take as many lives as he possibly could had Sheriff's Deputies not made entry to stop his rampage," the release said.
Cassidy's ex-wife Cecilia Nelm said he had talked about killing people at work years ago. She told The Associated Press that he would come home from work angry about what he thought was unfair treatment on the job.
The medical examiner's office identified the victims as Paul Delacruz Megia, 42; Taptejdeep Singh, 36; Adrian Balleza, 29; Jose Dejesus Hernandez III, 35; Timothy Michael Romo, 49; Michael Joseph Rudometkin, 40; Abdolvahab Alaghmandan, 63; Lars Kepler Lane, 63; and Alex Ward Fritch, 49.
Newsweek reached out to The Santa Clara County Sheriff's Department for comment.