Feds Charge Egyptian Dad With Fraud After He Drove Car Off Wharf Into the Pacific Ocean, Killing Autistic Sons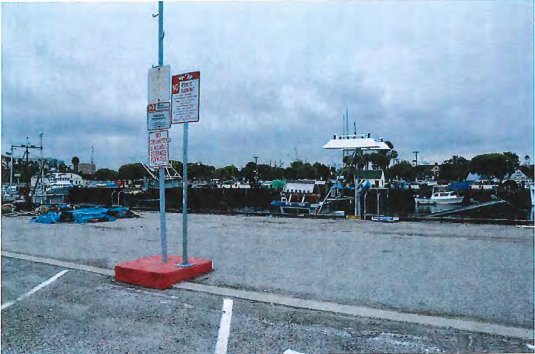 The reasons why Ali Elmezayen drove his car into the Pacific Ocean, leading to both of his youngest sons' drowning deaths, ranged from a blackout from meds to misjudging the accelerator for the brake — all the way to some kind of "evil inside me."
Whatever led to Elmezayen's decision to drive his car off Berth 73 wharf in San Pedro, California, where only the children's mother Diab and he survived, it was his "calm" demeanor that seemed especially odd just as the car sank with the helpless boys inside.
His story kept shifting.
And while his youngest son Abdelkarim was still fighting for his life in a hospital, Elmezayen asked to go home and told his wife in Arabic (who accepted a ride by Los Angeles Police Department officers to be by her boy's hospital bedside), "may God compensate us for the kids, May God give us better than them."
Elmezayan, 44, appeared in court on Tuesday and didn't offer a plea.
He was remanded (for fear he is a flight risk back to his native Egypt), according to a United States Attorney Central District of California spokesperson.The father faces up to 42 years in federal prison if convicted for fraudulently claiming insurance sums after allegedly accelerating his Honda car off a commercial fishing wharf at around 6 p.m. on April 9, 2015, and into the Port of Los Angeles and sending his two autistic children to an early grave.
On the night in question, Elmezayen's oldest son was away at an overnight camp with other high school students.
He and Diab dined at an Inglewood restaurant and decided to head to San Pedro Harbor to pick up some fresh fish and watch boats leaving the channel, the complaint states.
The choice of Berth 73 was consternating.
Most of the tourists nearby opt to enjoy the shops and esplanade at Ports O'Call, where there are public parking and better access to the views of the harbor.
The complaint describes Berth 73 as a barren loading and unloading dock for commercial boats. Parking is reserved for permit holders "and there are no retail shops."
Elmezayen told LAPD investigators later that he chose the location because he "used to work there as a security guard."
Once at the location, with Diab riding shotgun and his two sons strapped in the backseat, Elmezayen allegedly turned into a parking spot and slowed to a crawl some 30-feet from the water's edge, the complaint states.
He apparently hit the gas. Diab screamed "Stop!" multiple times.
Dumbfounded witnesses within earshot heard the tires "screech loudly" as the car barreled right over the edge of the water, crashing and "immediately sunk."
Elmezayen rose up less than 30 seconds later and the complaint notes he swam over to a ladder.
Then Diab, who couldn't swim, was spotted by onlookers flailing her arms and shouting "My kids! My kids!"
A fisherman heaved an inner tube to reel her to dry land while Elmezayen, according to the complaint, "did not leave the ladder to attempt to help."
Firefighters arrived and soon scuba divers were in the water and pulled both sons up. One of the boys was pronounced dead at the scene.
The other boy was rushed to a local hospital and put on life support. He would pass away the following afternoon.
Elmezayen couldn't explain why the car drove off the pier.
In interviews with LAPD investigators, the father allegedly told them that he "may have passed out as a result of medication he took two days earlier" to treat a blood deficiency condition.
Then he switched tunes and thought he might have mistaken the accelerator for the brake. He then wondered if something deeper had overtaken him.
Elmezayen allegedly told the police, the complaint notes, that he may have "an evil inside me that pushed me to go."
This so-called "evil" he added afterward was described by Elmezayen as overtaking his actions. He allegedly told them "like you do something but it's not you."
Pressed if he had taken any life insurance on his sons, and Elmezayen, the complaint notes, told them, "he did not."
But Elmezayen, the complaint goes on, "had over $6 million in life insurance on himself and Diab and through seven other companies, and $260,000 in life insurance on his sons through two companies" which he paid approximately $5,000 in premiums annually.
Following the police, Elmezayen was interviewed by an investigator with the Department of Children and Family Services. He allegedly tweaked his story again, saying this time he "pulled up too close to the edge of the wharf to see a passing boat."
But Elmezayen also told the investigator that, according to the complaint, he wasn't "mentally there" and that "I think something is wrong with me."
After being interviewed by police, Elmezayen allegedly spoke to his wife in Arabic. That conversation was also recorded, according to the criminal complaint.
"I told them as if... there was a devil driving the car," he told Diab. "What happened is that I didn't see what happened... I was closing my eyes."
He then advised her that there were only insurance policies on the two of them and that if they were confronted about inconsistencies with their stories, to blame it on fatigue.
"If he asked about something or said that we are different, tell him you cannot focus," Elmezayen allegedly told her.
The Los Angeles County District Attorney's didn't bring criminal charges because of lack of evidence. The complaint cites results from an LAPD mechanic's study of the car and how it was inconclusive whether the brakes were compromised with a strange fluid or if saltwater caused corrosion.
Elmezayen and Diab attempted to sue Los Angeles "for negligence" and specifically "for not placing sufficient barriers at Berth 73 to prevent a car from going over the edge."
Jiffy Lube and Honda were liable, based on the civil lawsuit claims, for "faults in the car's braking system."
But the civil lawsuit was weak on evidence and didn't go very far after a summary judgment was granted.
An undercover was captured discussing with Elmezayen what happened with the brakes and if he merely chalked it up to an accident. "I pressed the brake pedal, but next thing, I found myself in the ocean," Elmezayen told the person, according to the complaint.
The feds now say that Elmezayan plotted for years to collect off his sons' deaths.
Investigators believe that the father took out multiple life insurance policies on himself, his wife and his children, too. Furthermore, they contend Elmezayen was calculated and kept tabs on the policies by pretending to act as his wife on recorded phone calls with insurance reps.
The scheme allegedly hatched in 2012, two years after Elmezayan filed for Chapter 11 bankruptcy, according to the criminal complaint filed in a Los Angeles federal court.
Elmezayan purchased "at least seven accidental death and life insurance policies" that tallied millions in payouts in the event they had untimely deaths.
According to court documents reviewed by Newsweek, the couple were engaged back in Egypt but never actually married.
After opening the policies with Mutual of Omaha and Protective Life Insurance, among others, and purchased in mostly Diab's name, the complaint states that Elmezayan took extreme measures to inquire about the potential riches he could get.
What Elmezayan didn't realize is the calls with the insurance representatives were recorded.
In one phone call with a Mutual of Omaha representative back on August 12, 2012, Elmezayan pretended to be Diab and secured a life insurance policy for himself, Diab and his two youngest sons.
The FBI agent spearheading the case was not fooled.
"I am able to recognize Elmezayan's voice on the recorded calls by comparing it to other video and audio recordings I have reviewed," the agent said, adding that it also included questioning by Los Angeles Police Department (LAPD) investigators on the night of the drownings.
The application stalled when there was no payment. But then Elmezayan called himself and finalized the application for the entire family, the complaint details.
The Mutual of Omaha asked him, "You want your children on the policy as well?"
Elmezayan allegedly responded, "Yes, please…"
That policy, which would secure a $30,000 payment for each of his sons should they die, became effective on January 2, 2013.
What followed were a series of life insurance policies Elmezayan sought to secure.
On September 3, 2012, Elmezayan again pretended to be Diab and, according to the complaint, asked if the $250,000 policy would still be good "after two years" and if it covered "even suicide."
He was told it would.
On March 20, 2015—weeks before the family's car would fly off the wharf—Elmezayan was recorded in another call with a representative from ReliaStar Life Insurance. Again, the feds say he was acting like he was Diab and inquiring about the $1 million policy.
"If something bad happened to me it's going to be full amount, right," he allegedly asked the representative.
The representative told him "that's correct," according to the complaint.
In another recorded phone call on March 31, 2014, Elmezayan again allegedly "falsely said he was Diab and provided Diab's birthdate."
Then, he allegedly asked if the $1 million policy he bought two years before would be paid "in the event of Diab's death" and he was told it would.
The checks came in pairs. One for each deceased son.
Two American General policy checks arrived by mail on February 17, 2016, in the amount of $100,874.46 to Diab.
The couple had a joint checking account, and the complaint states that Elmezayen deposited both in it. He then moved $200,000 into a personal checking account on May 18, 2016, according to the complaint.
A month later, two more checks for $30,000 each, were issued and then deposited into Elmezayen's personal account on July 6.
When deposed for the civil lawsuit, according to the complaint, Diab claimed to be in the dark about "any policies on their sons" and "unaware" of the six-figure proceeds that her husband allegedly cashed in.
"When presented with policies, claims and checks from Mutual of Omaha and American General she appeared shocked and upset," the document indicates
Prosecutors later contend that Elmezayen wired $171,000 of the almost $261,000 the insurance monies from his sons' deaths "to an account in Egypt." The fact that the suspect was shipping money to Egypt suggested that he was a legitimate flight risk, according to a Motion for Detention document.
The document states that Elmezayen "has both the motive and resources to flee to another country outside the United States' jurisdiction."