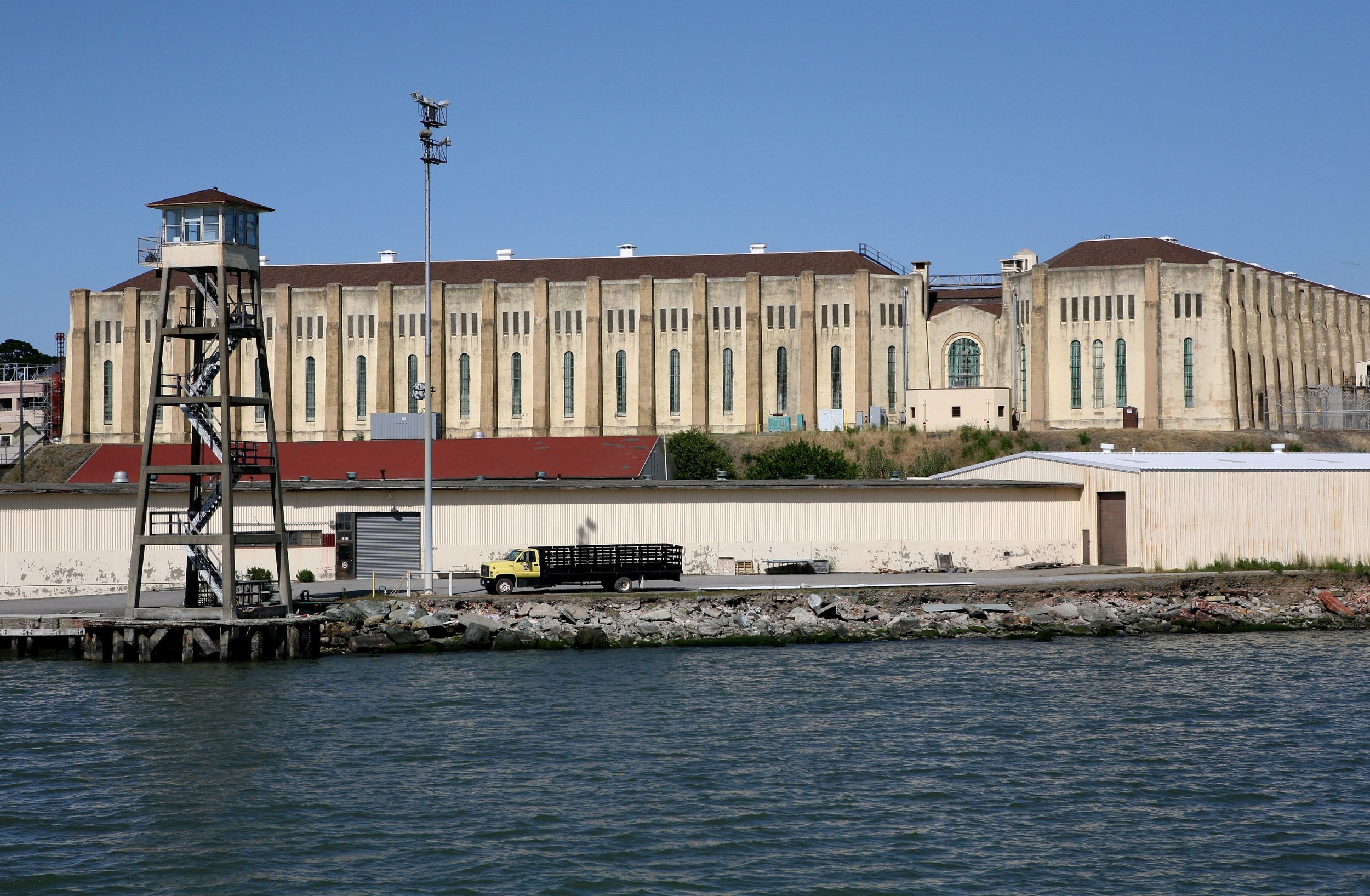 It happened by accident. Chris Redlitz, a man who spent his life in Silicon Valley running and investing in technology companies, found himself in jail. But not for committing a crime. He was invited to San Quentin State Prison, a mere 15 miles from where he works in San Francisco, to talk to a group of inmates about business and entrepreneurship.
"It was a favor to a friend because she knew I ran a venture firm," Chris Redlitz, managing partner of Transmedia Capital. "She knew I had some understanding of business, and many of the men inside San Quentin approached her telling her they had questions, but no one to talk to. So she invited me in."
Redlitz didn't think much would come of it. "Frankly, I was reluctant to do it," he explained. "My expectation was that they weren't going to understand what I do, they'd give me some blank stares, I'd walk out, and that'd be it."
But his friend kept pestering him. And one evening, he finally agreed to visit. That night inside San Quentin would change his life.
"What was scheduled as a 30-minute talk turned into an evening-long discussion," Redlitz explained. "There were about 50 guys in the room, and they had business plans and everything. I was dumbfounded by their desire and interest in creating a better life."
Redlitz shared his experience with Beverly, his wife and business partner. "This is incredible, what I saw," he told her. It didn't take long for the couple to do what they'd done many times before as entrepreneurs: they rolled up their sleeves and did some market research.
They learned that America houses over 2 million inmates, at a staggering cost of over $80 billion. But what really caught their attention was the recidivism rate in their home state.
"In California, it was over 60%," Redlitz noted. "And the cost of incarceration for one person, just to house, was over $50,000 dollars a year. Those numbers started to really resonate. And we realized we had some resources. We had a network. If we could just help a few of these guys that I met that night, that would be helpful."
Not long after, they launched a program in San Quentin to teach inmates how to become entrepreneurs. And thus was born the couple's non-profit, The Last Mile.
"We went in for two nights a week for forty straight weeks to teach," Redlitz explained. "We kind of made it up as we went along."
Redlitz and his wife learned some important lessons. "What came out the other side were men who presented their ideas in a demo day that we did inside San Quentin," Redlitz said. "I invited some of my venture capital friends to hear the presentations, and they were extraordinary. That was the moment that made us realize there was impact, and desire. And people starting saying, 'How can I help?' "
Redlitz didn't just discover demand for instruction inside the prison: he also discovered a real pool of untapped talent. Talent with a hunger to be developed.
What started as an entrepreneurship program turned into something more practical as time passed. It turns out there was even more demand in prison for technical skills that could lead to a good paying job.
"Coding is a specific skill that you can be hired for," Redlitz noted. "And there's a number that floats around that by 2020, they'll be a million unfilled software engineering jobs in this country. So there were opportunities if we would prepare people with the right skill. And this is one area where people are less concerned about your history and more concerned about if you can do the job."
It wasn't an easy task to go to Sacramento, where corrections decisions are made, and present the idea of teaching software engineering inside prison. "There was some trepidation," Redlitz explained. "It was a little scary for everyone involved to give that approval." In 2014, The Last Mile's engineering program was launched in San Quentin.
Internet access is not a part of prison life, so Redlitz created a simulated environment where prisoners could learn, with the very same tools they would use on the outside. Not everyone was certain it would work, but the inmates would teach everyone a thing or two about their capacity to learn. And change.
"It really resonated," Redlitz said. "There were people that were incarcerated 15, 20 years, who had never seen the internet, and they're now software engineers."
Once such man was Jason Jones. "He was in foster care when he was eight years old, joined a gang when he was 11 years old, and.served nearly 14 years in prison," Redlitz explained. "He got out this year, and works for a technology company in San Francisco as a software engineer. What are the chances of that?"
Redlitz was moved—and motivated—by the opportunity to serve inmates. He speaks about his venture less like a Silicon Valley tech wizard, and more like a missionary. Or minister.
"There are a lot of people who talk about giving people second chances, but there's a lot of men and women in our program that never really had a first chance," Redlitz explained. "You talk about some of the folks that grew up in broken families, parents who were either on drugs, dealing drugs, or in gang related environments where they didn't have a choice. You give them tools and they just exceed expectations. That's happened almost every time."
The program does more than teach technical skills. The Last Mile also teaches core social skills. "In prison, the idea of trust, transparency and vulnerability are not pervasive," Redlitz explained. "Those are all things that are important for us. Especially when people get out. Being transparent about your background and what you want to do."
Redlitz also works hard on the reentry process. Private companies are reluctant to hire formerly incarcerated individuals, and The Last Mile helps ease their concerns.
Redlitz is also keenly aware of the problems inmates have integrating into society. "When you get out you need a job, a place to live, emotional support, and a network of peers," he explained. "So all The Last Mile alumni are connected so they can have this peer support group."
To date, The Last Mile hasn't had a single inmate reenter prison. Not one.
"I really believe the peer support has contributed to that success," Redlitz explained. "Because it's not about just if I recidivate. It's if I do, I'm going to let down all those people in my community."
There are lots of small things The Last Mile does to keep the recidivism number at zero. "It's little things we take for granted," Redlitz explained. "When you're released from prison in California, you get $200, and in some cases, a bus ticket. That's it. And I'm just giving you an example of San Quentin, you have to have someone receive you at the gate. If no one's there, they take you to the bus station and drop you off. Can you imagine? Being in prison for 10, 15, 20 years and getting dropped off at a bus station with $200? And expect success?"
Redlitz is focused like a laser on the reentry process. "Those first 60, 90, 120 days are so important for someone to have success. If they don't have family, a job, a place to live, those are all components that are really important. And, with technology, we give all of our graduates access to technology. They need a phone. They need computers. Those are things, obviously, we teach them inside. But it's different when you get outside and you really have that in your hand."
Thalia Ruiz, who abused drugs and alcohol and was as a gang member, had this to say about The Last Mile program to USA Today recently.
"I just felt like I had to show them that I can get out, that I can rehabilitate, and be a better person," she said. "I'm not gonna get out and keep doing what I was doing, because I'm just going to end up in the same place that I started. And that's not where I want to be." "
Redlitz was moved by Ruiz's story, and others like hers. He makes certain other inmates hear those stories, because hope is in such short supply in places like San Quentin.
"That's the starting point of providing hope," Redlitz explained. "It was so important for us to break through that feeling of what's possible. And there's nothing more powerful than watching one of our graduates going back into prison, especially a prison they used to live in, with a coat, tie and a job, and telling them it's really possible."
Redlitz understands the power of those personal testimonials. "They can listen to me, but for them to listen to somebody who's actually been through it is really powerful."
Redlitz has been impressed by the feedback he's received from the private sector about his graduates. "The consistent response we get from coworkers or CEOs of companies that we've placed them in is, 'Their work ethic is unparalleled.' Because it's more than a job. It's is a chance to have a restart, and set an example."
Mentorship plays a central role in The Last Mile, with inmates teaching and guiding other inmates in the program. That mentorship, Redlitz noted, helps shape and mold future leaders.
Accountability is also a crucial part of program. "Everyone signs an oath of commitment that if they do anything that's negative to the program, they could be dismissed from it," Redlitz explained. "If you have an infraction while you're inside prison, you're dismissed from the program."
Redlitz holds himself to the same standards. "When we started this, Beverly and I were the first to sign that oath. Basically, we're saying we're in this for life. It's a life commitment for both of us. And that's translated throughout our organization."
Redlitz, a man accustomed to exit strategies and big pay days as a manger of a venture capital firm, has no exit strategy for his most important start up. A start up that just happens to be a non-profit.
"As we speak, we're in 14 classrooms, now, in California, Indiana, Kansas, and just opening in Oklahoma. Our goal, within the next five years, is to be in 50 classrooms. I think we'll end up this year in at least 20."
The Last Mile, thanks to one couple's efforts, isn't just giving inmates a second chance at life, but something more profound: they're providing a road to redemption to people whom the world too often gives up on.
Lee Habeeb is VP of content for Salem Radio Network and host of "Our American Stories." He lives in Oxford, Mississippi, with his wife, Valerie, and his daughter, Reagan.
The views expressed in this article are the author's own.​​​​​