San Quentin Reports 1,101 New Cases of Coronavirus in Two Weeks
Coronavirus cases at the federal prison in San Quentin, California have surged as 1,101 new cases have been confirmed within the last two weeks by the California Department of Corrections and Rehabilitation (CDCR).
Currently, there are 2,582 inmates diagnosed with coronavirus within the entire California prison system. San Quentin houses approximately 3,700 inmates with 1,054 cases classified as "active, in custody." Although no fatalities attributable to the virus have been reported at San Quentin, the CDCR does not list any cases as being resolved at the prison.
According to the CDCR website, experts from California Correctional Health Care Services (CCHCS) are working together with officials at the prison to build "air conditioned tent structures" on the prison grounds. Logistics considerations are being made to "determine the most effective use of additional medical triage and housing space." No target date for the creation of the structures has been announced.
Newsweek reached out to the CDCR for comment. This story will be updated with any response.
On Wednesday, California Governor Gavin Newsom announced that state officials hoped to hasten an early release for some prisoners who have been deemed low-risk. Approximately 3,500 prisoners are being reviewed for early release eligibility by California courts.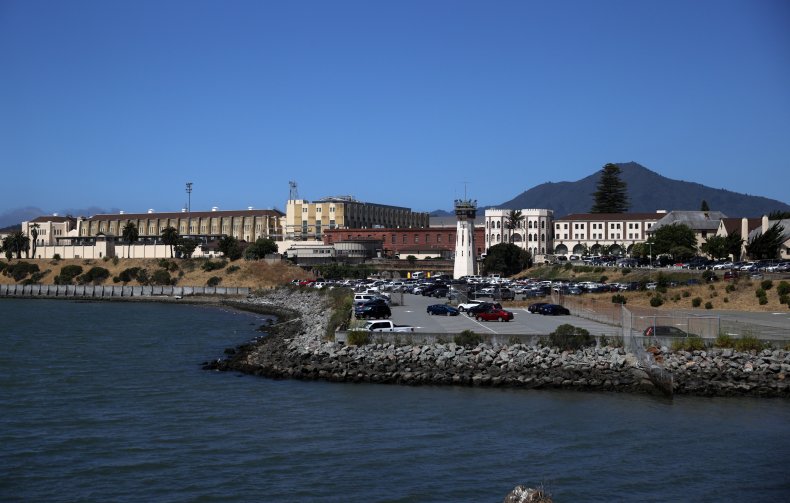 Newsom said the outbreak at San Quentin has "always been a point of concern," but that it was "not surprising to see the numbers, more generally, increase."
Other prisons in California have seen coronavirus outbreaks, including the California Institute for Men (CIM) in Chino. Over the last 14 days, the CIM reported 65 new positive cases of the virus. In total, 16 deaths at the prison are attributable to the coronavirus.
Prisons have become coronavirus hotspots due to confined living conditions which increase the risk of the virus spreading throughout prison communities. According to a June memo from Berkeley Public Health and prison health advocacy group Amend, San Quentin is not equipped to handle a COVID-19 outbreak.
"San Quentin is an extremely dangerous place for an outbreak," the memo read. "Everything should be done to decrease the number of people exposed to this environment as quickly as possible."
Systemwide, the CDCR has transferred 1,928 inmates to other institutions where cells were vacant in an effort to increase social distancing. In addition, prisons have limited the number of inmates allowed into dayrooms at one time and have initiated social distancing protocols into areas where prisoners must wait in line.
County facilities in California are also dealing with coronavirus outbreaks. In May, surveillance footage from the Pitchess Correctional Facility in Castaic showed inmates attempting to spread coronavirus among themselves. Video showed the inmates violating social distancing, sharing water and breathing into a shared facemask. Within a week of the incident, 21 new cases of the coronavirus were recorded at the jail.
"There was some mistaken belief among the inmate population that if they tested positive, there was a way to force our hand and somehow release more inmates out of our jail environment," said Los Angeles County Sheriff Alex Villanueva at the time, "and that's not going to happen."