Sanaa Lathan Says 'Nappily Ever After' Isn't Just a 'Love Letter to Black Women, It's a Love Letter to All Women'
Sanaa Lathan has committed to a number of roles over the span of her more than 20-year career as an actor, but never have fans seen her as stripped-down and bare-boned as she appears in her new Netflix movie, Nappily Ever After,released Friday.
Based on the 1998 book of the same title by Trisha Thomas, Nappily Ever After follows Violet Jones, a frantic perfectionist of a woman, rediscovering who she really is after an impromptu decision to shave off all of her hair. While Violet's sudden head-shaving was sparked by a breakup with a measly ex-boyfriend, her journey inward changes not only the way she views herself and what she wants for her life but her overall ideals on the meaning of beauty.
According to Lathan, the only way to explicate and portray the character's growth throughout the film was to grow with her—quite literally. Lathan, who has appeared in dozens of roles rocking long, flowing, beautiful hair, shaved her head for the role of Violet. One shot in one take in real time.
The 47-year-old opened up on her experience filming Nappily Ever After and shared her hopes of how the movie may help break down the typical standards of beauty in the years to come.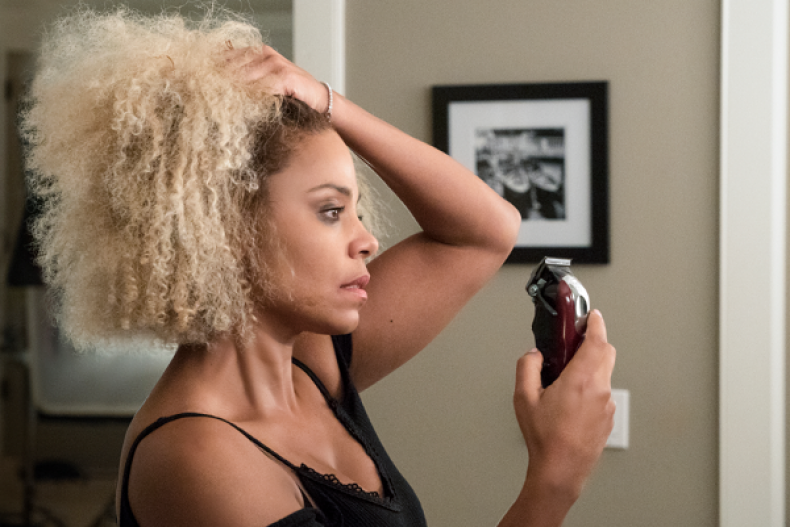 Were you compelled to shave your head for this role?
When I first got the script and signed on I didn't think I was gonna actually shave it. I thought we could just do a really good bald cap because the technology is so good now. A lot of people have worn bald caps in movies and they actually look real. But as I dove more into Violet, got to know her and thought about the themes of the movie, I just knew there was no way I could not not shave my head. It also coincided with a time in my life where I was kinda ready. After 20 years in the business and everybody always trying to figure out what to do with my hair, I kinda had a little bit of hair exhaustion, unconsciously. So it was the perfect combination.
What did you enjoy the most about not having any hair?
It was so cool and I mean cool like in temperature. It was during the summer and [the movie] was shot in Atlanta, so there was that. I was one of those people constantly rubbing my head. I couldn't stop rubbing and touching my head. You realize you never really get to feel what your scalp feels like without any hair. Even now that it's starting to grow back, I've got my teeny weeny afro and I'm constantly playing in it.
Did you learn any shocking revelations about yourself while living without hair?
It definitely does make you shift focus. I don't know if this is a typical incidence but it definitely makes you think about what hair means and standards of beauty and stepping outside of that box. At least for me, it made me kind of go inward about what beauty really means to me.
Violet got a variety of responses from people after she cut all her hair off. How did people react to you after you shaved your hair?
I've had people go like, "Oh I thought you were your brother," and make little remarks and laugh. But a lot of people, most of the time, have been very supportive, especially women. Women have been like, "Oh you should keep it short." I think women have a little hair exhaustion because hair such a symbol and we've tied so much of our esteem into our hair. It's a lot of work. In general, people have been very pleasant and really complimentary and encouraging. I've definitely asked myself, "Should I keep it short? Should I shave it again?" I actually shaved it for a while after. It's been a year now and it's growing, but I shaved it in September [2017] and then I kept shaving it until January, so it's been about 8 months.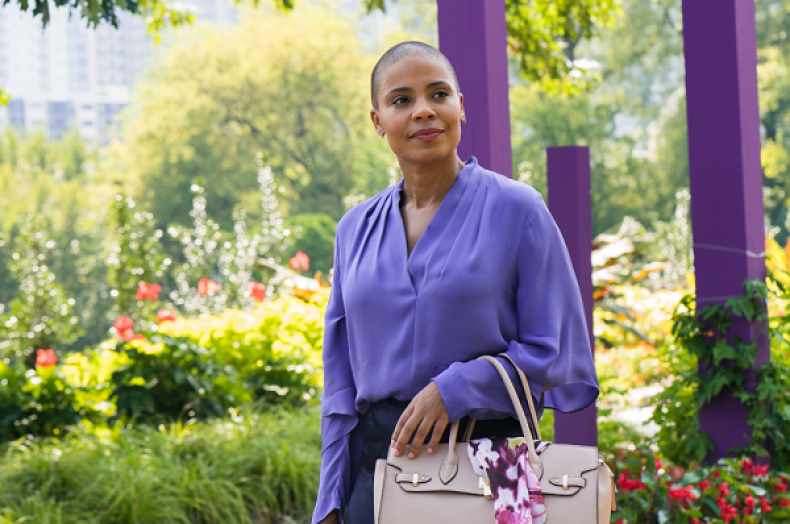 Aside from the head-shaving, were there any aspects of your character that really related to?
I feel like there are so many scenes [where I related to Violet]. Just being a black woman in this society, a black woman in Hollywood. I used to wear my natural hair to auditions and then I started wearing weaves specifically because they weren't interested. Producers would tell my agents, "Can she look more like this girl?" and that girl would either have a long weave or she would have that long, straight kind of hair regardless. So there are standards of beauty that are super rigorous in Hollywood, and yeah, I signed up for that [by becoming an actor]. But you can't play a character like Violet and not start to question the box that you put yourself in or society puts you in or your parents put you in. There's been a lot of self-reflection after playing her.
What are you hoping women will take from Violet's journey in terms of her need for perfection and always wanting to appear perfect?
One of the things I love about the movie is that Violet really kind of does define who she is—she's starting to define who she is on her own terms. So often in this society, this world, we're taught that we have to look a certain way, we have to talk a certain way, we have to want certain things and we're put in a box about who we should be as women. That box doesn't necessarily bring happiness to a lot of people. So for me [the movie is] really all about stepping outside of that box and determining what is going to make you happy, who you are inside, what you want and not having someone else put it on you. I think it's a great time in our culture in terms of beauty. It's becoming more inclusive. People are demanding more inclusive images, which makes me so happy because I know how important images are, especially in terms of being reflected and seeing yourself reflected. All the little kids of color who haven't been able to see themselves reflected, I really believe it does a lot for them, seeing that type of support.
Do you think we'll ever live in a world where beauty standards change to be more inclusive?
I love the idea of that—that there is no one standard and beauty really is accepted with everyone's uniqueness. We're all so unique. Not two of us are made exactly alike, and beauty should be whatever you feel is beautiful. I'm an optimist, but I really do feel like we're moving towards that slowly. Even in the fashion industry, we're starting slowly to see what they call plus-size models. They're not plus sized, they're like probably the average woman. But I think we're starting to see that. The success of Black Panther, I'm sure, helped. The industry responds to money and it's made a lot of money. But along with all those themes comes looking at beautiful black women with natural hair. I'm hopeful that it will get that way. Hopefully within my lifetime.
So the book was written by a woman, the movie script was written by a woman, produced by a woman and directed by a woman. That set was must have been so dynamically feminine. What was the energy like while filming?
It was fabulous. We had so much fun. It was really one of the best experiences I've had. It was great, because we didn't have much time, so it was a lot of work to get done. Everybody there, even the men on the set, really believed in the project and the message of the project. We got it done, and it was a lot of hard work but it was fun.
The fact that this was a female-driven film speaks volumes as to where the industry is headed.
Definitely, for women and people of color. This year has proven that there are audiences for people of color starring in movies and on TV. One of my biggest wishes is always that the industry I'm working in reflects the world I'm living in, and for many years it hasn't. It's crazy that just now in 2018 we're starting [to see changes], but thank God it is changing. Now the powers that be are a not so able to get away with, you know, anything that's not as inclusive. I've been in this business almost all my life, professionally for over 20 years, so it just makes me happy. This story, I call it a love letter to black women, but it's really a love letter to all women. It's specifically about a black woman's journey with hair, but it really is a universal story that all women can apply, any woman around the world can relate to Violet's experience.
What are you watching on Netflix these days?
I am a big binge watcher. You know what I watched recently that I really enjoyed? This is another one that shows the inclusiveness of Netflix that I'm loving—To All the Boys I've Loved Before. Such a great movie and great cast. I recently started up The Ozarks. I'm on the first season, and I can't wait to get to Season 2. It's such a great show.