Sanctions Are Destroying U.S. Dollar's Status as World's Top Currency
The United States' reliance on economic sanctions to coerce other countries is gradually losing its effectiveness and slowly degrading one of Washington's most influential tools in international affairs, the power of the U.S. dollar, experts told Newsweek.
The greenback stands in a class of its own as the most popular and robust currency across the international banking system, outsizing its next largest competitor, the euro, a by a factor of nearly three to one.
When it comes to currencies, the dollar is by far the world's safest best.
But this could be changing.
The continual use of sanctions to pressure countries and companies perceived to be acting against U.S. interests may also be weakening the dollar's global position.
"It's certainly not an imminent threat to the dominance of the dollar, but it's by far the biggest one," Benn Steil, senior fellow and director of international economics at the Council on Foreign Relations, told Newsweek.
In a time of major market disruptions due to global pandemic, Steil used a medical example to illustrate how the overuse of sanctions is actually making the malady worse.
"Antibiotics can be very powerful against certain types of bacteria,"Steil said, "but as you know, if you overuse them on a population, strains of the bacteria develop that are resistant to the antibiotic. And that's exactly what we're seeing now."
Even as a number of experts sound the alarm, the tantalizing convenience of simply prescribing these economic restrictions as a one-fits-all cure is losing its effect, and at the same time, empowering the opposition.
"When you use this particular tool to the extent that we're using it," Steil said, "you can expect that it becomes more and more cost-effective for the countries that are affected to look for alternatives."
While the dollar is likely to remain the currency of choice in the world banking system for some time, these alternatives are multiplying and improving as Washington's peerless position is increasingly questioned by friends and foes alike.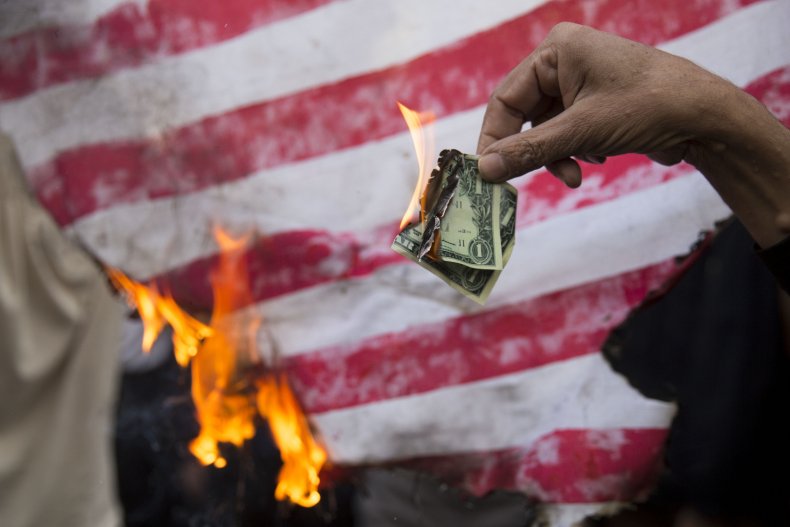 The U.S. practice of boycotting adversaries dates back centuries, but the wholesale use of such measures coincides with the rise of the dollar as the world's reserve currency in the final years of World War II. The conflict imposed a devastating toll on the old colonial powers of Europe and paved the path for a new economic empire to rise—unbridled U.S. capitalism.
Washington's literal money-making machine would outlast its top rival, the Soviet Union, and launch it into a new era of economic supremacy through the turn of the 21st century.
Today, the dollar accounts for around 60% of foreign exchange reserves, easily topping the euro's estimated 21% and dwarfing the Japanese yen (6%), the British pound sterling (4.7%) and other currencies in the single digits, according to the latest figures from the International Monetary Fund.
But the U.S. is not unmatched in all economic measures. China is on a fast track to become the world's largest economy, even as its currency comes in at roughly only 2.25% of foreign exchange reserves. Coinciding with Beijing's rise is an onslaught of new sanctions from Washington targeting the People's Republic for a laundry list of alleged human rights abuses.
As has been the case with other targets of U.S. sanctions, however, experts are uncertain as to whether such measures actually contribute to what Washington would see as positive changes in the behavior of the intended target.
But there is no such uncertainty about one effect of those sanctions: They harm their target. Steil says that alone should not be confused for a decisive victory.
"We often choose to mistake other countries' pain for achieving our aim," Steil said. "In other words, when we impose financial sanctions on other countries, it's usually to change their foreign policy. But in the vast majority of cases they don't actually do that."
The pain is felt mostly by civilian populations, especially in blacklisted countries like Cuba, Iran, North Korea, Syria and Venezuela. Though sanctions have won political points at home for U.S. administrations, this is little evidence that the targeted countries shifted or abandoned undesirable policies of governments in response to the economic coercion.
Instead, the U.S. has seen leading strategic competitors China and Russia, and even allies and partners like Turkey and India, increasingly swing their economic weight in the direction of trading in their respective national currencies when it suits their interests. The dollar remains on top, but countries are beginning to question the degree to which U.S. financial institutions serve as intermediaries—or gatekeepers—for international banking.
"The U.S., by continuously using sanctions, is beginning to cut off its nose to spite its face," Anuradha Chenoy, formerly the dean of Jawaharlal Nehru University's School of
International Studies in New Delhi, told Newsweek. "History has repeatedly shown that sanctions do not impact power elites and the ruling regimes. Their impact is felt by ordinary people and more so by legitimate businesses."
As other countries increasingly wield their own financial clout, she argued that it is time the U.S. rethinks its approach.
"The U.S. first proposed globalization," Chenoy added. "China and others have got deeply integrated into the global economy. No easy reversal is possible. The U.S. should come to terms with this globalized reality and re-examine its sanctions regime."
She said the movement has gone largely unnoticed in the Eurocentric world, but seismic shifts are occurring in other stretches of the globe.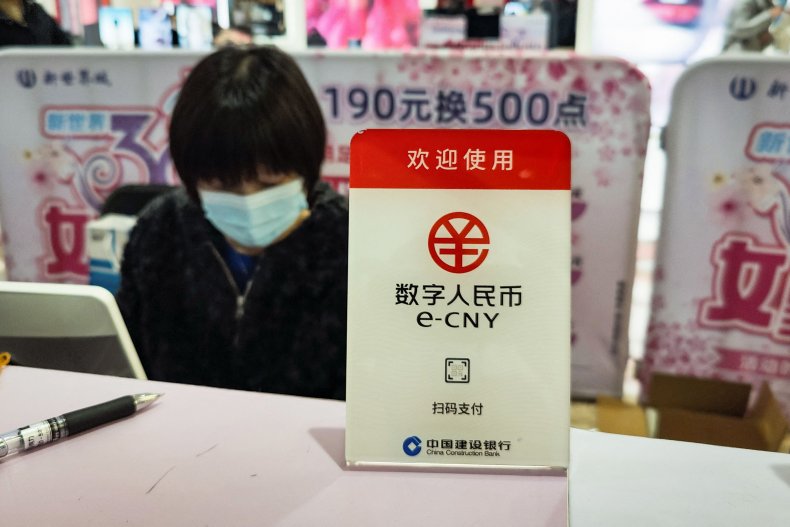 Chenoy points to institutions such as the New Development Bank established by the BRICS (Brazil, Russia, India, China, South Africa) group, the Beijing-based Asian Infrastructure Investment Bank, the Shanghai Cooperation Organization and the Russia-led Eurasian Economic Union, which is linked closely to China's Belt and Road Initiative, a worldwide series of investment and infrastructure projects involving up 140 countries.
The common denominator here is China, just one of a number of nations that Henrietta Worthington, a counsel specializing in international financial affairs at the Pillsbury Winthrop Shaw Pittman law firm, said has, for years, "been trying to reduce their reliance on the USD, which is the dominant currency used to settle trade across the globe."
China already appears to be leading the way in the rise of a brave new model of currencies: digital yuan. A number of countries are eyeing similar rollouts, but the state-backed People's Bank of China is set on institutionalizing the new electronic banknote on an ambitious scale and timetable.
The endeavor could offer an avenue to avoid a U.S.-led banking system if the project is carried through in full.
"There has been a rise in the development of payments systems in addition to the growth of digital currencies, which may pose a threat to the autonomy of the USD," Worthington told Newsweek. "In particular, China is developing a digital yuan that is backed by China's central bank, and which could be set to rival the USD as a way to settle trade."
Goldman Sachs has predicted that the digital yuan could reach 1 billion users over the course of the next decade, a development Worthington said "could threaten the established role of the USD as the world's reserve currency."
Former President Donald Trump set out an aggressive approach toward China, and though his successor, Joe Biden, has left the door open for certain areas of cooperation, the new leadership has indicated it too would fight to remain at the helm of world affairs.
Worthington notes that the sanctions slapped on Beijing in just the early months of the Biden administration signal that "the use of sanctions as a coercive economic measure continues to be an important tool in U.S. foreign policy."
But the digital yuan and the physical renminbi would have a long way to go before dethroning the U.S. dollar. In fact, China contributes to the dollar's status by having more of it than any other country in its unmatched, multitrillion dollar foreign reserves and its unclear that Beijing even sought to have its closely-regulated currency go global to the extent that the dollar has.
"China is also a major foreign holder of the debt, but their ability (and willingness) to drop that debt is limited," Paul Poast, an associate professor at the University of Chicago's Department of Political Science, told Newsweek. "Think of the old phrase, 'Owe the bank $500, it's your problem. Owe the bank $5 million and it's the bank's problem.'"
And while U.S. resistance to China's rise may turn out to be a contributing factor weakening Washington's hold on the world financial system, it has made other controversial moves that fuel this projection as well.
Poast said much of the U.S. dollar's strength and stability lies in its ongoing popularity among partners and allies. Top European powers like France, Germany and the United Kingdom, have long tolerated Washington's post-World War II hegemony over global finances.
But a turning pointing came three years ago.
In May 2018, Trump pulled out of the Joint Comprehensive Plan of Action (JCPOA), the painstakingly negotiated nuclear deal signed in 2015 by China, France, Germany, Iran, Russia, the United Kingdom and the U.S. The agreement lifted international sanctions on Tehran in exchange for tight restrictions on its nuclear program. But the U.S. exit was followed by new unilateral constraints, that—due to the U.S. centrality in international finance—cut off burgeoning Western commerce as well.
Europe issued a rare rebellion, choosing to remain in the agreement, though in reality little trade was conducted with Iran due to the intractable task of trying to avoid triggering U.S. blowback. While Biden has signaled a desire to return to the JCPOA, sanctions remain in place, and the effects of Washington's withdrawal remain in recent memory.
"I think that there was a recognition that these tools could be overused or exploited," Aaron Arnold, associate director of the Project on Managing the Atom at Harvard University's Belfer Center, told Newsweek.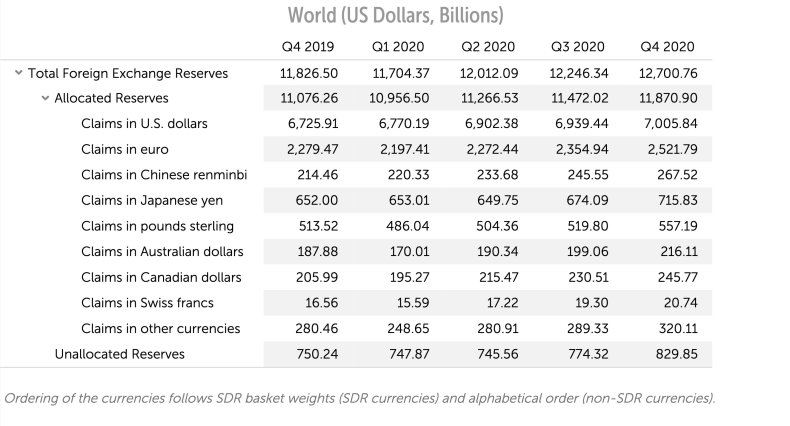 The euro, a currency once eulogized by many in the wake of the 2007 financial crisis, has proven itself a top contender for a reserve currency. If it were to ascend to the top spot, this would signal a substantial transatlantic reclamation.
Prior to the rise of the U.S. dollar, popular reserve currencies dating back centuries included those of Portugal, Spain, the Netherlands, France and, finally, the United Kingdom. The U.K.'s protracted divorce from the European Union also raised fears of a euro tumble, but these anxieties have yet to become reality.
And while the EU also employs sanctions as a frequent instrument of statecraft, the JCPOA experience and other incidents have made member states wary of how Washington interprets its jurisdiction on an international scale. This is likely to be a major talking point as the Biden administration strives to mend U.S.-European alliances that became strained under the previous White House.
Meanwhile, along with a range of sanctions-hit states, China and Russia are coalescing under the banner of non-interference in the domestic affairs of other states, often referred to simply as "sovereignty," a U.N. Charter principle they feel has been eroded under a U.S.-led world order.
The more Washington attempts to block these countries, the more resourceful they will likely become, and the more likely they will be to cooperate with each other to thwart U.S. efforts.
"The U.S. has taken a more extraterritorial approach, leveraging some novel aspects of its domestic legislation, to enforce its sanctions regimes," Arnold said. "And so, I think other countries have seen this as obviously an incursion on sovereignty, and some countries have essentially moved to sort of buffer from that type of extra-territorialism."
Despite this resistance, however, trust in the U.S. dollar remains high, and so far it has weathered a slew of financial crises, including the COVID-19 pandemic. That being said, like virtually all currencies, it's only worth the amount people are willing to believe in it, and overconfidence could serve as a blind spot to policymakers not paying close attention should the winds shift.
If they do, Arnold warned it will come with little or no warning.
"You wouldn't necessarily see a decline in the use of dollar. It would happen relatively quickly," Arnold told Newsweek. "So I take that to mean that we wouldn't necessarily be able to predict, with a great deal of confidence, that there's a significant or a consequential move away from the dollar."
"Historically," he said, "we wouldn't know until it happens."