Trump Presidency Spurs Uptick in Sanctuary City Legislation, but Few Bills Passing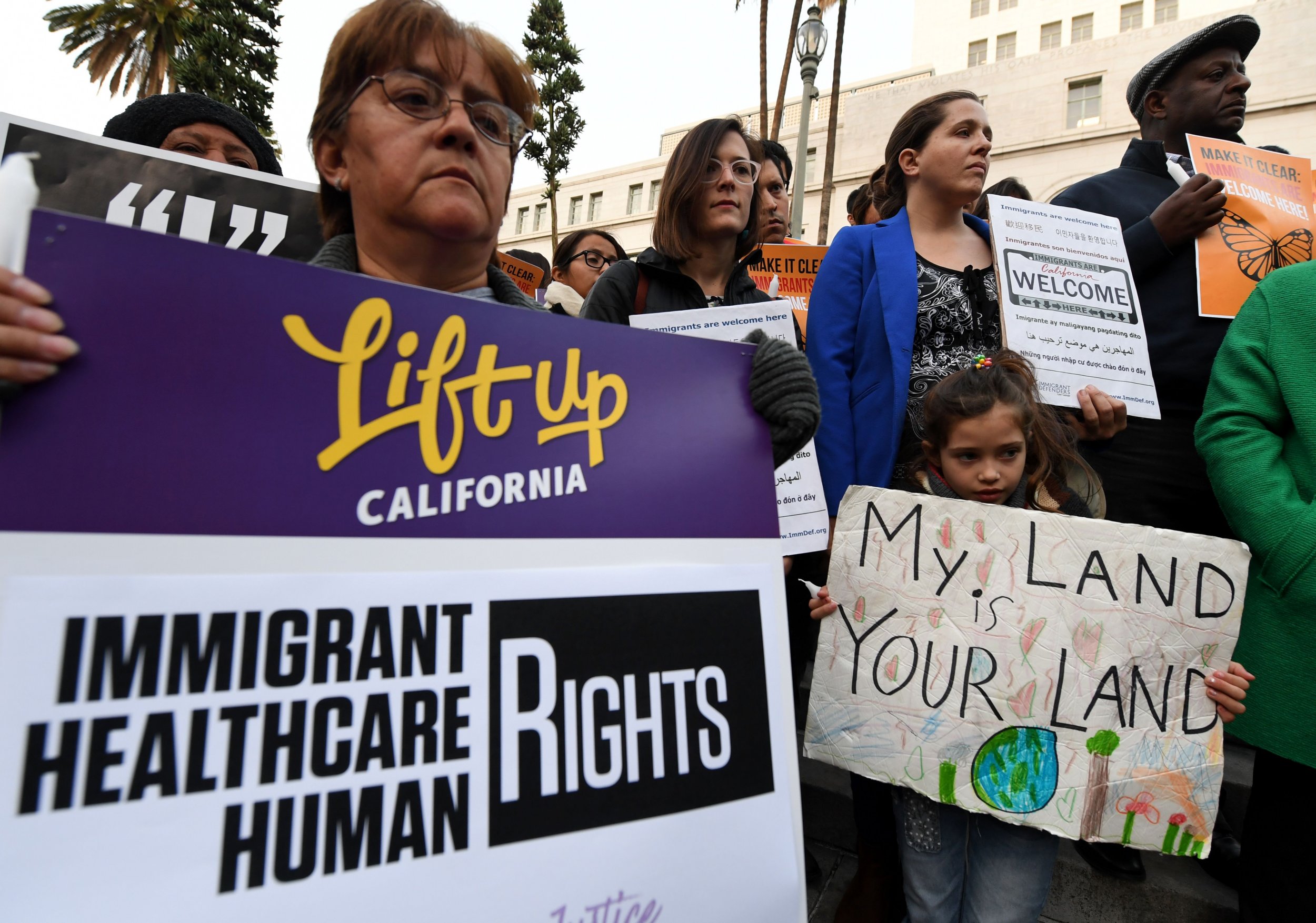 More than double the number of bills and resolutions related to sanctuary cities and jurisdictions have been put forward by state lawmakers in the current round of legislative sessions than in the previous round, according to an analysis by FiscalNote, a government analytics startup. The uptick comes as President Donald Trump calls for the federal government to withhold funding from such jurisdictions.
This includes pro-sanctuary, anti-sanctuary and neutral legislation, according to FiscalNote, which provided its analysis exclusively to Newsweek.
During the 2016 state legislative sessions, lawmakers introduced around 80 bills and resolutions related to sanctuary jurisdictions, the informal term for areas that take measures to shelter undocumented immigrants, such as by agreeing not to share information with federal immigration authorities. During the 2017 legislative sessions, the number as of June 12 was 185. (The sessions for most states have ended, though legislatures in a handful of states continue to meet throughout the year.)
Related: Ivy Leaguers want 'sanctuary' campuses
"This highlights that the debate over sanctuary policies has really just begun to evolve into one of the more prominent, divisive and truly nationwide...issues," Zach Schloss, an analyst at FiscalNote, says via email. Forty state legislatures and the District of Columbia have introduced at least one sanctuary bill or resolution during the current round of sessions, according to Schloss. The legislation tends to focus either on proposing or restricting the establishment of sanctuary jurisdictions, or on defining how state and local entities interact with federal immigration authorities.
Certain states are overwhelmingly opposed to measures that would shelter undocumented immigrants, such as Texas, which introduced the most sanctuary-related bills and resolutions of any state during its 2017 session: 27. In May, Texas Governor Greg Abbott signed one of those into law, saying that local governing bodies, law enforcement, district and city attorneys and colleges cannot impede federal immigration efforts, and that police can ask victims or witnesses of crimes about their immigration status under some circumstances.
In some other states, such as New Jersey, the proposed legislation is primarily supportive of sanctuary jurisdictions. In others, including Connecticut, the issue is divisive, with lawmakers attempting to pass both pro-sanctuary and anti-sanctuary legislation.
As of June 12, states had enacted only five of the bills and two of the resolutions during the 2017 sessions, or around 4 percent. That is much lower than the 21 percent enactment rate for all state legislation during the 2017 sessions. Four of those enacted bills were against sanctuary jurisdictions and one was neutral, which Schloss says is consistent with sanctuary-related measures in previous legislative sessions. "While we're not necessarily seeing many more bills enacted, we are seeing more and more time across the country devoted to thinking through the mechanics of the enforcement of federal immigration law," Schloss says. The two resolutions that legislatures enacted were pro-sanctuary jurisdictions, in the District of Columbia and New Jersey.
More than 360 cities and 123 counties are considering sanctuary jurisdictions, as are six states (Maine, North Dakota, Oregon, Rhode Island, Utah, Vermont), according to a comprehensive list maintained by the Ohio Jobs and Justice Political Action Committee.
During his campaign, Trump vowed to cancel all federal funding to cities that adopt the sanctuary designation. Days after taking office, the president issued an executive order stating, "Sanctuary jurisdictions across the United States willfully violate federal law in an attempt to shield aliens from removal from the United States." The order added that such "jurisdictions have caused immeasurable harm to the American people and to the very fabric of our republic." The order declared that the attorney general and the homeland security secretary should withhold federal funding from those areas and that the Department of Homeland Security should maintain a "list of criminal actions committed by aliens" in those jurisdictions.
In April, a federal district court judge in California blocked the order. The following month, Attorney General Jeff Sessions issued a memorandum that seemed to narrow how the federal government would define a sanctuary jurisdiction, and that said the order would apply only to grants administered by the Department of Justice and the Department of Homeland Security. Trump has said he would appeal the California ruling to the Supreme Court.
The increase in sanctuary legislation early in the Trump presidency is not a coincidence, according to Schloss, the analyst. "A lot of this is certainly reactive," he says, pointing out that much of the legislation mentions the federal directive. But that doesn't mean state lawmakers are hopeful their divisive bills will pass. "A lot of this is political postruing to some extent," Schloss says. "This issue is so partisan and so politicized at this point that realistically you're not expecting to see a lot of legislation be enacted."