Sanctuary Could Have Saved 'Loneliest Orca'—Instead She Died in Captivity
Last week, a whale dubbed "the world's loneliest orca" died, extinguishing any last hopes that she could be retired to a planned sanctuary.
The killer whale, known as Kiska, was being kept at Marineland—a theme zoo and amusement park in Niagara Falls, Ontario.
The whale had been in captivity for more than 40 years after being captured near Iceland as a youngster and sold into the aquarium industry. For the last 12 years of her life, she was kept in a tank by herself and became known as the "loneliest whale in the world."
The orca, thought to be 47, died last Thursday, Brent Ross, a spokesperson for the Ontario Ministry of the Solicitor General, told the Canadian Broadcasting Corp. Her cause of death was reportedly a bacterial infection.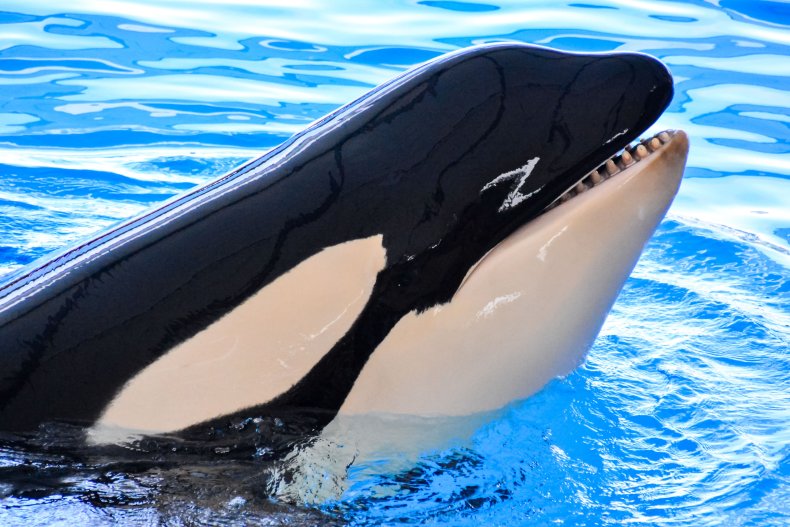 The Whale Sanctuary Project, an animal rights group, had been working to relocate Kiska to a new home. The organization was in discussions regarding Kiska's release with Marineland at one point, but these efforts were ultimately unsuccessful.
"The news is devastating to all of us who have been working toward the time when she could be retired to [a] sanctuary," WSP President Lori Marino said in a statement after the news of the whale's death.
"We know that no words can explain away a lifetime of pain and misery as experienced by a deeply intelligent, social, family-centered being who had the terrible misfortune to become known as the loneliest whale in the world," Marino said.
The planned 100-acre sanctuary being developed by WSP is located in Port Hilford Bay, Nova Scotia. The sanctuary, which could welcome its first residents in spring 2024, will be the first in North America designed to re-home whales captive whales like Kiska.
The idea behind the sanctuary is to create an environment that "maximizes well-being and autonomy" and resembles the natural habitat of these animals as close as possible.
The site provides a large amount of space and depths of up to around 60 feet for its residents to explore. The WSP hopes the sanctuary will provide a model for others to be built all over the world in the coming years.
The 100 acres of water in the bay will be enclosed by a perimeter net anchored on land at one end and at the tip of Barachois Island at the other. This net will prevent the whales from swimming out to sea.
"Our 100 acres provides enough space for eight to 10 beluga whales and two to three orcas, in a separate area," Marino told Newsweek. "We could probably take more, but we don't want to exceed the carrying capacity of the area—the number of animals it can hold and stay pristine—and it would certainly defeat the purpose to crowd them in."
One hundred acres of water in the sanctuary is significantly larger than the tanks that captive whales tend to be kept in, which may measure only a few dozen feet in length.
Whales in captivity have usually been born there or were taken from the ocean when they were very young. As a result, they cannot be released into the wild because they do not have the required hunting skills or even the knowledge that a live fish is food, according to Marino.
They will be accustomed to being fed dead fish by their trainers. So when the sanctuary opens, staff will be on the site to feed the whales and take care of their other needs—such as treating any medical problems.
"We will [feed] our residents for a number of reasons," Marino said. "First, it is our responsibility to maintain their health and make sure they are well fed, and we can only do that if we feed them. Second, while there will be fish and crabs, etcetera, swimming through the sanctuary space, we can't assume there would be enough to maintain the whales even if they did learn to catch them."
She went on: "Unlike a marine park, we will be using the need to feed them as an opportunity to replicate the spatial and temporal dimensions of natural feeding behavior by giving them a variety of ways to obtain the fish and varying where and when they eat. All of this is to ensure we know how much they are eating but to break the typical monotony of feeding that characterizes marine park care."
The perimeter net will be attached to a structure supporting a walkway measuring more than a mile long. This will provide staff with direct access to the sanctuary waters, enabling interactions with the whales, such as feeding.
"We could vary location and time but also how the food is delivered," Marino said. "One of the ways we could feed them is to throw the fish out into the water instead of placing it in their mouth. At the same time, we would need to ensure that all individuals meet their daily nutritional needs. If the sanctuary whales decide to hunt for live fish, that would be a positive development. But we would not depend upon their hunting to ensure they are well fed."
Residents of the sanctuary will—for the first time in most cases—have an opportunity to interact with natural seaweed, as well as with any smaller animals who come through the boundary nets from the outside.
"[The whales] can explore and play with them, and if they start to feed on them then all the better. That would be a good sign that natural behaviors are starting to return," Marino said.
Although human staff will be on hand, the public will not be allowed to interact with the whales.
"Because this will be a true sanctuary, there will be no interactions with the public and all of the interactions with staff will be designed to encourage autonomy and exploration," Marino said.
"We will be promoting their freedom of choice to spend their days the way they want. We will have underwater video to observe them, and this will become an important way that the public can see how the whales are doing and how they spend their days when in a natural environment."
The sanctuary will be a permanent home for its whale residents, and there are no plans to eventually release any into the wild.
"Whales who have been born in captivity have never been successfully released into the open ocean, and they would not have a social group to go back to," Marino said.
Marino previously told Newsweek—prior to Kiska's death—that her life in the sanctuary would differ in important ways from being on display in a concrete tank. Dozens of orcas are being kept in such tanks around the world.
"Our sanctuary would provide [Kiska] with more of what she needs as an orca with regard to a natural ocean environment where she would have space to swim and a complex natural environment to interact with," Marino said. "She would not be burdened with interactions with the public, and our singular priority would be her well-being."
She continued, "We would do all we could to promote her autonomy and her mental/physical health while also feeding her and caring for her to ensure her adaptation to the sanctuary and to provide ways to give back as much of what was taken from her by the marine park industry."
Sanctuaries cannot do everything, Marino said, but authentic ones are distinguished from zoos and marine parks "by their prioritization of the well-being of their residents over any other goals, such as ticket sales, visitor experiences, breeding to increase collections, etcetera."
Animal rights group Animal Justice also commented on Kiska's death after the news.
"It is heartbreaking to know that Kiska will never have the chance to be relocated to a whale sanctuary, and experience the freedom that she so deeply deserved," Camille Labchuk, executive director of Animal Justice, said in a statement.
"Animal Justice hopes this tragedy galvanizes support for the Whale Sanctuary Project, which is working to build Canada's first seaside whale sanctuary in Port Hilford, Nova Scotia, and that other whales and dolphins at Marineland will be able to live out of the rest of their lives in a safe environment with hundreds of times more space than the tiny tanks they currently endure."
Newsweek has contacted Marineland for comment.