Sanders Becomes First to Qualify for Maine Primary As Largest Progressive Organization in Iowa Endorses Him
The campaign of Bernie Sanders announced the senator has qualified for the Maine Democratic presidential primary on the same day he was endorsed by Iowa's largest progressive community organization.
A Monday press release announced Sanders had submitted 2,800 signatures, which exceeded the number required to place the Vermont legislator on the ballot by 40 percent. The campaign collected the signatures needed in one day.
Maine state representative, Ben Collings, remarked on the "strength of our movement," which put Sanders on the ballot "faster than any other candidate in the 2020 race."
"Senator Sanders has unmatched grassroots support making him one of the most competitive candidates not only in Maine, but across the country," said Collings.
Sanders received over 33,000 individual donations from Maine voters for his 2020 presidential bid, according to his campaign.
The Iowa Citizens for Community Improvement (CCI) also announced on Monday they will formally endorse Sanders at a press conference on December 5. In an email to its members, the Iowa CCI Action Board President, Cherie Mortice, wrote why the organization was endorsing Sanders for a second time since 2016.
"Some 2020 Presidential candidates have been embracing or acknowledging movement politics. But only one of them has been doing it for decades, just like Iowa CCI Action and our sister organization Iowa CCI," Mortice said. "That's why Iowa CCI Action is endorsing Bernie Sanders. We're standing with Bernie because Bernie stands with us."
The state director for Sanders' campaign, Misty Rebik, praised the organization that prides itself on putting people first.
"Iowa CCI is not only the largest progressive organization in Iowa, they are the hardest working and know what it takes to win for working people," said Rebik. "The members of Iowa CCI made this endorsement because they know that when Bernie Sanders is in the White House, he will fight alongside us because he always has."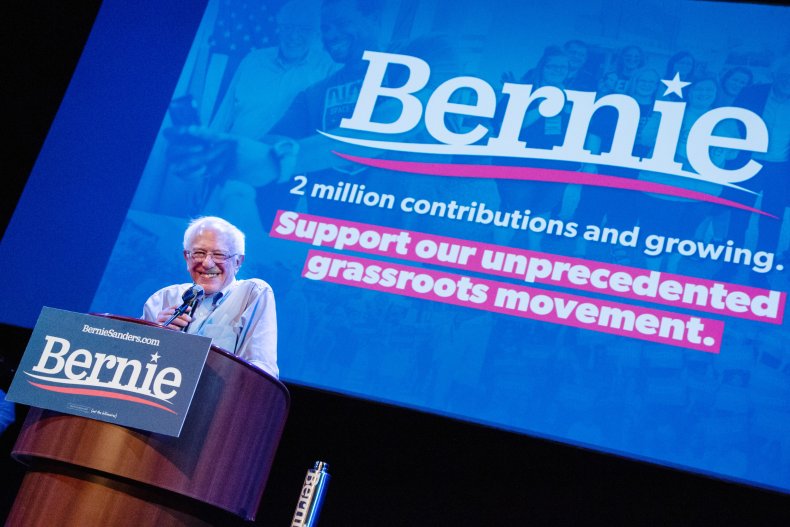 The process for endorsement within the Iowa CCI took 7 months and meetings with multiple presidential candidates.
The progressive group supports clean water, an end to factory farms, a $15 minimum wage, confronting racial injustice and the Green New Deal. Their press release stated that Sanders "toured factory farms in August and walked on picket lines and in workers' rights marches across the state with Iowa CCI members."
The statewide primary election in Maine will be held on March 3, 2020. In previous years, they held party caucuses to select candidates for presidential nominations but the state election law changed in 2019.
Sanders appears to be building on this momentum, with a rise in recent polling, but he still trails former Vice President Joe Biden in nationwide polls and President Donald Trump in fundraising.
Sanders Becomes First to Qualify for Maine Primary As Largest Progressive Organization in Iowa Endorses Him | News