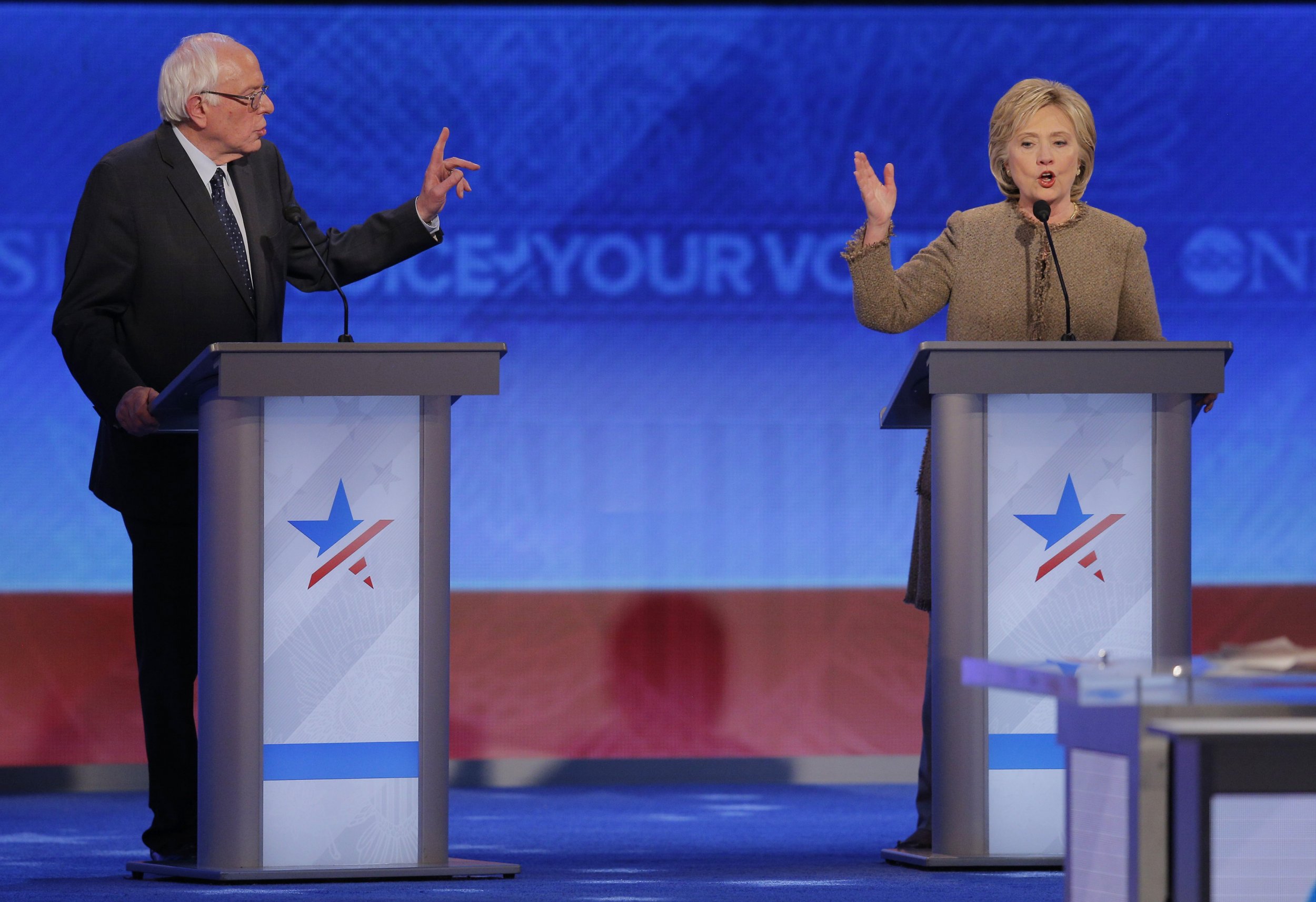 "Break them up! Break them up!"
A crowd of more than 1,500 New Yorkers bellowed to the ornate rafters of the historic Town Hall theater Tuesday as they waited for Bernie Sanders to bring his bank-busting show to Broadway and the beating heart of Greed City.
Sanders came to New York promising to send a message to Wall Street, and he opened his speech with the statistics about wealth inequality, and the corrupting influence of billionaire campaign donors on American politics, that have been a staple of his campaign.
"A handful of executives on Wall Street have extraordinary power over the economic and political life of our country," he said. "The financial interests spent billions of dollars on campaign contributions to force through Wall Street the repeal of the Glass-Steagall Act and the weakening of consumer protection laws throughout this country. They spent this money...to show the American people what they could do with this new-won freedom from regulation."
It's unclear whether any financiers had limo-ed uptown to hear themselves castigated, but Sanders was certain he had their ear. "To those on Wall Street who may be listening to my remarks, and I'm sure there are many of them, let me be very clear: Greed is not good. In fact, the greed of Wall Street and corporate America is destroying the very fabric of our nation. And here is a New Year's resolution that I will keep if elected president: If Wall Street does not end its greed, we will end it for them!"
Sanders said that within the first 100 days of his administration he would request the secretary of the treasury to establish a "too big to fail" list of commercial banks, so-called shadow banks and insurance companies whose failure would pose a catastrophic risk to the U.S. economy without a bailout.
"And within one year, my administration would break these institutions up so they would no longer pose a grave threat to the economy," he said. He also promised to reinstate a "21st-century Glass-Steagall Act" to separate commercial banking from investment banking and insurance services. He committed to breaking up Citigroup and "other too big to fail banks."
Hillary Clinton does not support reinstating Glass-Steagall (which was repealed during her husband's administration). She has said it would not have prevented the 2008 financial crisis because shadow banks like American International Group (AIG) were not covered. Sanders begs to differ.
The crowd was so well-versed in Bernie-speak that at one point it finished a sentence for him. "The reality is that Congress does not regulate Wall Street," he said. "The reality is—" and the audience shouted, "Wall street regulates Congress!" He laughed and said, "As president we're gonna end that reality."
Anticipating the attack on her left flank, the Clinton camp issued a statement Monday from campaign Chief Financial Officer Gary Gensler claiming that it was Sanders, not Clinton, whose plan would go easy on the banks.
"Any plan to further reform our financial system must include strong provisions to tackle risks in the 'shadow banking' sector, which remains a critical source of potential instability in our economy," Gensler said. "This includes certain activities of hedge funds, investment banks like the now-defunct Lehman Brothers and insurance companies like AIG. Unfortunately, Senator Sanders has so far taken a hands-off approach to some of the riskiest institutions and activities in our economy, which were among the biggest culprits during the 2008 crisis."
Clinton has never explicitly called for breaking up big hedge funds, big private equity firms or other massive financial conglomerates involved in the shadow banking sector. Her plan would not break them up but instead impose a "risk fee" on the largest financial institutions and require large financial companies to demonstrate to regulators "that they can be managed effectively." If they can't, regulators "would have the explicit statutory authorization to require that they reorganize, downsize or break apart." Clinton's plan would also tax high-frequency traders and make hedge funds more transparent. Guilty individuals would be jailed.
Without attacking her by name, Sanders implied that Clinton has been a favorite of Wall Street banks and investment houses. He got laughs and cheers when he said, "My opponent says as a senator she told bankers to, quote, 'Cut it out.' In my view, establishment politicians are the ones who need to cut it out."
Without naming Clinton, Sanders mentioned that some people make huge speaking fees from Wall Street. According to her tax returns, in 2013 she made $3.15 million, one-third of her speech income, from appearances before the likes of Morgan Stanley, Goldman Sachs, Deutsche Bank and UBS. Since the beginning of her candidacy, four of Clinton's top five campaign contributors were Citibank, Goldman Sachs, JPMorgan Chase and Morgan Stanley, according to a report from the Center for Responsive Politics. The Clintons have such a warm relationship with Goldman Sachs that the company has hosted meetings between big donors and the Bill, Hillary & Chelsea Clinton Foundation at its headquarters.
In New York Tuesday, Sanders made a point of distancing himself from the financial giant. "Goldman Sachs and other banks will not be represented in my administration," he said. "I will nominate and appoint people with a track record of standing up to power, rather than those who have made millions defending CEOs."