After Sarah Sanders Taunts Joe Biden for Imitating Stutter, National Stuttering Association Says It's 'Never Acceptable to Mock' Speech
The National Stuttering Association took to social media to condemn former White House press secretary Sarah Sanders for taking jabs at Democratic presidential candidate Joe Biden after the former vice president, who stutters, imitated the condition during a debate.
During the sixth Democratic primary debate at Loyola Marymount University, Biden answered a question about forgiveness by talking about some of the young people with speech impediments he had mentored.
"The little kid who says 'I can't talk, what do I do?' I have scores of these young men and women that I keep in contact with," he said, affecting a stutter on the first "I."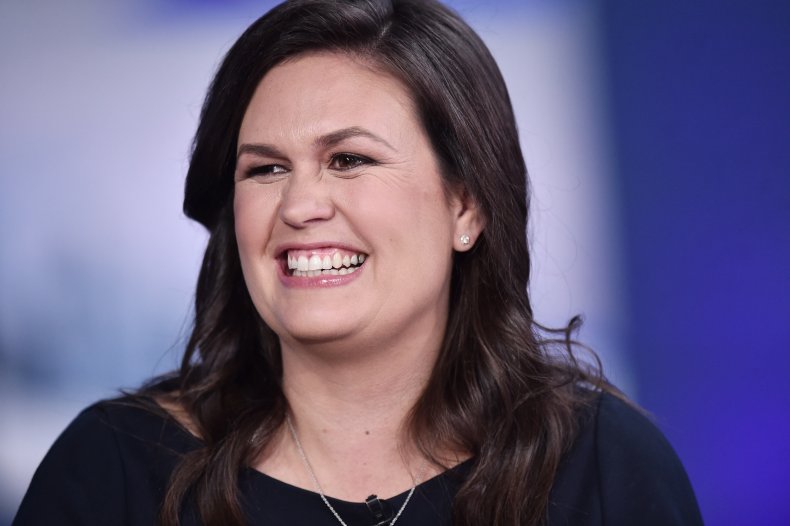 Shortly after the clip aired, Sanders issued a derogatory tweet towards Biden, writing: "I I I I I I I I I I I I I I I hhhave absolutely no idea what Biden is talking about #DemDebate."

Biden's official Twitter account responded shortly after, quoting the tweet and adding "I've worked my whole life to overcome a stutter, and it's my great honor to mentor kids who have experienced the same. It's called empathy. Look it up."
Sanders quickly walked back her comments and deleted the offending tweet.
According to the National Institutes of Health, approximately 3 million Americans stutter. The condition occurs most often in children between the ages of 2 and 6, and it is more commonly seen in boys than in girls.
The root causes of stuttering are unknown. It is most commonly treated with therapy to help those with the condition develop ways to compose their speech and regulate their breathing, as well as minimize anxiety. A number of electronic medical devices that delay or alter the sound of the person's voice, which has been shown to reduce stuttering, are also on the market, but research shows their effectiveness diminishes over time.
The National Stuttering Association is composed of over 200 local chapters around the country where stutterers gather for support and education, according to the organization's website. They also host an annual conference to present new research and treatment options, and educate the public about stuttering.
When contacted for comment, the NSA sent a statement reading:
"The National Stuttering Association was disheartened to see a tweet from a political commentator mocking a reference to stuttering during last night's presidential debate. While the individual who made this comment has since apologized for the tweet and deleted it, the stigma and challenges faced by the stuttering community remain.
"Stuttering is a communication disorder involving disruptions, or 'disfluencies,' in a person's speech. People who stutter are no less intelligent, no less thoughtful, and no less capable of doing great things than people who do not stutter.
"Mocking a person who stutters, no matter the circumstances, perpetuates misconceptions about stuttering and does a disservice to people who stutter working to feel empowered.
Those seeking more information about or support for stuttering can find it at www.westutter.org."
Biden has used his childhood stutter in speeches on the campaign trail throughout his political career, framing it as an obstacle he had to overcome to learn how to speak publicly.
This article has been updated to include a statement from the National Stuttering Association.