Sanders and Buttigieg Request Partial Iowa Caucus Recanvass After Both Declaring Themselves Victorious
Former South Bend, Indiana Mayor Pete Buttigieg joined Senator Bernie Sanders in calling for a partial recanvassing of the Iowa caucuses after both 2020 candidates declared themselves victorious in the first-in-the-nation state.
After days of delays due to disastrous meltdowns with the Iowa Democratic Party's (IDP) reporting system, the body released results from the state last week that showed Buttigieg narrowly leading the Democratic field in terms of delegates to the state convention. Buttigieg led Sanders in that metric by one-tenth-of-one-percentage-point with 26.2 percent of the state's delegate equivalent county, while Sanders led the popular vote by 2,500 in the first-in-the-nation contest. Sanders and Buttigieg both declared themselves victorious in the state based on the figures.
The IDP on Monday announced that both Buttigieg and Sanders' campaign have requested a partial recanvass following allegations of reporting errors and inconsistencies in the results. Sanders has asked the body to recanvass 28 precincts, while Buttigieg has requested 66 precincts be checked.
In a letter to IDP Chairman Tony Price, Sanders claims that Buttigieg was awarded at least 3.2312 too many state delegate equivalents due to "errors and inconsistencies," and he had received roughly 2.3942 too few. "These errors and inconsistencies are ripe for review because their correction would change the national delegate allocation by moving, at a minimum, one PLEO delegate from Mayor Buttigieg to my campaign," the senator wrote.
Price received another letter from Buttigieg's campaign in response to Sanders' request, where the former mayor also requested a partial recanvass. In Buttigieg's letter, he argues that Sanders' request could leave the senator with a gain of less than six, while his request could result in more than 14 more state delegate equivalents for his campaign.
Both candidates submitted their Iowa recanvass requests before the Monday 12 p.m. CST deadline today.
Newsweek reached out to Buttigieg and Sanders' campaign for comment.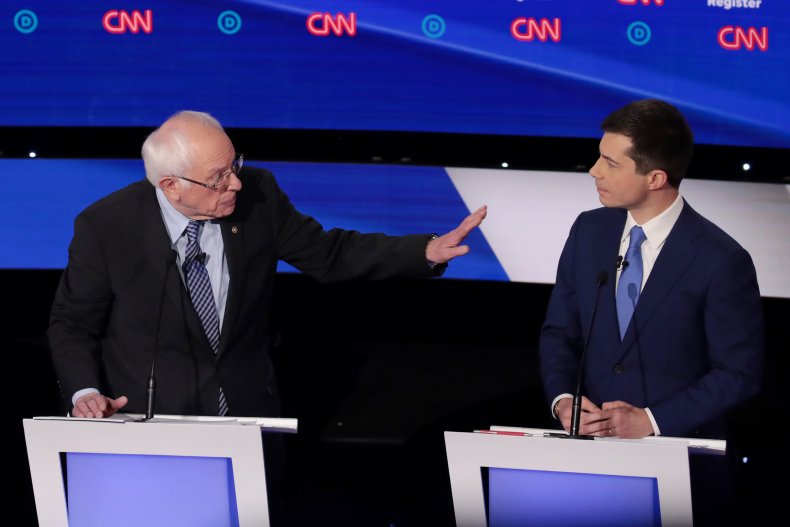 President Donald Trump on Friday attempted to blame the Iowa caucuses debacle which occured because of a technical glitch on Russian agents, despite officials saying there's no evidence a foreign country interfered. "I think they should blame RUSSIA, RUSSIA, RUSSIA again!" he tweeted. "If they can't count votes properly, how are they going to run U.S. HealthCare?"
Officials in Iowa have pushed back on Trump's assertions, saying that the delays across the state were due to a malfunctioning app. Amid growing backlash, Democratic National Committee chairman Tom Perez called for a recanvass of the vote, which would involve an audit of the physical records. "Enough is enough," he wrote in a tweet Thursday. "In light of the problems that have emerged in the implementation of the delegate selection plan and in order to assure public confidence in the results, I am calling on the Iowa Democratic Party to immediately begin a recanvass."