Sanders Calls for Firing of 'Worst Postmaster General' Louis DeJoy as USPS Flounders
Vermont Senator Bernie Sanders issued a statement on Thursday that urged President Joe Biden to demand the immediate resignation of Postmaster General Louis DeJoy, who Sanders called the worst in modern history.
"By any objective measure, Louis DeJoy, a top campaign contributor of Donald Trump, has been, by far and away, the worst postmaster general in the modern history of America," Sanders' statement read. "Since Mr. DeJoy was handpicked by President Trump to serve as postmaster general in May of 2020, the quality of the Postal Service has been severely undermined."
Sanders pointed to the numerous issues that have been seen throughout the United States Postal Service (USPS) since DeJoy took office, including bad effects on post offices that Sanders stated were directly caused by DeJoy.
The statement called out DeJoy's "disastrous 10-year plan to substantially slow down mail delivery, cut back on post office hours, shut down mail processing plants, and dismantle mail sorting machines."
Sanders noted that, because of DeJoy's USPS policies, many families may not be able to receive their holiday presents on time. More crucially, though, the statement pointed to the number of elderly people who are facing delays on their mail-order medications.
"Senior citizens have experienced massive delays in receiving the lifesaving prescription drugs they desperately need and working families have been forced to pay late fees because it is taking much longer than normal for the Postal Service to mail their bills," the statement went on. It is estimated that one in four elderly Americans faced delays in receiving mail-order medication last year due to issues with the USPS, according to a poll conducted by the University of Michigan.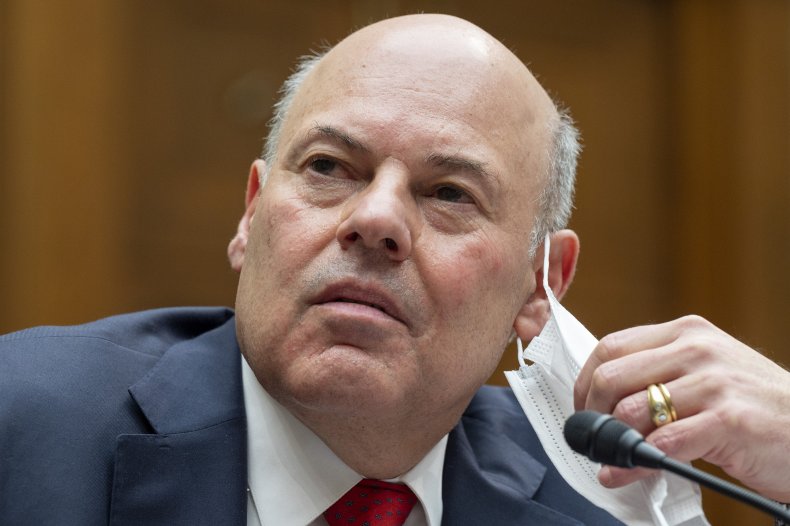 Sanders also pointed out that the postmaster general reportedly has "over a dozen major conflicts of interest due to his financial interests in several companies that have ties to the Postal Service."
This reportedly includes the USPS' $120 million contract with a major logistics company that DeJoy used to work at, and where he still holds a $30 million investment.
The senator also reiterated his concern that the USPS might not be able to promptly deliver the 500 million new at-home COVID tests that President Biden recently announced would be made available to the public. "Given the deterioration of the postal service under Mr. DeJoy, how can anyone have confidence that these life-saving tests will be delivered to the American people in a timely and efficient manner?" Sanders asked.
"We need a postmaster general who will strengthen and expand the Postal Service, not someone who continues to undermine and sabotage it," he added.
Despite the significant criticism aimed at DeJoy, the postmaster general has stated that he plans to remain in his post for a "long time," telling a congressional panel in February to "get used to me."
Unlike most federal officials, the postmaster general cannot be fired by the president. The power to appoint or remove the head of the USPS lies solely with the Postal Service's governing board.
However, President Biden recently tapped two nominees to replace a pair of DeJoy loyalists on the board, which, if they are confirmed, would give them enough votes on the panel to remove DeJoy from office.
A spokesperson for the USPS told Newsweek that "Postmaster General DeJoy's 10-year strategic plan...provides concrete solutions that will enable investments in the Postal Service's people, infrastructure and technology, provide our customers and the American people with the excellent service they expect and deserve, and, with enactment of legislative reforms, generate enough revenue to cover our operating costs."
The spokesperson added that "[DeJoy's] plan is working and resulting in service improvements," noting that the Postal Service had installed 112 new sorting packages across the country and new systems that would help the USPS boost its daily processing capacity by 13 million parcels.
Update 12/23/2021, 6:30 p.m. ET: This article has been updated with a statement from the USPS.