Advocacy Groups Call Foul on Sanders Campaign in Iowa, Nevada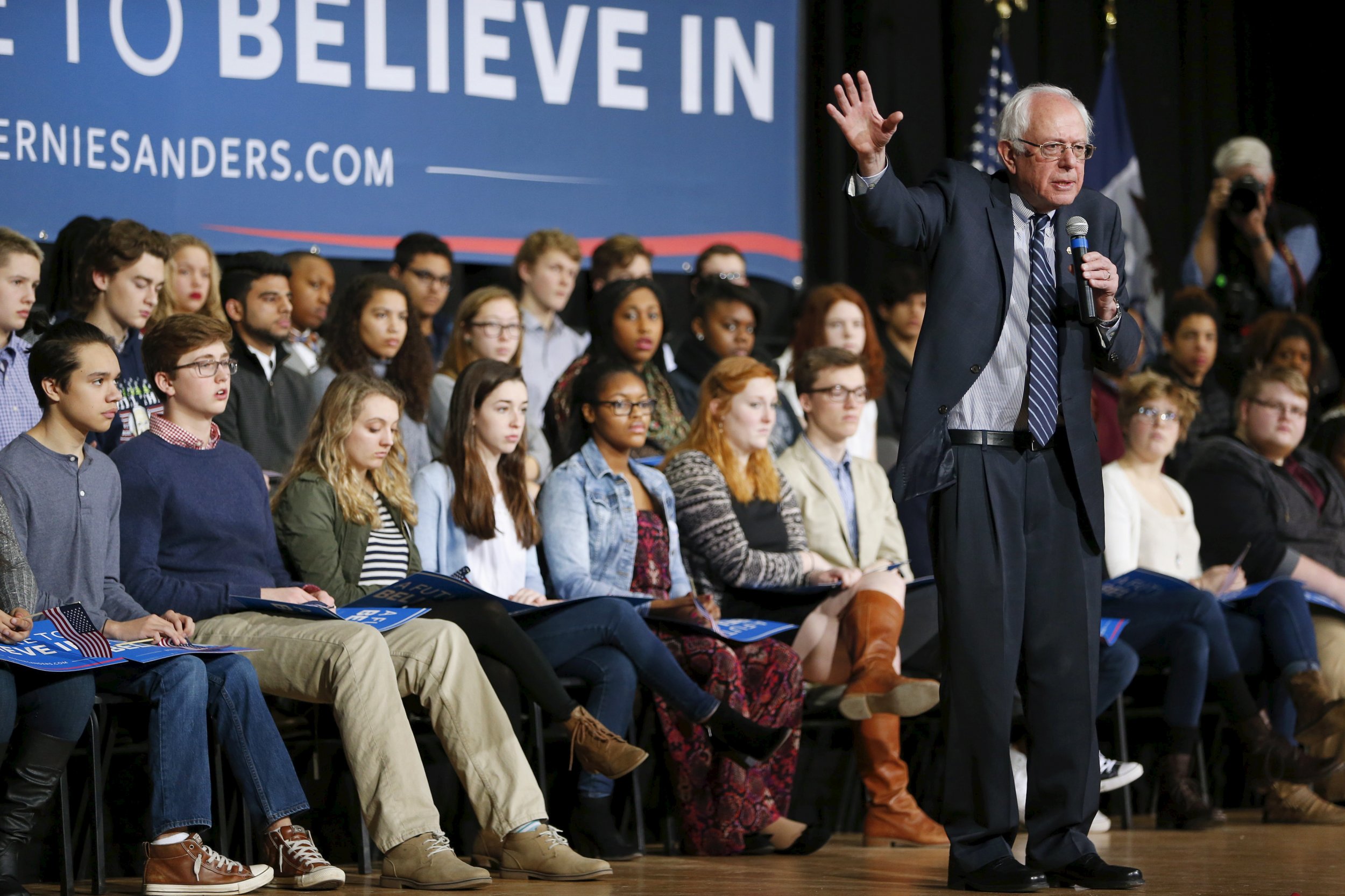 Senator Bernie Sanders has built his insurgent presidential bid around being Mr. Clean, but several outside groups are now accusing his campaign of playing dirty.
Sanders's campaign in Iowa has included League of Conservation Voters and AARP logos in recent mailers it's sent to prospective caucusgoers, a subtle effort to tie himself to those groups, if not implying an endorsement. But neither group has backed him. The AARP, which represents retirees, does not endorse candidates, and the League of Conservation Voters, an environmental advocacy group, is supporting Sanders's Democratic foe, Hillary Clinton.
And now news has broken of what is potentially an even more bald-faced deception, in Nevada, where Sanders supporters have reportedly been posing as members of Las Vegas's powerful Culinary Workers Union Local 226 to try to rally labor support ahead of the state's Democratic caucuses on February 20.
For a candidate who has boasted about not taking money from billionaires and never running a negative political ad in his life, the moves raise questions about the iconoclastic Vermont lawmaker's campaign just days before the make-or-break Iowa caucuses.
AARP's Iowa chapter had to clarify publicly that it is not supporting Sanders after noticing that the campaign was distributing mailers that include a photo of AARP members wearing their red shirts with the slogan "Take a Stand." That's the name of the group's campaign to raise the Social Security issue in the 2016 election and get candidates to present their plan to protect the retirement program. Newsweek obtained an image of the mailer, which touts Sanders's record as a defender of Social Security.
"While we have encouraged the presidential candidates to lay out their plans to update Social Security, AARP did not authorize the Sanders campaign to mention AARP or use the AARP logo, and we did not participate in its production," AARP Iowa said in a January 26 statement. "We have a proud 30-year history of non-partisan voter engagement, providing voters with information on where the candidates stand on issues important to our members and their families."
The organization did not contact the Sanders campaign about halting the mailing, according to spokeswoman Ann Black.
The League of Conservation Voters, however, has contacted Sanders's staff, objecting to their logo being used on another mailer, shared with Newsweek, which portrays the senator as an environmental champion. The pamphlet, which is being sent out in Iowa, notes that Sanders "has a lifetime score of 95 percent from the League of Conservation Voters" and displays the group's logo beside it.
However, the league requires permission to use its logo and only grants that to politicians who've been endorsed by the affiliated LCV Action Fund. In the presidential race, that's Clinton. According to a spokesman, the group has asked the Sanders campaign to not continue using its logo, and the campaign is looking into how it happened.
The Sanders campaign could spin those as honest mistakes, but given how much thought campaigns put into their advertising and the messages they're trying to convey, that requires some credulity. It will be harder to explain away how campaign supporters knowingly deceived hotel workers on the Las Vegas Strip to gain access to employee-only areas, as veteran Nevada politics scribe Jon Ralston is reporting.
According to Ralston, Sanders operatives donned the Culinary Union's "distinctive yellow Local 226 pins, implying they are union members, to gain access to employee dining rooms" at four hotels. And he quotes Local 226 Political Director Yvanna Cancela as saying, "It's inappropriate for any campaign to attempt to mislead Culinary Union members, especially at their place of work."
The union, a political kingmaker for Democrats in Nevada, decided to remain neutral in this year's presidential caucuses. Its endorsement of Barack Obama was a coup for the Illinois senator in 2008 and launched a fierce fight with Clinton's campaign back then over whether polling places in casinos gave Obama supporters an unfair advantage. Clinton ultimately won the most votes in the Democratic race that year, but thanks to a savvy strategy to campaign across rural areas of the state, Obama racked up the most delegates.
In a campaign in which Clinton's honesty has been a focal point, this week's series of events raises questions about how pristine the Sanders campaign really is. His campaign did not reply to a request to comment.
The senator has faced little political fallout from a previous campaign violation. His team was hardly contrite when news emerged that Sanders staffers repeatedly downloaded Clinton voter data in December. The campaign fired a data director but also sued the Democratic National Committee for punishing it. The breach was enabled by a security lapse in a DNC database, but documents indicated multiple Sanders staffers used that opportunity to access and save proprietary Clinton campaign information. The incident, however, quickly died down, aided no doubt by the fact that it unfolded over the holidays. The Sanders campaign and the DNC quickly patched up their differences.
If the data breach didn't gin up any backlash, it's hard to see Sanders losing votes over skirmishes about logos and union politicking. But is there any doubt that if the roles were reversed and Clinton operatives were behaving this way, it would be a much bigger story?