Sanders Won't Quit, Aides Say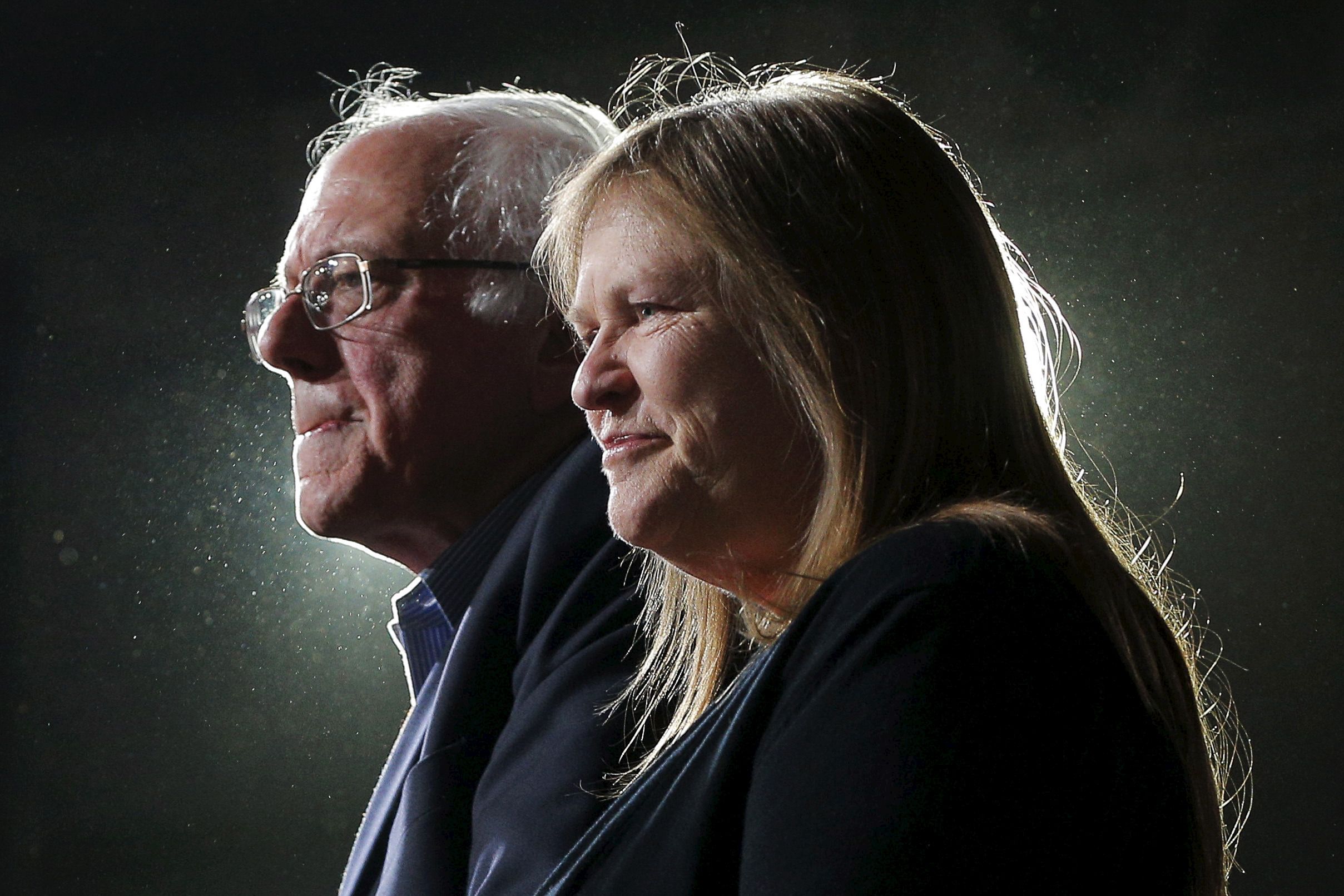 As he signaled in his primary night remarks in Vermont on Tuesday, Bernie Sanders is not going anywhere.
Top advisers for Sanders's presidential campaign hosted reporters at a breakfast and conference call Wednesday morning to insist that the Vermont senator has a path to victory, despite falling further behind Democratic front-runner Hillary Clinton in the race for primary delegates.
"She has a substantial advantage," Sanders campaign manager and longtime aide Jeff Weaver acknowledged. "We believe we can make that up between now and June."
As it did on Super Tuesday, the Sanders campaign would continue to selectively target states similar to the ones where the independent senator has succeeded in the past, Weaver and senior adviser Tad Devine said. That includes states with large progressive communities and lots of university towns and those that allow independents to vote in a Democratic primary. On Tuesday night, Sanders won big in two caucus states—Colorado and Minnesota—as well as Oklahoma and his home state of Vermont. But he also was routed by Clinton across the South—in Alabama, Arkansas, Georgia, Tennessee, Texas and Virginia—and lost narrowly to Clinton in Sanders's neighboring state of Massachusetts.
"We targeted five states, we won 4.9," Devine said. And, he added, "we won in states that were very, very different, but states that look very much like the states around them that have not yet voted."
Up next, the campaign is eyeing the Kansas primary and Nebraska caucuses, which take place Saturday; Maine's Democratic caucuses on Sunday; and big Rust Belt states of Michigan and Ohio, which vote on March 8 and 15, respectively. And they're looking as far out as New York's mid-April primary as well as California, which doesn't vote until June.
"Super Tuesday, in my view, was perhaps the single best day on the calendar for Hillary Clinton," Devine said. "We do not think the calendar ahead looks nearly as good [for Clinton] as yesterday."
The most glaring problem for the Sanders campaign, besides its pure delegate deficit, is the senator's failure to make any traction with black voters. Clinton's big wins across the South on Tuesday, as well as her commanding victory in South Carolina on February 27, all came thanks to her command of the African-American vote. Sanders has performed well with Latinos—his campaign pointed out Wednesday he could not have won Colorado without their strong support—but he simply cannot win the nomination without performing better with blacks.
Sanders and his staff have high hopes for the Rust Belt, for example, but to win states like Michigan, Ohio or Illinois, he'll have to appeal to their sizable African-American populations. Should Clinton sweep March 15's states (Ohio and Illinois, as well as Florida, Missouri and North Carolina) and the delegates that come with Ohio's and Florida's winner-take-all allocation formulas, it's hard to see how Sanders can even get to New York or California.
Weaver suggested Wednesday that the African-American vote is not monolithic and predicted that Sanders's opposition to international trade deals, along with his promises to level the economic playing field, will appeal to Great Lakes states' voters, black as well as white. "We have to do better" with African-Americans, Devine acknowledged. "But we think we can do a lot better."