Sarah Huckabee Sanders Falsely Blames Media for Bin Laden Avoiding Capture Before 9/11
White House press secretary Sarah Huckabee Sanders falsely claimed Wednesday that former Al-Qaeda leader Osama bin Laden avoided capture by the United States after the media had reported his use of a satellite phone in the late 1990s.
During a press briefing, Sanders was asked if President Donald Trump would condemn supporters who fired off vitriol toward members of the media at a rally in Florida on Tuesday evening.
Sanders responded by stating Trump does not condone violence but incorrectly noted how bin Laden slipped through U.S. intelligence hands.
"The president as I just said does not support violence against anyone, or anything," Sanders said. "When it comes to the media the president does think that the media holds a responsibility. We fully support a free press, but there also comes a high level of responsibility with that. The media routinely reports on classified information and government secrets that put lives in danger and risk valuable national security tools."
Sanders continued: "One of the worst cases was the reporting on the U.S. ability to listen to Osama bin Laden's satellite phone in the late 90s. Because of that reporting, he stopped using that phone and the country lost valuable intelligence. Unfortunately, it's now standard to abandon common sense ethical practices. This is a two-way street."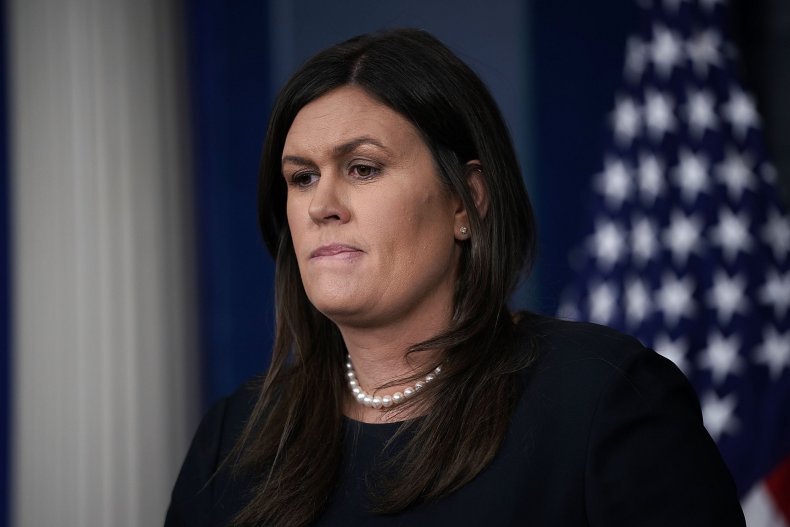 It appears Sanders was parroting a claim made by former President George W. Bush and the 9/11 Commission report about a story published by The Washington Times in 1998.
In December 2005, Bush referred to the story during a news conference.
"Let me give you an example about my concerns about letting the enemy know what may or may not be happening," Bush said. "In the late 1990s, our government was following Osama bin Laden because he was using a certain type of telephone. And the fact that we were following Osama bin Laden because he was using a certain type of telephone made it into the press as the result of a leak. And guess what happened? Osama bin Laden changed his behavior. He began to change how he communicated."
The claim was further bolstered by two former National Security Council officials who had worked during President Bill Clinton's administration and later penned a book called The Age of Sacred Terror, according to The New York Times. One passage read: "When bin Laden stopped using the phone and let his aides do the calling, the United States lost its best chance to find him."
However, the reporter behind The Washington Times story said after Bush's remarks that bin Laden's use of the phone had already been known and a CNN producer who interviewed bin Laden in 1997 also noted the 9/11 mastermind's satellite phone, according to The Washington Post. The same report also found an article penned for Time magazine from 1996 that referenced the satellite phone.