Feisty Sanders Jabs Clinton at Debate in Flint, Michigan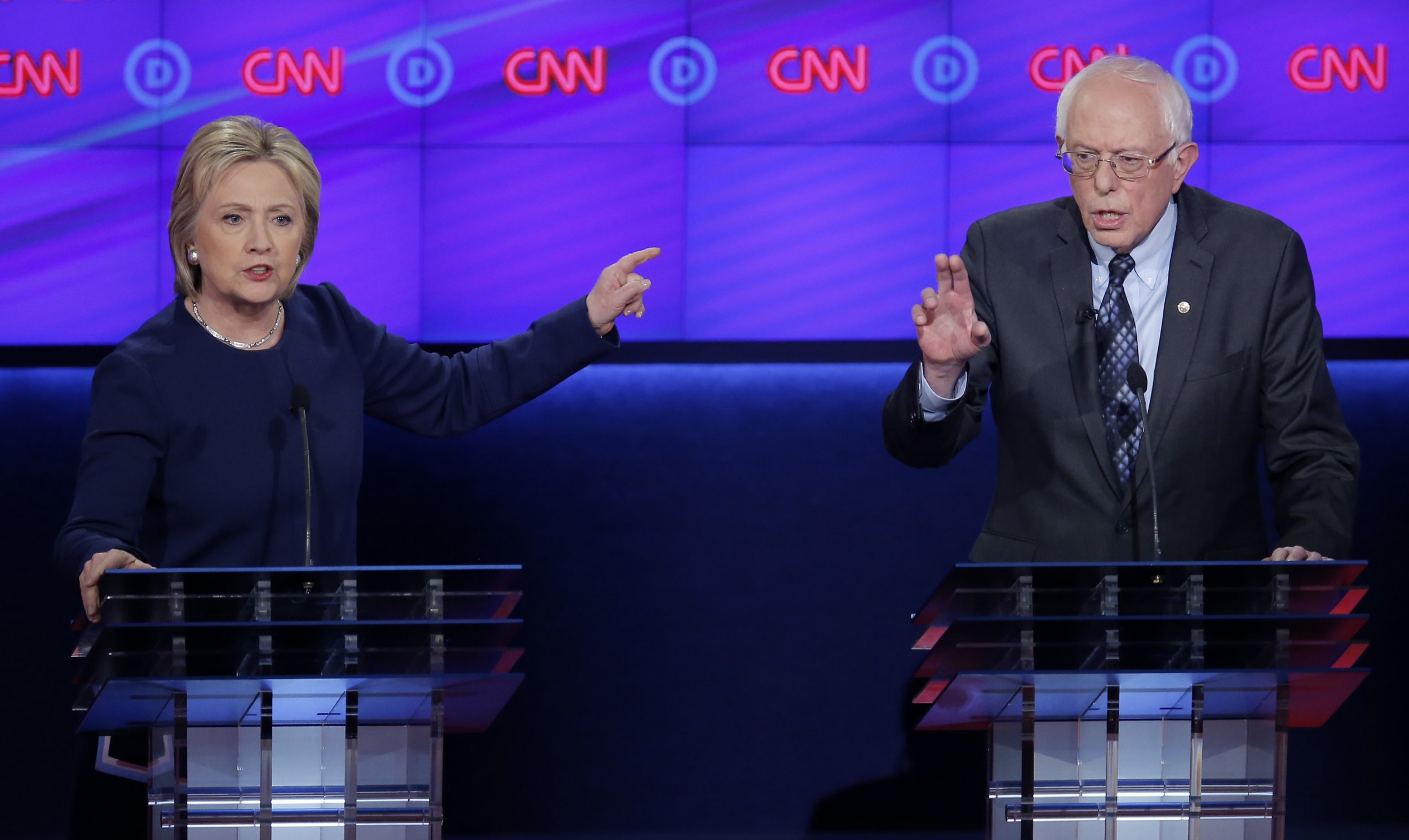 Bernie Sanders went into the lion's den Sunday night in Flint, Michigan, and emerged unbloodied and unbowed.
The Democratic debate in majority-black Flint was, in theory, much friendlier turf for Sanders's presidential rival, Hillary Clinton. So far in this Democratic primary, Clinton has enjoyed a huge edge with African-American voters and leads Sanders by double digits in a recent Michigan poll. The former secretary of state was also the first presidential candidate to bring attention to the Flint water crisis and pushed to hold the debate in the city. And yet it was Sanders, the upstart independent senator from Vermont, who drew many of the heartiest cheers on the evening.
Sanders has spoken about Flint less and made his first campaign visit to the city only last week. Yet he offered the more detailed set of proposals for helping alleviate the day-to-day burden now facing Flint residents, whose tap water remains undrinkable. "Water rates have soared in Flint. You are paying three times more for poisoned water than I pay in Burlington, Vermont, for clean water," Sanders pointed out. "The first thing you do is say people are not paying" for poisoned water, the senator said, which brought a roar from the crowd.
His unequivocal opposition to free trade deals also struck a chord with the crowd this Rust Belt town. "I was on a picket line in the early 1990s against NAFTA because you didn't need a Ph.D. in economics to understand that American workers shouldn't be forced to compete with people in Mexico making 25 cents an hour," Sanders thundered. Compared with Clinton's nuance on things like trade, Wall Street regulation and natural gas drilling, aka fracking, Sanders came off as more forceful, which seemed to energize the audience.
Clinton had her moments, to be sure. She pointed out that Sanders voted for a 2009 resolution disapproving the release of bailout funds, including money for the U.S. auto bailout—an unpopular move in the state that is home base for the nation's auto industry. Sanders voted for a 2008 amendment supporting the auto bailout funding but opposed the 2009 measure because it was tied to the Wall Street bailout.
And she gave a heartfelt response to a question about what her personal blind spot is when it comes to racism. "I have spent a lot of time with the mothers of African-American children who have lost them," Clinton said (after initially ducking the question). "It has been incredibly humbling because I can't pretend to have the experience that you have had and others have had, but I will do everything I possibly can not only to do the best I can to understand...but also to tear down the barriers of systemic racism."
But Clinton also seemed uncharacteristically unprepared for some of the nuts-and-bolts policy questions she usually seizes. She fell back on generalities when asked how she would help Flint residents, a question that should have been 100 percent expected. Her response was largely to support plans that have already been put in place, failing to offer up much fresh thinking. Her call for Michigan Governor Rick Snyder to resign or be recalled also felt stale, given that Sanders have been making that demand for weeks now.
Other times Clinton sounded just unwilling to answer the question, like when she was pressed by CNN moderator Don Lemon about her support for a 1994 crime bill that contributed to today's mass incarceration of black men. "Well, Senator Sanders voted for it as well. Are you going to ask him the same question?" she asked. She finally acknowledged that parts of that proposal were a mistake, something Sanders agreed with.
Sanders had a few of his own tone problems, shushing Clinton at a couple of points in the debate in a manner that bordered on demeaning. The Clinton campaign quickly posted a clip of one exchange where Sanders tells his rival, "Excuse me, I'm talking." And they dubbed it "the Rick Lazio moment from Bernie Sanders," a reference to Clinton's 2000 GOP Senate opponent, who was criticized for his aggressive posture on the debate stage.
And Clinton was able to settle in during the latter stages of the debate, sinking her teeth into questions about education and infrastructure policy. But Sunday night was a reminder of why front-runners like Clinton tend to avoid one-on-one debates. With her growing delegate lead in the Democratic primary, Clinton may be feeling a little less urgency against Sanders than she once did. That's certainly what it felt like in Flint. But Sanders served notice: He's not easing up.