If Sarah Sanders Just 'Lies,' Maybe Press Briefings Should Be Cancelled, Republican Strategist Asks
President Donald Trump's administration should possibly consider nixing press briefings altogether if Press Secretary Sarah Huckabee Sanders, or anyone who speaks before the White House press corps, is simply going to lie to the public, a Republican strategist suggested Friday on MSNBC's Morning Joe.
Sanders has faced enormous criticism for previously denying Trump had any knowledge of the $130,000 payment made by his personal attorney, Michael Cohen, to an adult film actress who claims to have had a sexual relationship with the president. The denial proved false after the president's new attorney, Rudy Giuliani, told Fox News on Wednesday that Trump had paid Cohen back and that the funds did not constitute a campaign finance violation.
Sanders was challenged during Thursday's White House press briefing by reporters for her false denial, and she stated that the White House press office had not coordinated with Giuliani prior to his interview on Fox about actress Stephanie Clifford, who goes by the stage name Stormy Daniels.
Sanders' remarks didn't go over well with critics.
"Let's not forget she's not just speaking on behalf of the president, she is speaking to the country from the White House," Republican strategist Susan Del Percio, who runs a strategic communications firm, told Morning Joe's panel on Friday about Sanders. "She is telling the public lies when she goes out there. She's not just lying to the press corps. We know Donald Trump has no problem telling lies to the press corps."
She continued: "But she is lying to the American public and I think she needs to own that. Anyone. Whether it be her or anyone that goes out there. Because unfortunately whoever is going to be at the podium is going to be in the same exact position as Sarah Sanders. There's no way to get beyond that.
"Why not not have the briefings? If you're just going to lie, why bother?"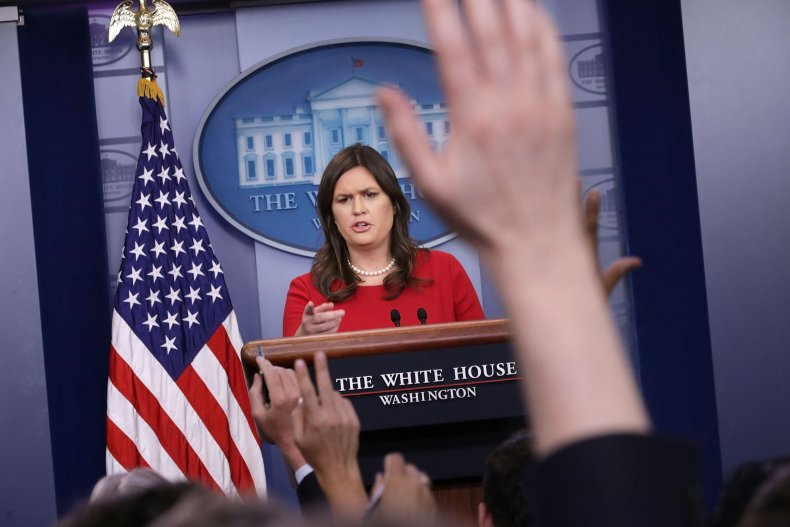 Last month, Trump denied having any knowledge of the payment and referred reporters to Cohen for answers. Trump has said since that non-disclosure agreements like the one Daniels reached with Cohen were "very common for celebrities and people of wealth" and insisted the money did not come from any campaign funds.