White House Press Secretary Sarah Huckabee Sanders, Homeland Security Secretary Kirstjen Nielsen and anyone "around" President Donald Trump who lies to "keep their jobs" should resign, one Democratic Senator said Tuesday, as the administration deals with blowback on its policy of separating immigrant families after crossing the U.S.'s border.
U.S. Senator Mazie Hirono of Hawaii blasted Trump administration officials during an appearance on MSNBC and called for Nielsen and Sanders to step down. She accused Sanders of lying "on a regular basis."
"Well, let's start with the secretary of Homeland Security," Hirono said according to Mediaite.
"She was trotted forward to put… a nice frame to this, calling it 'not a policy,' that's a lie," Hirono said. "Sarah Huckabee Sanders lies on a regular basis. All the people around the president who lie for him in order to keep their jobs, they have sold their souls. I would welcome their resignations."
Hirono also turned to White House Chief of Staff John Kelly and White House adviser Stephen Miller as "whispering" in President Trump's "ear," and labeled each as "totally anti-immigrant." She also compared Miller to an evil Shakespearean character.
"We just heard that there may be more tougher immigration policies coming down the pike from the likes of Stephen Miller," Hirono said. "To me, Stephen Miller is like Iago whispering in the president's ear, along with John Kelly. These people are totally anti-immigrant."
Hirono's comments followed Nielsen's press briefing Monday at the White House, during which she claimed the Trump administration did not have a policy of taking children away from parents who illegally cross the border. Her comments stood in contrast to those of Kelly, Miller and Attorney General Jeff Sessions, who announced a "zero-tolerance" policy last month that would start charging illegal border crossings as criminal rather than as a civil matter.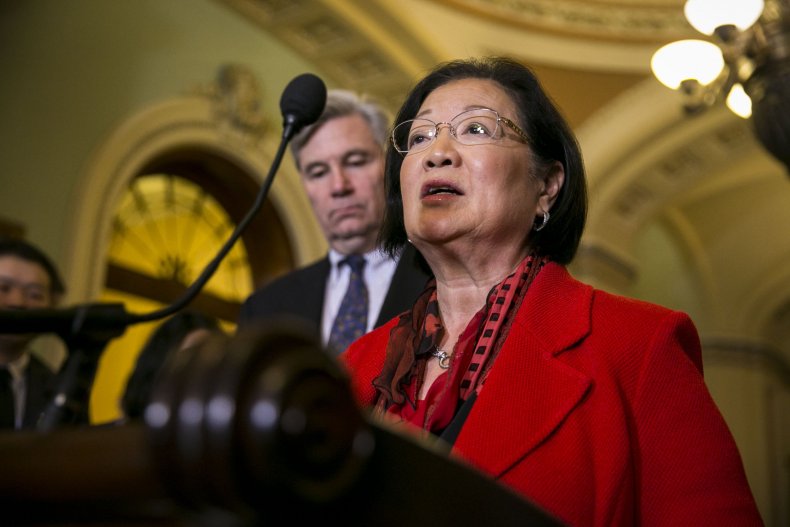 Sanders, too, has been accused of making false or misleading statements about the administration's policy toward illegal border crossings. She claimed last week the administration was simply enforcing existing laws, a comment parroted from President Trump and his accusation of Democrats being responsible for the separation of families at the border.
Hirono's cry for mass resignations followed similar calls from other top Democrats on Monday. Sens. Kamala Harris and Dianne Feinstein, as well as House Minority Leader Nancy Pelosi, all of California, each denounced Nielsen, with Harris citing a "lack of transparency" and a "record of misleading statements" about the administration's policy.