Sanders Seeks Momentum in Western Caucuses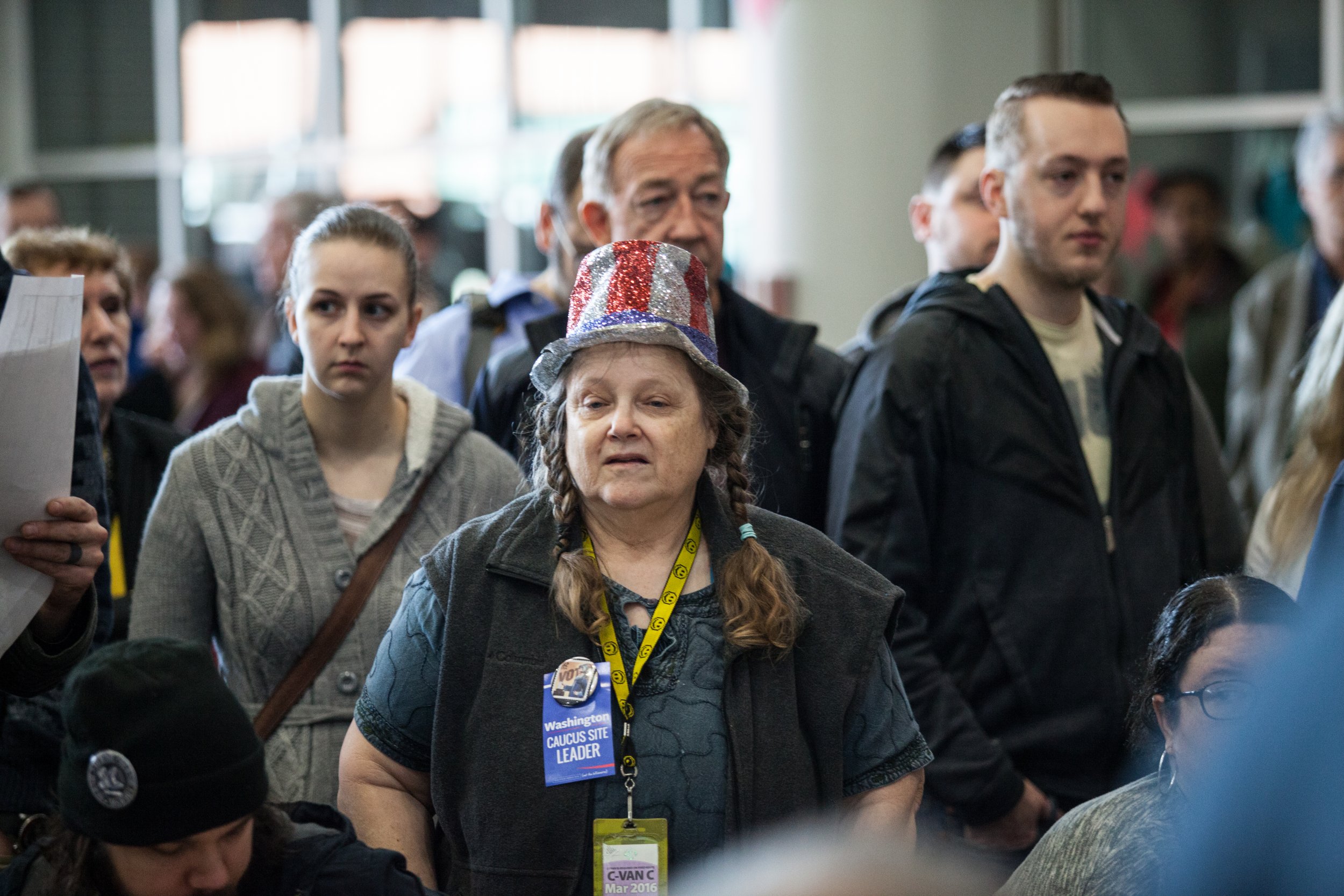 Updated | VANCOUVER, Washington—Apparently, the bird that flew onto Bernie Sanders's podium on Friday was a good omen.
Northwest Democrats on Saturday took part in the peculiar brand of choosing a presidential primary candidate that is the caucus, filling school gymnasia and cafeterias in Alaska, Hawaii and Washington with a somewhat chaotic but energized democratic action that could see one candidate emerge as an overwhelming victor: Sanders, the U.S. senator who represents Vermont.
Reuters reported that Sanders won the caucuses in Alaska and Washington. In Alaska, with 15 percent of precincts reporting, Sanders led the Democratic presidential frontrunner, Hillary Clinton, by 82 percent to 19 percent. In Washington, with 11 percent of precincts reporting, Sanders was up 74 percent to 26 percent. Hawaii's caucuses had yet to begin reporting as of press time.
In Vancouver on Saturday, so many voters showed up to the same spot Sanders held a recent rally—Hudson's Bay High School—that organizers scrambled to move two of the precincts outside. From one table to the next, Sanders supporters clearly outnumbered those backing Clinton.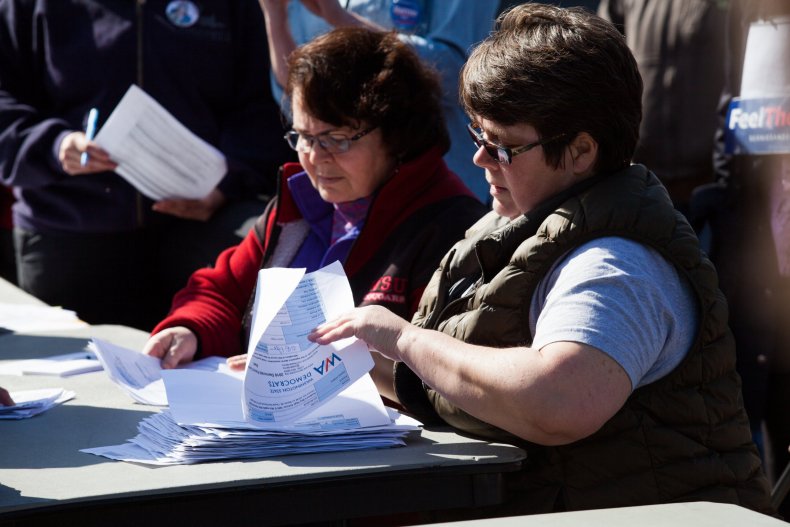 "We don't need another Clinton," said Sarah McCluskey, 40, a Vancouver bookkeeper who is backing Sanders. "We need change. We need a revolution. Bernie isn't bought. He speaks from his heart and stays true to his message."
Saturday morning's caucus was the start of a "three-tiered" process for deciding the fate of Washington's coveted 118 delegates, who officially determine the state's choice for a presidential nominee. In the first tier, voters arrived at their caucus sites and filled out a questionnaire indicating at least their initial support for either Sanders or Clinton. Then, they can try to change one another's minds, taking turns speaking in favor of their candidate. After some debate, voters either reaffirmed their initial selection or scribbled down a new name. There were very few undecideds at Hudson's Bay High on Saturday.
Among them: Matt Williams, a 47-year old physician assistant. He wrote down Clinton's name upon arriving to the caucus site, but quickly made clear he hadn't actually chosen her yet.
"I read one of each of their books," Williams said. "I love Bernie's ideas, but as I look at his Senate record I worry he doesn't reach across the aisle much. I read Hillary's book. She's a career politician. Better track record. Bernie is more progressive, but the Senate is Republican. I worry if Bernie gets in there, there's going to be four years of stagnation."
At one of the outside tables, a 56-year-old fuel handler named Wayne Brand gave an impassioned pro-Sanders speech: "My $35 is supporting Bernie," Brand said. "Goldman Sachs is supporting Hillary. Bernie is not beholden to anyone but the American people, who he should be beholden to."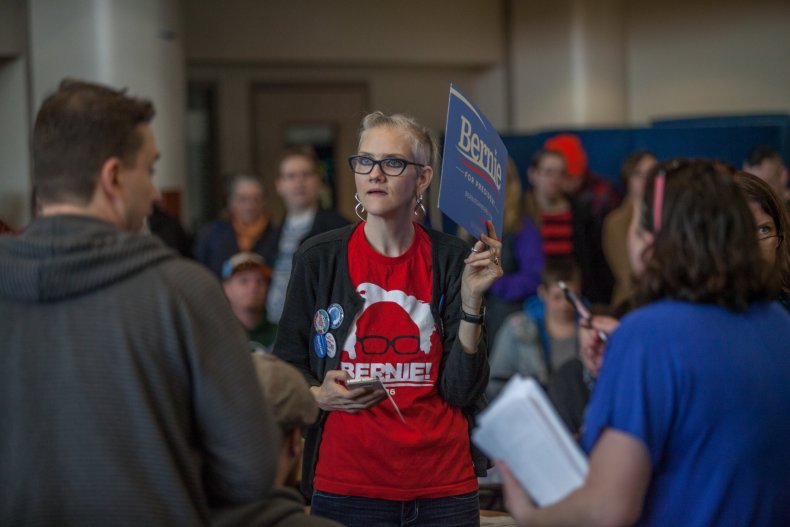 Voter after voter stood up in support of Sanders, which led to this common refrain from precinct volunteers: "Would anyone like to speak on behalf of Hillary Clinton? Going once, going twice."
There were some Clinton supporters in the crowd. They tended to align with her demographic nationally, though: older, and white. Walt Waldram found himself in that cohort at one of the outdoor precincts Saturday, and he did his best to convince other voters Clinton is the better choice.
"Some of the things Sanders promises just aren't going to happen. Free college? No one even wants to pay the toll to go over the bridge. Realistically you've got to look at what's going to happen. You have to be somewhat of a moderate, and get things done," said Waldram, a 63-year-old former IRS agent. "The Clintons have a very good background. With health care, she's one of the original people who worked on that. She's made some mistakes. The trade deal, the Iraq war, but she's also admitted them, unlike some politicians you've heard from on TV."
Another Clinton supporter defied the aged stereotype. Erin Scot, 35, said she originally wrote "undecided" on her caucus form but scratched it out and added Clinton's name Saturday morning. Between Sanders and the frontrunner, "A lot of Bernie supporters have essentially been calling me a moron because I'm not 'feeling the Bern.' They're almost the same candidate," she said. "We all agree on the same issues. She took money from Goldman Sachs? OK, fine, I can't really get riled up about that. I would take $650,000 from Goldman Sachs too."
This article has been updated to reflect that Sanders reportedly won the caucuses in Washington and Alaska.