Will Sarah Sanders Replace Sean Spicer? Press Secretary Could Lose Job to Huckabee's Daughter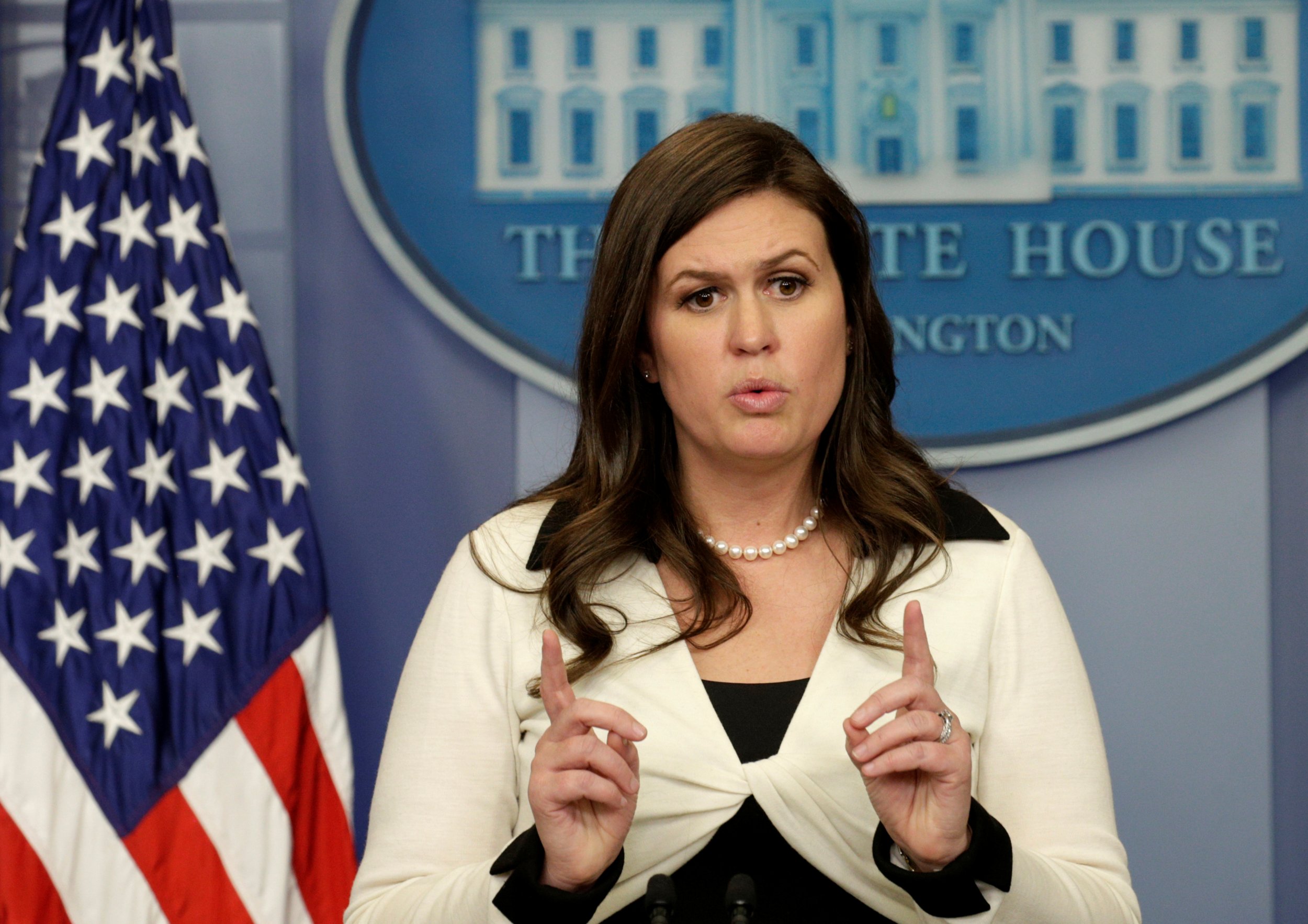 In the two days since FBI Director James Comey's dismissal, Sarah Huckabee Sanders has stood in for often-embattled White House Press Secretary Sean Spicer, and her performances have already drawn fire on the internet.
But Sanders has not looked rattled under the spotlight, and Spicer's job security has been questioned after reports surfaced that he had a "meltdown" in the wake of Comey's sudden firing Tuesday.
The daughter of Mike Huckabee, the former Arkansas governor and Republican presidential candidate, Sanders on Thursday touched on topics such as whether Comey's forced departure had anything to do with the FBI's investigation into possible Trump campaign collusion with Russia during the 2016 election; Comey's reputation within the FBI; Trump's reasons for firing him; and why the photographer for Russia's U.S. ambassador and foreign minister was allowed into the Oval Office on Wednesday during a meeting and American news photographers were not.
Sanders charged through her answers, along the way repeating many of the questionable mantras the administration has used throughout its first four months in office and since Comey's firing. ( Among her answers: "I think the people in this room are obsessed with this story," regarding Russia investigation; and, "I don't see that as a conflict of interest," when asked about Trump inquiring of Comey whether he was under investigation.)
Many on Twitter accused Sanders of lying—a charge that's been levied against Spicer—and for being "snarky."
She was accused of lying in relation to Trump's assertion Wednesday that he would've fired Comey even if Attorney General Jeff Sessions and Deputy Attorney General Rod Rosenstein had recommended Comey keep his job. Trump called Comey a "showboat" and has since been the subject of heavy criticism because he earlier praised Comey's decision just weeks before the election to announce new details regarding a probe into Democratic presidential nominee Hillary Clinton's use of outside email, an investigation that had been closed.
Yet, Sanders plowed through, insisting Comey's reputation at the FBI was dwindling.
Spicer, who was at one point accused by The Washington Post of hiding in bushes after the Comey news broke—the newspaper later stated in an editor's note that he was actually "among" bushes—has not been on camera since Tuesday night and CNN cited White House sources Wednesday afternoon saying Sanders could very well "sub in" after what was an embarrassing "disaster."
It's not as if Spicer's been avoiding controversy. Most recently, he came under fire after Syria used chemical weapons on its own citizens, for stating that Adolf Hitler didn't even go so far. That led to an outcry and calls for his dismissal.
Spicer and his press conferences have also been the subject of an ongoing Saturday Night Live parody. Comedian Melissa McCarthy portrays Spicer, and Politico reported in February, citing a source close to the president, that Trump especially didn't like a woman playing the role of his male press secretary.
"Trump doesn't like his people to look weak," a Trump donor was quoted as saying. Perhaps Sanders would be more to the president's liking.