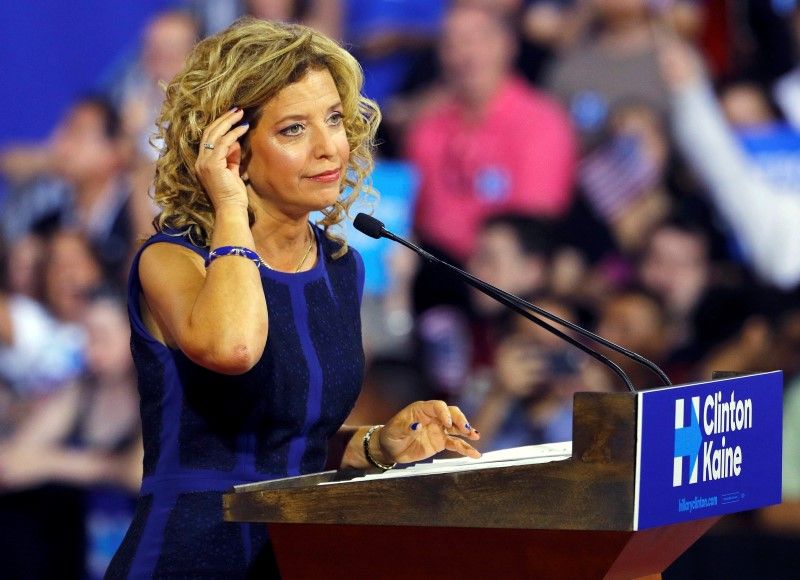 The dust is just beginning to settle for Democrats in the wake of the party chairwoman's Sunday resignation, and one thing is becoming clear: Bernie Sanders supporters are not placated. At the same time, Sanders supporters attending the convention as Democratic party delegates say there are no widespread efforts to block Hillary Clinton's nomination, or otherwise disrupt the convention process.
The Sanders campaign and its allies were convinced that Chairwoman Debbie Wasserman Schultz was working against them throughout the Democratic primary process, which the Vermont senator lost to Clinton, the former secretary of state. A cache of internal Democratic National Committee emails, released to the website Wikileaks in recent days as a result of what appears to be a Russian hack, confirms those suspicions, and Wasserman Schultz's departure, announced in an email Sunday afternoon, hasn't calmed their outrage.
"I think that's what they think, that [her resignation is] going to mollify us," says Alicia Leinberger, a Sanders delegate and Wisconsin state Assembly candidate. "It's really had quite the opposite effect."
And Ken Zinn, national political director for the National Nurses United, a staunch union backer of Sanders's Democratic primary campaign, notes that Clinton "just appointed [Wasserman Schultz] to be one of the chairs of her campaign." After laughing in disbelief, he adds: "Who do they think they're fooling?" Wasserman Schultz was also supposed to gavel open the convention, but announced this afternoon she would no longer do so after being booed off the stage by her own Florida delegation Monday morning.
Zinn acknowledges, however, that there were not enough dissenters on the party's platform or rules committees, which approved those documents last week, to force what's called a minority report, requiring amendments or alternative language to get a vote on the convention floor. And so there shouldn't be any major action on the convention floor by Sanders supporters similar that carried out by anti-Trump forces during the Republican National Convention last week in Cleveland. "I'm really proud that both campaigns worked together very hard to build a platform and rules that reflect the best of both campaigns, reflect the values of our party," Clinton campaign manager Robby Mook said at a press conference Monday morning in Philadelphia. "And for that reason, there have actually been no minority reports filed in this process."
But Zinn warns, "I seriously doubt that it will simply be here's the report, vote up or down and let's move on." Sanders supporters unhappy with the rules and platform, he predicts, will "express their view in other ways." In other words, expect plenty of boos and other lesser forms of protest when the party platform and rules are approved.
Zinn and other Sanders allies on the party's Rules Committee had wanted to see Democrats completely ban superdelegates—the party members allowed to support the candidate of their choice, regardless of how their state voted in the primary. The vast majority of those superdelegates supported Clinton in the 2016 primary, angering the Sanders campaign and his voters, who said it was evidence the party establishment was working against him and the will of the people. Representatives of Sanders and Clinton reached a compromise over the weekend, however, to appoint a commission to reform the process, and called for that commission to eliminate about two-thirds of the existing superdelegates. Elected federal officials such as senators and members of Congress would still be allowed to operate as superdelegates. Zinn says this "is a step in the right direction, assuming that they implement it." But he notes that in 2008, the party ordered a similar commission to carry out reforms, and little was ever done.
When it comes to the Democratic nominee, Sanders delegates expect most of their compatriots will rally behind Clinton, even if only grudgingly. After holding out for weeks, Sanders endorsed Clinton earlier this month. He is scheduled to speak Monday evening in Philadelphia to reiterate his message of unity, with the aim of defeating Republican nominee Donald Trump. On Monday afternoon, he addressed delegates from Wisconsin, a state he won handily during the primary.
"He basically was saying that the revolution that…he was involved with was never about just his candidacy it was about a larger vision," Wisconsin state Representative Jonathan Brostoff, who attended the speech, tells Newsweek. "In order to realize that, we have to keep pushing."
Brostoff says Sanders did not say much about Clinton or the upheaval at the Democratic National Committee, aside from asserting that Wasserman Schultz's departure "offers opportunity for new leadership and that we can have some more growth within the party."
Leinberger adds: "Most of the delegation here is very level-headed. We'll follow what Bernie says, that's what we signed up for." She says, however, "When you're talking about the masses, they didn't sign up for that." And whether it's the Democratic National Committee email scandal or Clinton's selection of pragmatic Virginia Senator Tim Kaine as her vice president, "I think the party is really missing a huge opportunity here to...go in a new direction that will include a much larger party," Leinberger says, "including young voters, people just coming into the party and also independent people that haven't felt part of the party."
"They don't understand the actual nature of what we're trying to do," she says of the Clinton campaign and Democratic party establishment, "because they keep misstepping."