Sanders, Warren Take Turns Jabbing Bloomberg Over 2020 Run: 'Bags and Bags of Money' Won't Get Him 'Very Far'
After former New York Mayor Mike Bloomberg formally announced he is running for president over the weekend, 2020 progressive Democratic candidates Senators Elizabeth Warren and Bernie Sanders took turns jabbing the billionaire for entering the race.
"I'm running for president to defeat Donald Trump and rebuild America," 77-year-old Bloomberg announced in a tweet on Sunday. "I believe my unique set of experiences in business, government, and philanthropy will enable me to win and lead."
Hours later, Sanders criticized Bloomberg's entrance into the crowded 2020 Democratic primary field at a rally in New Hampshire. "We do not believe that billionaires have the right to buy elections," the senator said. "That is why multibillionaires like Michael Bloomberg are not going to get very far in this election."
David Sirota, Sanders' speechwriter, also charged at Bloomberg on Monday in his "Bern After Reading" newsletter. "Bloomberg is primarily motivated by a desire to stop Bernie and his working-class movement," he wrote, adding that the former mayor "began floating the idea of a presidential bid in 2016 just as Bernie was beginning to gain momentum."
"At the time, Bloomberg disparaged Bernie and his campaign's challenge to Wall Street," Sirota added.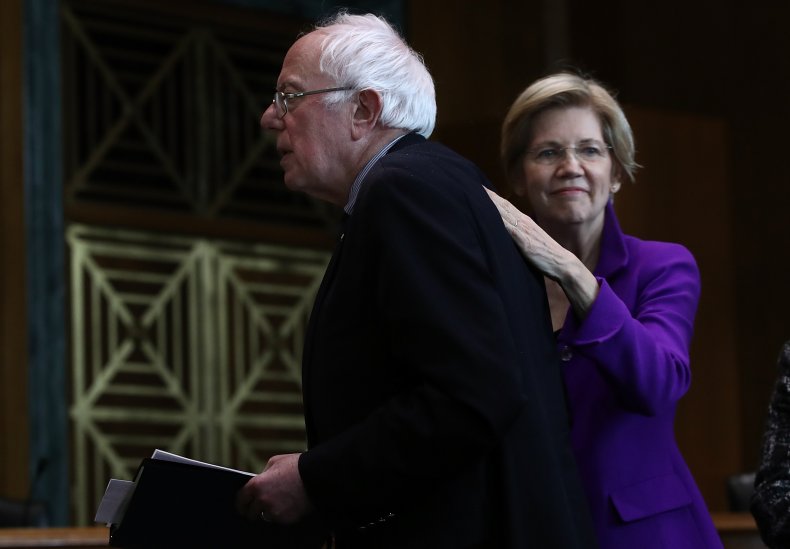 Warren, who, like Sanders, has similarly been touting tougher tax policies for billionaires, on Monday accused Bloomberg of using his wealth to influence politics and called his new $37 million campaign advertisement "fundamentally wrong" during a campaign event in Iowa.
"Michael Bloomberg is making a bet about democracy in 2020," she said. "He doesn't need people. He only needs bags and bags of money. I think Michael Bloomberg is wrong, and that's what we need to prove in this election."
Earlier this month, when Bloomberg first floated the idea of joining the race, Warren mockingly welcomed him by sharing how much tax he would pay under her Ultra-Millionaire Tax plan. According to the Calculator for Billionaires, the former New York mayor would pay roughly $3.08 billion if the senator's tax plan became enacted next year. His net worth is listed at $52 billion.
"If Michael Bloomberg's version of democracy wins, then democracy changes," Warren said. "And it's going to be about which billionaire you can stomach going forward."
Bloomberg defended his use of wealth from criticism during his first campaign stop on Monday, where he asserted that he's been using his resources "for the things that matter."
"I am going to make my case and let the voters who are plenty smart make their choice," he added.