Michelle Wolf Criticizes Sarah Sanders for Not Laughing at Jokes Like Obama Did
White House Press Secretary Sarah Huckabee Sanders should have been able to laugh at jokes made at her expense during Saturday's White House Correspondents' Dinner, much like former President Barack Obama did when he attended the event in years past, according to comedian Michelle Wolf.
Wolf, who's faced a barrage of criticism for her routine, and jokes about Sanders in particular, added a charge that the public face of President Donald Trump's administration did not attend the dinner in order to "celebrate" or congratulate members of the media and failed to stand when cable network CNN received an award.
"Yeah, it is different. But you know, there's plenty where you could look back and the camera was on Obama when people were making pretty aggressive jokes about Obama and he was laughing," Wolf told NPR's Fresh Air for its Tuesday episode. "And I think having the ability to laugh at yourself is important. I also think that if you—another part of the dinner that wasn't televised is they were giving out awards and everyone was standing to congratulate the people who were getting awards and Sarah was sitting. "
Wolf pointed to Sanders not standing when CNN, the network that Trump has repeatedly labeled "fake news," and its reporters received an award for breaking a story about both Obama and then-President-elect Trump receiving a briefing about the salacious Trump-Russia dossier.
"Yeah, CNN reporters got awards, I cannot remember the exact award they got, but they came up to accept them and she sat the whole time, while we all stood and shook their hands. I would say if this is about celebrating the media she wasn't there to celebrate the media," Wolf said.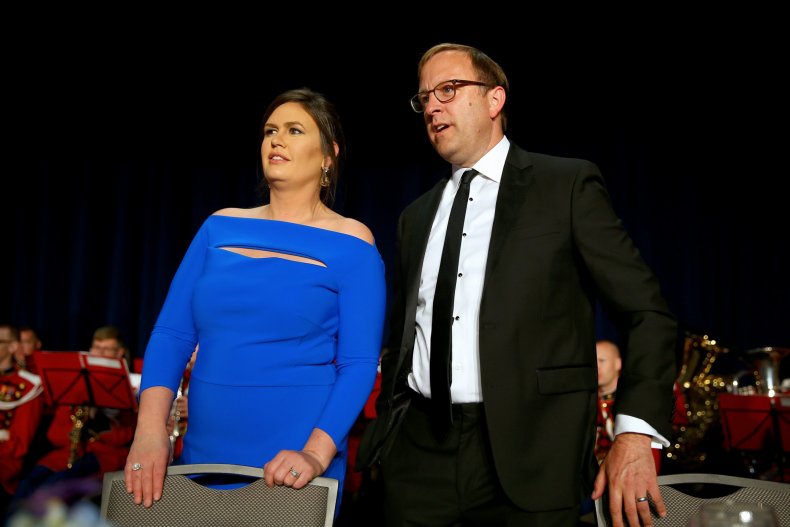 Wolf also stated that she wanted to "do something different" with her routine and that her friend who helped her write some of the material told her to "be true to yourself" and to "never apologize."
Wolf has faced heavy backlash for a joke referencing Sanders' makeup and another that said she was an example of an "Uncle Tom" for "white women" by lying for Trump while serving as his main spokesperson for the media.
But the former Daily Show correspondent has refused to apologize for her quips targeting Sanders or anyone else. She has received backing from late-night television hosts including Seth Meyers and Jimmy Kimmel, both of whom have been critical of Trump and have previously hosted the dinner.